Nothing Runs Like a Deere
One of the most iconic brands in agriculture has also proven a highly profitable long-term investment. John Deere (NYSE:DE) has rewarded investors with a 230% return compared to the 50% return of the S&P 500 over the last decade. Looking to the future, Deere will continue to benefit from its competitive advantages, favorable demographics, and excellent management team. Each of these factors will play a key role in Deere's ability to outperform the broader market going forward.
Deere's Competitive Advantage - Brand Loyalty
In 2010, Farm Equipment and Farm Progress Companies conducted a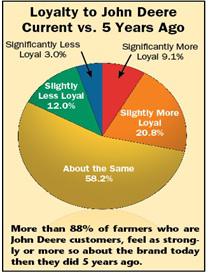 random survey of 2,000 Midwest farmers to determine their agriculture equipment preferences. When farmers were asked, "Would you describe yourself as 'brand loyal' in your purchase of tractors, field equipment or combines?" 77% of John Deere owners described themselves as "brand loyal." In comparison, only 44% of New Holland, 35% of Case IH, and 25% of AGCO owners described themselves as the same. Additionally, 88% of John Deere customers feel as strongly or more so about the brand today was they did five years ago, outpacing New Holland (78%), Case IH (66%), and AGCO (75%). If a company has a strong brand, it can enjoy higher margins, cost effective marketing, and robust defense against price competition. Moreover, these advantages come as a result of the brand becoming recognizable and established in the minds of the consumers for influencing the loyalty factor (Kotler, P. 2003, Marketing Management, 11th edn, New Jersey, Pearson Education Limited).
Barry Nelson, John Deere's public relations manager, says farmer loyalty is one of Deere's most valuable assets. "I've had people call to ask me for a photo of a 4020 tractor because they wanted to put it on their grandfather's tombstone. And people send me Christmas photos of their family standing in front of their favorite John Deere tractor. Farmers spend a lot of their time on tractors, and it's a big part of their livelihood, so it's not surprising that there's an emotional attachment between people and farm equipment."
Farmers - A Protected Class
Another advantage of investing in Deere is that farm income in the United States (Deere's largest market) is heavily subsidized, and thus protected. In addition to direct farm subsidies and price floors, US taxpayers also pay for 62 percent of crop insurance premiums - on policies that typically guarantee 75 to 85 percent of a farmer's revenue. Subsidies also cover the costs of private insurance companies, including those based overseas, to write the coverage for farmers. If insurers suffer a loss, the government will backstop the losses, much as a big reinsurance company assumes the risks of individual insurers. This is an important aspect of the agriculture market that investors need to understand. Subsidies and price floors guarantee a large percentage of agricultural income each year. In years where crop prices are low or crops suffer catastrophic damage, demand erosion for Deere products should be mitigated due to these income guarantees.
Past Performance
Past results do not guarantee future returns, but they are often correlated. A corporation that outperforms over the long-term typically continues to do so, especially if it has durable competitive advantages like Deere. Over the past decade Deere stock has consistently outperformed the broader market.
Benjamin Graham's writes in The Intelligent Investor that investors should measure earnings growth over a period of seven to ten years to iron out the special charges that can skew figures positively or negatively over the short-term. Using this technique also shows how well a corporation is growing its earnings and net income. The charts below are a history of EPS and net income growth for Deere over the last eleven years with a linear trend line added. Deere has done a fantastic job growing its earnings with EPS increasing over 800% and net income by more than 700%.

Returning Cash to Shareholders
From 2004 through 2012, Deere returned 60% of cash from operations to shareholders through dividends or stock repurchases. The charts below show the increases in dividends and reduction in shares outstanding over the past eleven years. On the Q4 2012 conference call, Deere management stated they want to consistently deliver a series of moderately increased dividends while targeting a 25% to 35% payout ratio on average. Deere has also pledged to repurchase their own shares only when such purchases will be "value enhancing" to shareholders. Legendary investor Warren Buffett has long stated that many management teams "never stop believing their stock is cheap" and that repurchases of stock above a company's intrinsic value hurts shareholders. Based off Deere management's commentary, I feel they are well educated on this point and will be prudent with their repurchases. (

Future Demographics
The world population is currently projected to increase from 7 billion today to 8 billion by 2030 and over 9 billion by 2050. Analysts estimate agriculture production will need to approximately double by 2050 to keep up with increased demand from population growth and standard of living increases. Most of the population and income growth will occur in developing countries in which mechanized farming is still in its infancy. These farms will need more productive equipment as demand for food rises. Deere is well positioned to profit from the developing markets growth with facilities in over 30 countries including China, India, South Africa, and much of South America.
Valuation and Financial Strength
No investment analysis is complete without looking at valuation and financial strength. Deere currently trades at 11x trailing price to earnings (NYSE:PE), compared to 15.5x PE for the S&P 500. The 11x PE is near the bottom of its decade range of 9-20x and below its average of 13x. Deere's balance sheet is strong with almost $6 billion in cash and equivalents and a current ratio of over two. The debt levels are high at over $31 billion, but over 75% of the debt is backed by high quality receivables from the financial services arm. Deere reported credit losses for fiscal year 2012 of essentially zero, reflecting the excellent quality of the receivables. Management expects credit losses to revert to more normal levels of .26% in 2013 compared to the ten year average of .34%. The high debt level should be of little concern to investors.
Conclusion
Deere is a fantastic long-term investment opportunity at current valuations. The company has a durable competitive advantage of brand loyalty, government protection of its main consumer, and a management team that has consistently grown earnings over the past decade. Additionally, management is committed to returning excess cash to shareholders via increased dividends and value enhancing stock repurchases. Finally, global demographics will drive the demand for greater food production as incomes rise and populations increase. These factors have driven Deere's outperformance in the past and will continue to drive it going forward. Long-term investors should strongly consider adding Deere as a core holding to their portfolio.
Disclosure: I am long DE. I wrote this article myself, and it expresses my own opinions. I am not receiving compensation for it (other than from Seeking Alpha). I have no business relationship with any company whose stock is mentioned in this article.