The largest generic manufacturer in the world, Teva Pharmaceutical (NYSE:TEVA), is ready for small company acquisitions and technology acquisitions. With 35.17 billion of capitalization, Teva Pharmaceutical is a company that develops, manufactures, and sells pharmaceutical products worldwide. The company has 45,754 full time employees around the world. It star medication is Copaxone with $877 million in quarter sales (Q3 2012).
Recently, Dr. Frost, CEO of Teva Pharma, said in a Bloomberg article:
Acquisitions don't have to be major to be important. The idea of the multimillion-dollar type of acquisition is going to be reserved for very special cases going forward, in which the desirability is so compelling and so game-changing that everyone will feel it has to be done. There is the opportunity for product acquisitions, for small company acquisitions, for technology acquisitions, and to bring in new people who themselves are capable of creating the new products.
For this reason, I believe that we may have an investment opportunity looking for potential candidates for Teva pharma. The search criteria that I have made are the following:
Small capitalization companies
Products or clinical developments without competition
Products or clinical developments with big estimated market
My first company candidate is Celsion Corporation (NASDAQ:CLSN). It is a company that engages in the development and commercialization of targeted chemotherapeutic oncology drugs based on its proprietary heat-activated liposomal technology.
With 265.39 million of capitalization, Celsion Corporation is developing Thermodox a system that could change the way of treating cancer tumors. ThermoDox is administered intravenously and in combination with hyperthermia has the potential to provide local tumor control and improve quality of life. Currently, Thermodox is ongoing a Phase III Heat Study. The company announced that would report results in January 2013. With positive results, Thermodox could be effective for another types of cancer.
The market estimate for Thermodox is $1 billion. In the following graph the estimates of potential revenues of Thermodox in U.S. are shown.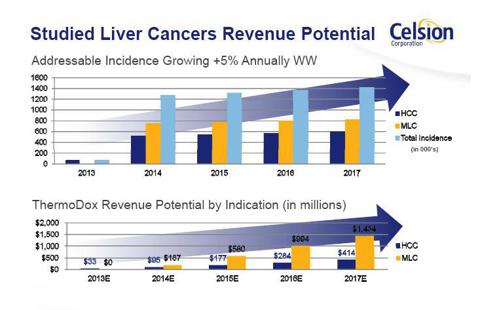 Source: Celsion.com
The estimated sales of Thermodox are over $1 Billion. The capitalization of Celsion Corporation is only $265.39 Million.
My second company candidate is Zalicus Inc (ZLCS). This company discovers and develops treatments for pain and immuno-inflammatory diseases. An important component of the company's business strategy is collaboration. Zalicus forms collaborations with pharmaceutical and biotechnology companies, as well as U.S. government agencies, to support the development and marketing of select product candidates generated by their discovery technologies.
With 89.60 million of capitalization, Zalicus is developing two important candidates for treating neurophatic and inflammatory pain: Z160 and Z944. Z160 and Z944 N type and T type calcium channel blockers have the possibility to create the first pain management drug that is orally administered without the abuse and addictive side effects that come with the use of opioids. Millions of people are affected by opioids and the addictive side effects they cause every year. Many patients have to deal with withdrawal, overdoses as well as the potential these drugs have when in the wrong hands outside a doctor's written consent. Currently, Z160 is ongoing in two Phase IIa studies. The company announced that would report results in first quarter of 2013. With positive results, Z160 could be effective for multiple treatment against pain.
The market estimate for Z160 is $2 billion minimum. In the following graph the estimates of potential revenues of Z160 in U.S. are shown.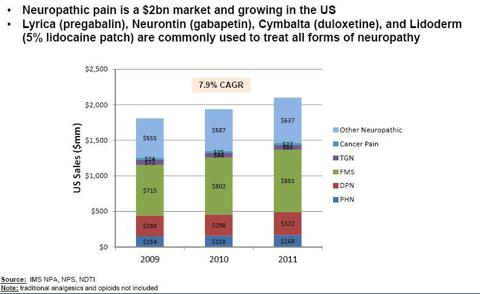 Source: Zalicus.com
The estimated sales of Z160 are over $2 Billion. The capitalization of Zalicus is only $89.60 Million.
Disclosure: I am long ZLCS. I wrote this article myself, and it expresses my own opinions. I am not receiving compensation for it (other than from Seeking Alpha). I have no business relationship with any company whose stock is mentioned in this article.