Today we are going to look at two different companies that could make for good long term plays. The first play is Southern Company (NYSE:SO) and the second play is Kinder Morgan Energy Partners L.P. (NYSE:KMP). The two plays are completely different in nature. Southern Company is a play on the utilities sector, while Kinder Morgan Energy Partners is a play on the basic materials sector. Investing is all about diversification and not about putting all of one's eggs in one basket. From this perspective, these two plays are great candidates for any long-term portfolio. They both have long and stellar histories of paying out dividends/distributions. Southern Company has been paying out dividends since 1948 and has consecutively increased its dividends for 11 years. Kinder Morgan Energy Partners has been paying out distributions since 1992 and has increased its dividends consecutively for over 15 years. We are going to examine both companies from a technical and fundamental perspective, starting off with Kinder Morgan Energy Partners.
Reasons to be bullish on Kinder Morgan Energy Partners:
A great yield of 6.2%
It increased its quarterly cash distribution in the 3rd quarter to $1.26 per unit. This represents a 9% increase over its third quarter 2011 cash distribution of $1.14 per unit and it is also higher than its payment of $1.23 per unit in the 2nd quarter of 2012.
A five year dividend average of 6.8%
A very strong quarterly earnings growth rate of 76% and a good quarterly revenue growth rate of almost 11%
It has consecutively increased the dividend for 15 years.
A strong five-year dividend growth rate of 6.8% and a good interest coverage ratio of 4.20.
Zacks

has

a projected EPS growth rate for the next 12 months of 29% and an estimated 3-5 year EPS growth rate of 21.5%.
Management has planned the extension of the Trans Mountain pipeline. The project would increase the capacity to 750,000 bpd from the current 300,000 bpd. The company expects to file regulatory applications towards the second half of 2013 and to be commissioned in 2017.
It just concluded a 25-year natural gas transportation deal in connection with plans to build a pipeline in Mexico.
Under the terms of the deal, El Paso will initially provide about 200 million cubic feet per day of transportation capacity through a new, 60-mile pipeline that would extend from existing pipelines near Tucson, Ariz. and connect with a pipeline to be built in Mexico.

The pipeline's construction remains subject to federal regulatory approvals. El Paso plans to file applications for the needed permits early next year, Kinder Morgan Energy said.

If approved, construction on the pipeline is set to begin in the first quarter of 2014, with the pipeline expected to go into service in September 2014.
Management expects to declare a cash distribution of $4.98 per unit for 2012. This would represent an increase of 8% over the 2011 payment of $4.61 per unit
It has increased its capital expenditure budget from $1.9 billion to $2 billion in 2012.
Charts and data of interest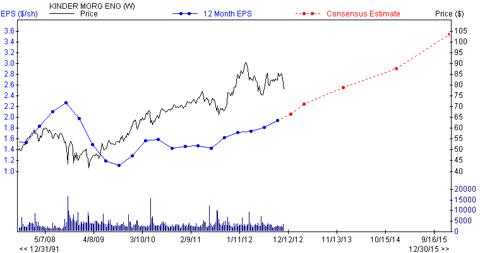 When a stock is trading above the EPS and EPS consensus estimate line, it is a bullish phase, and the outlook calls for higher prices. The stock is trading above the EPS consensus line and so the current pullback provides long term investors with a good entry point.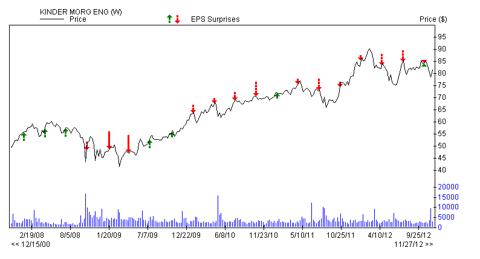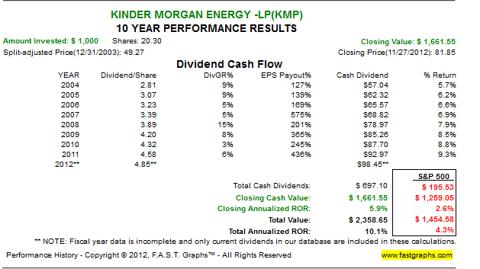 $100K invested 10 years ago would have grown to $235K. We simply multiplied the result with 100. The starting value in the above table was $1k.
Technical outlook
The stock rallied nicely in tandem with the market, but faces resistance in the $82.00-$84.00 ranges. As the overall markets are still volatile and still in a corrective phase, there is a good chance that this stock will test its recent lows in the $74.00-$75.00 ranges. We would wait for a retest of these lows before committing fresh funds to this play. A retest of the lows could also create a double bottom formation. Double bottom formations are generally bullish formations as they usually lead to higher prices.
One other option to consider would be to sell puts at strikes you would not mind owning the stock the moment it trades below $78.00. The benefit of this strategy is two-fold. You have the chance to get into the stock at a price of your choosing or you get compensated for your efforts.
Reasons to be bullish on Southern company :
A five year dividend growth rate of 3.8%
It has consecutively increased its dividend for 11 years in a row.
A great yield of 4.6%
A good interest coverage rate of 4.50.
Annual EPS before NRI rose from $2.24 in 2007 to $2.57 in 2011.
A manageable payout ratio of 76%.
It generates returns that are among the highest in the industry, and continues to maintain its position

as

low cost provider of electricity.
A quarterly earnings growth rate of 6.6%.
It is one of the largest electric utility companies in the United States and the top energy firm servicing the Southeast market.
Analysts

have

an estimated growth rate of 5.18% per annum for the next five years.
Management expects to invest $14 billion between 2012 and 2014. The bulk of this capital will be invested in transmission, distribution and generation facilities and this is expected to boost earnings growth through an increase in efficiency and

production.
Charts and data of interest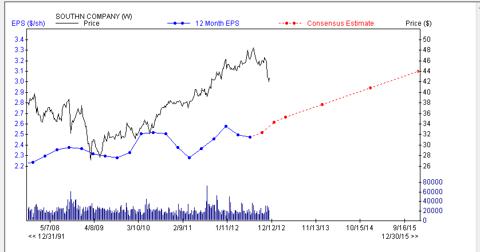 The relationship between the price of a stock and the consensus EPS dictates that when the stock is trading above the consensus EPS line, the stock tends to perform significantly better. As the stock is still trending well above the consensus EPS line, the current pullback could prove to be a good long-term buying opportunity.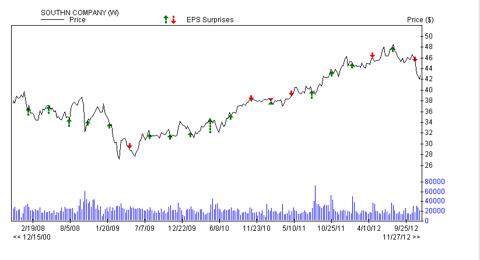 | | | | | |
| --- | --- | --- | --- | --- |
| Earnings History | Dec 11 | Mar 12 | Jun 12 | Sep 12 |
| EPS Estimate | 0.30 | 0.46 | 0.68 | 1.13 |
| EPS Actual | 0.30 | 0.42 | 0.69 | 1.11 |
| Difference | 0.00 | -0.04 | 0.01 | -0.02 |
| Surprise % | 0.00% | -8.70% | 1.50% | -1.80% |
Other interesting plays in the utilities sector
Another good long-term play in this sector is Duke Energy (NYSE:DUK). It has been paying dividends since 1926, has a strong quarterly revenue growth rate of 71%, a healthy quarterly earnings growth rate of almost 26% and a decent interest coverage ratio of 3.10. It also sports a very nice yield of 5.00%. A good place to deploy some funds would be on a re test of the recent lows (59.00-60.00).
The Technical Picture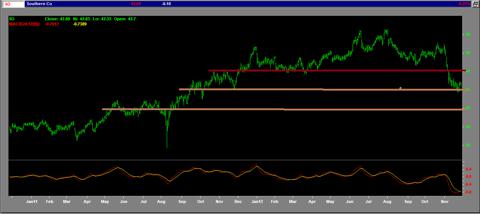 Source marketbrowser.com
The stock has some support in the $42.00-$42.70 ranges, but the support is not very strong here. If it fails to hold above these ranges it could easily test the $40.00 ranges and possibly trade as low as $38 on an intraday basis before bottoming out. We would wait for a test of the $40 ranges before committing any new money to this play. A weekly close above $44.00 will signal that the worst is behind it and that the stock is ready to trend higher.
An alternative strategy would be to sell puts at strikes you would not mind owning the stock at. If the shares are put to your account, you will get in at a price of your choosing. If the shares are not put to your account you at least get compensated for trying via the premium.
Conclusion
These two plays make for great long-term investments as they both have excellent histories of consecutively increasing their dividends and they both sport great yields of 4.6% (Southern Company) and 6.2% (Kinder Morgan Energy Partners) respectively. We would consider waiting for both stocks to pull back to the suggested ranges before committing fresh funds to either one.
EPS and EPS surprise charts sourced from zacks.com. Earnings history data sourced from yahoofinance.com.
Disclaimer
It is imperative that you do your due diligence and then determine if the above strategy meets with your risk tolerance levels. The Latin maxim caveat emptor applies-let the buyer beware.
Disclosure: I have no positions in any stocks mentioned, and no plans to initiate any positions within the next 72 hours.
Business relationship disclosure: This article was prepared for Tactical Investor by one of our analysts. We have not received any compensation for expressing the recommendations in this article. We have no business relationships with any of the companies mentioned in this article.