VIX - Market Sentiment:
Wednesday S&P futures were trading down sharply in the pre-market as fear initially returned to the market. This was short-lived, however, after bullish comments from President Obama kicked off "Fiscal Cliff" talks, which gave the markets confidence once again. This prompted a big bounce rally after markets were very soft for the first two hours of trading as poor housing data continued to pressure equities. A check on the NYMO shows us the oscillator continues to move higher, with the markets now reading 41.07. Remember, oversold/overbought markets occur at the +80 and -80 levels, so keep this in mind when putting on positions.
The spot CBOE Volatility Index (VIX) shot to the upside Wednesday, rising and almost touching the 17.00 mark. This, of course, was early on during a sea of red tape before the market came roaring back, closing up .8% across the board. Volatility ETF (NYSEARCA:VXX), 2x ETF (NASDAQ:TVIX), and alternative 2x ETF (NYSEARCA:UVXY) were moving higher early as front month volatility was bought early before the bids just disappeared and closed down on the day. Some sentiment did appear to shift in further out VIX as some short calls were covered Wednesday to a net premium amount of 1.6M.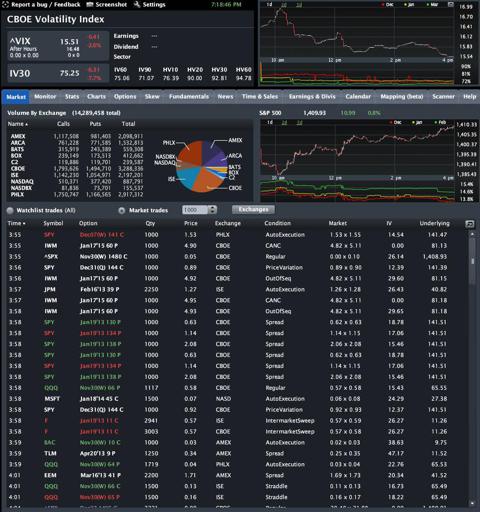 Statistics and Screenshot Provided By LiveVol
VIX futures are below.
Tuesday
· December VIX futures 16.15
· January VIX futures 17.85
· February VIX futures 19.00
Wednesday
· December VIX futures 15.55
· January VIX futures 17.30
· February VIX futures 18.53
Wednesday was yet another day for those who follow my trades on Twitter where doing nothing was the name of the game. As with previous days, I'm not comfortable on days where everything is going up. The bond ETF (NYSEARCA:TLT), S&P ETF (NYSEARCA:SPY), euro ETF (NYSEARCA:FXE), and yes, even the volatility ETFs, were all up at one point on the day at the same time. The only thing missing from the bull move was the Gold ETF (NYSEARCA:GLD), as metals continue to underperform. Although I do believe we could get a few good days in a row here, as new fund flows from the beginning of December could pull the markets back up to the 1420 level. This is where I expect some sellers to possibly come into the market, playing the daily moving averages. Make sure to stay nimble and have enough dry powder to capitalize on the direction.
Options Paper:
The market finished Wednesday trading just short of 14.3M contracts for the day. Leaders options pits Wednesday were pretty typical with Apple (NASDAQ:AAPL), MSCI Housing ETF (NYSEARCA:EWH) and the Russell 2000 ETF leading the way. I noted in other sonar reports (here) unusual VIX option activity. Wednesday saw this volume back to normal, trading just 346K versus almost 500K average daily volume. As I noted Tuesday night on Twitter, Green Mountain (NASDAQ:GMCR) is the exact reason why I follow the options market. I made the mistake of fighting clearly bullish option paper and shorting this stock, but was fortunate enough to buy in the AH to cover my naked call short. This was perfectly clear, as shorts were diving for cover as more than 314K contracts traded versus just 43K average. Calls were bought across the board as people continue to limit short losses or chase performance.
Another long-hated stock of mine, Research In Motion (RIMM), again powered higher Wednesday on more than 3x average daily volume. Wednesday calls outnumbered puts more than 2:1, but an interesting trend began to form later in the day. Large call blocks were sold, and now it appears the bulls may be turning direction after a massive 50% move in just two short trading weeks. Over the past five days, RIMM calls were bought to the extent of having more than 2.2M worth of premium being purchased. Wednesday, on the other hand, had more than 849K of calls sold and 46K of net puts bought. The put premium was underwhelming because they were spreads put on 5K time, where the trades did not go off on the ask or bid. Keep an eye on open interest to look for a possible "Tell" as to where RIMM may be headed next.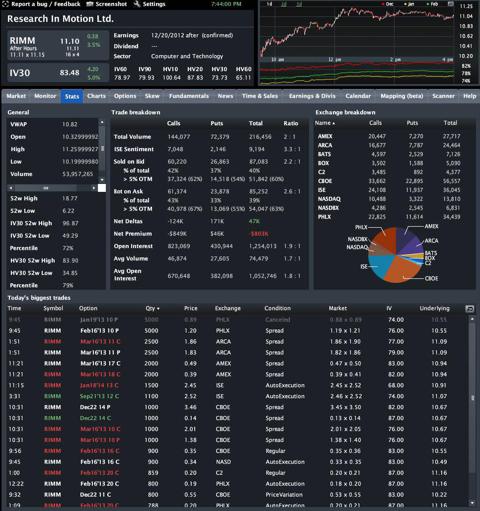 Statistics and Screenshot Provided By LiveVol
Popular ETFs and equity names with bullish/bearish paper:
Bullish Option Flows - ISE and % OTM calls bought on offer
BRE Properties (NYSE:BRE) 97% more than 10.3K bought on offer. Typically trades 79 contracts a day.
Marathon Oil (NYSE:MRO) 80%
Sirius Satellite Radio (NASDAQ:SIRI) 79% of the 37.8K calls bought on offer
Japan ETF (NYSEARCA:EWJ) 69%
CH Robinson (NASDAQ:CHRW) 68%
Activision (NASDAQ:ATVI) 5.1K calls bought on the offer
NII Holdings (NASDAQ:NIHD) 65%
Arch Coal (NYSE:ACI) 6.4K calls bought - could get interesting
Eastman Chemical (NYSE:EMN) 60%
Bearish Option Flows - ISE and % OTM puts bought on offer
Diana Shipping (NYSE:DSX) 4,024 of the 4073 OTM puts bought on offer
Union Pacific (NYSE:UNP) 63%
Dow Chemical (DOW) 59%
Haliburton (NYSE:HAL) 57%
Teradata (NYSE:TDC) 53%
Walt Disney (NYSE:DIS) 49% of the 13.3K puts
ARM Holdings (NASDAQ:ARMH) 46%
Disclosure: I am long AGNC, APC, KERX, MTGE, WLL, and I am short FXE, SPY.
Trades Wednesday: Closed GMCR short, Scalped AAPL
I wrote this article myself, and it expresses my own opinions. I am not receiving compensation for it (other than from Seeking Alpha). I have no business relationship with any company whose stock is mentioned in this article.
Disclaimer: The opinions in this document are for informational and educational purposes only and should not be construed as a recommendation to buy or sell the stocks mentioned or to solicit transactions or clients. Past performance of the companies discussed may not continue and the companies may not achieve the earnings growth as predicted. The information in this document is believed to be accurate, but under no circumstances should a person act upon the information contained within. I do not recommend that anyone act upon any investment information without first consulting an investment professional as to the suitability of such investments for his or her specific situation.