Municipal bond exchange traded funds have enjoyed a solid uptrend since the beginning of 2011, despite a brief hiccup due to Meredith Whitney's doomsday default prediction that didn't play out.
Now muni ETFs are at multi-year highs with expectations taxes will rise next year, providing the asset class with a tailwind after Obama's reelection. The tax-exempt status of muni bonds would be even more attractive if taxes go up.
However, this week's appointment of Elisse Walter to head the SEC could force institutional investors to take pause. The new SEC chief has been critical of the muni bond market.
Walter, one of five SEC commissioners, has spent a considerable chunk of her time at the regulator looking at the $3.7 trillion muni market, MarketWatch reports.
Walter has been "a key proponent of municipal-bond reforms such as setting up a uniform, detailed federal-disclosure system for the industry," according to the report.
On Monday, President Barack Obama nominated Walter to replace Mary Schapiro as the next chair of the SEC.
As an SEC commissioner, Walter led a report released in July recommending structural changes and more disclosure in the municipal securities market.
Muni ETFs are getting a second look from investors expecting that taxes will rise next year. Conversely, some have speculated that the government could even remove munis' tax-exempt status to help shore up the government deficit.
High-yield municipal bond ETF options include:
Market Vectors High Yield Municipal Index (NYSEARCA:HYD): 4.39% 30-day SEC yield
SPDR Nuveen S&P High Yield Municipal Bond (NYSEARCA:HYMB): 4.98% yield
Broad municipal bond ETFs include:
iShares S&P National AMT-Free Municipal Bond Fund (NYSEARCA:MUB): 1.61% 30-day SEC yield
SPDR Barclays Capital Municipal Bond (NYSEARCA:TFI): 2.91% yield

iShares S&P National AMT-Free Municipal Bond
(click image to enlarge)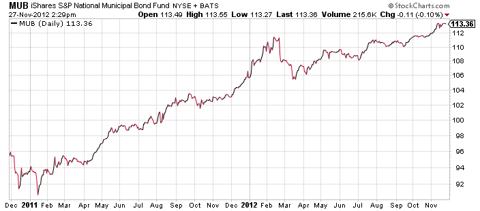 Max Chen contributed to this article.
Disclosure: I have no positions in any stocks mentioned, and no plans to initiate any positions within the next 72 hours. I wrote this article myself, and it expresses my own opinions. I am not receiving compensation for it. I have no business relationship with any company whose stock is mentioned in this article.