Teucrium Soybean Fund ETF (NYSEARCA:SOYB) is a relatively small ETF with less than $10 million in assets, but the fund could get a boost amid reports of very low soybean stockpiles.
According to Oil World, global soybean stocks are expected to drop to 49.3 million metric tons, a five-year low, in the first quarter of 2013, compared to 70.1 million in the first quarter of 2012, reports Rudy Ruitenberg for Bloomberg.
Stockpiles will dip to 39% of the September-to-February consumption level, compared to the 55% ratio from a year earlier. Consequently, the researchers believe consumers will be "heavily dependent" on South American supplies, and any delays would fuel a "demand-driven price rally."
"There is hardly any cushion against major crop problems caused by poor weather in South America," Oil World wrote in a note. "There is an urgent need for rapid disposals of the new-crop South American supplies early in the season. Harvest delays and, in particular, any logistical constraints could become problematic for consumers."
In the U.S., soybean stocks are estimated to drop to 29.5 million tons as of March 1, from 40 million tons year-over-year. Brazilian soybean inventories are calculated to decline to 1 million tons as of January 1, compared to 5.4 million tons at the beginning of 2012.
Nevertheless, if the harvest season goes off without a hitch, soybean production from five South American countries, including Brazil and Argentina, is expected to rise to 149.2 million tons next year from 116.6 million tons in 2012.
"Exports in the second half of this season will depend on the outcome of the South American soybean crop, the start and progress of harvesting, the pace of farmer selling as well as the logistics," Oil World said.
Soybean futures were up 1.7% Tuesday.
The soybean ETF is down 13.1% over the past three months, but it has gained 2.0% over the last week.
Teucrium Soybean Fund ETF
(click image to enlarge)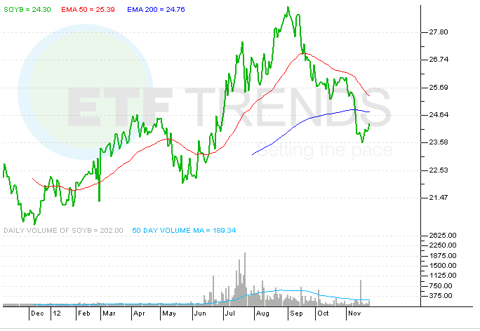 Max Chen contributed to this article.
Disclosure: I have no positions in any stocks mentioned, and no plans to initiate any positions within the next 72 hours. I wrote this article myself, and it expresses my own opinions. I am not receiving compensation for it. I have no business relationship with any company whose stock is mentioned in this article.