Shortly after 10am Eastern, the S&P 500 (NYSEARCA:SPY) fell over a cliff and tumbled towards its 200-day moving average in just a few minutes time. Suddenly, headlines circulated that House Majority Leader John Boehner made statements indicating his party is ready to cut a deal with the President and Democrats to avert sending the economy over a Fiscal Cliff. From Yahoo! News:
…the speaker maintained sincerity about striking a deal and pointed to the GOP's willingness to 'put revenue on the table as long as it's accompanied by serious spending cuts' as proof-positive.

'We believe that this fits the president's request for a balanced approach to this issue, and we're going to continue to work with the president to try to resolve this in a way that is fair for the American people,' Boehner said. 'We all know that we've had this spending crisis coming at us like a freight train, and it has to be dealt with.'"
The stock market's response printed an 180 degree turn-around, and by the end of the day, the S&P 500 printed an impressive close which turned out to feature a significant and successful retest of its 200DMA.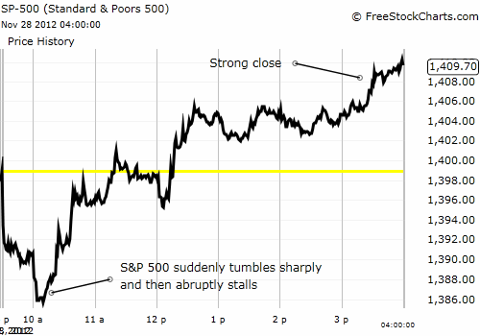 The S&P 500 tumbles sharply shortly after the open but closes strong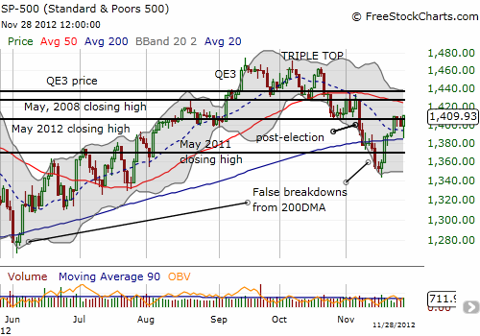 The S&P 500 successfully retests its 200DMA
Wednesday's sharp swing was a reminder that Fiscal Cliff headlines can disrupt market trading at anytime in any direction. The previous day, proclamations from Senate Majority Leader Harry Reid were blamed for sending the S&P 500 to a poor close that set up the bearish open for Wednesday's trading:
They talked some happy talk about doing revenues, but we only have a couple weeks to get something done…So we have to get away from the happy talk and start talking about specific things…I'm extremely hopeful, and I do not believe that the Republicans are going to allow us to go over the cliff.
The irony of course is that Reid attempted to attach some hooks for hope to his sober assessment. Sometimes, it all depends on the market's mood.
While the end result is a market that net-net has generated a lot of intraday excitement but gone nowhere for two days, the most important impact of Boehner's market save and 200DMA test is that the bullish Black Friday trade I discussed earlier this week remains intact. As a reminder, if the S&P 500 CLOSES Thursday without erasing all of the gains from Black Friday's impressive rally (6th strongest since 1950), the odds become exceptionally good that the S&P 500 can sustain gains for several more weeks and perhaps even months ahead.
At its lows on Wednesday, the S&P 500 had erased all of Black Friday's gains, so anyone playing the bearish version of the Black Friday trade - most years, Black Friday's gains are completely erased by Thursday's close and often by Monday's close - could have declared mission accomplished and cashed out short positions. Instead, the sharp rebound avoids the bearish lower close and keeps the bullish version of the trade alive for now.
In the meantime, another interesting market development is that the percentage of stocks trading above their 40-day moving average spiked higher to 48%, almost its highest level of the month.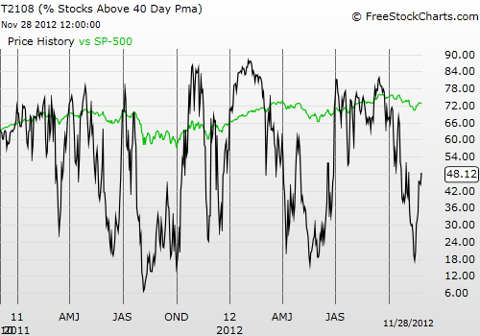 The percentage of stocks trading above their 40DMAs takes another large leap forward in an on-going recovery for stocks
It was this indicator's plunge below 20% two weeks ago that signaled oversold conditions in the market. That was a time to buy even before the Black Friday trade began. (You can read more about this signal in my T2108 Update). Why does this matter? First, it suggests that the market's healing and recovery from post-election selling is already underway. When combined with the mild action in the volatility index (as shown below), it appears that the market is either not worried about the Fiscal Cliff and/or fully expects a satisfactory resolution to the wrangling going on in Washington.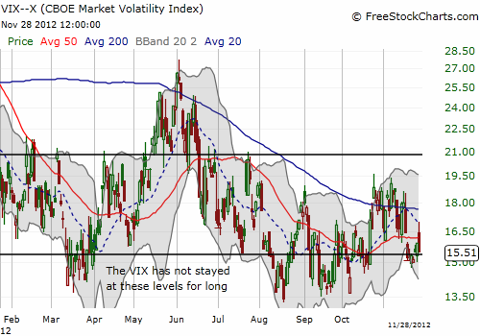 Despite the presumed threat of the Fiscal Cliff, market participants appear unwilling to pay up for protection
Source for charts: FreeStockCharts.com
Perhaps those who already wanted to bail on the market have left and the brave have survived, uninterested in betting on a sell-off or protecting existing holdings. It is hard to tell. But one thing seems certain: if the Black Friday trade survives this week's Fiscal Cliff seesawing headlines, flash headlines should continue to push the market violently in either direction, making it difficult to hold onto short-term trading positions yet encouraging traders to constantly fade the market's latest capricious mood. Boehner today, Obama tomorrow, Reid the next day, wash, rinse, repeat. Do not discount the market's ability to continue making progress under such conditions.
Be careful out there!
Disclosure: I am long SSO. I wrote this article myself, and it expresses my own opinions. I am not receiving compensation for it (other than from Seeking Alpha). I have no business relationship with any company whose stock is mentioned in this article.