Stocks To Trade:
Today, we are looking at an earnings trade in Smith & Wesson (SWHC), longs in US Airways (LCC) and Facebook (NASDAQ:FB), and shorts in Chesapeake (NYSE:CHK) and AT&T (NYSE:T).
For an earnings trade, we are looking at SWHC today. The company has been doing well since the Obama election. After the last election, SWHC reported very strong gun sales and positive earnings, and as we head into this earnings report, we believe the stock could be set for a breakout. The company is expected to report nearly 50% increase in sales along with EPS growth from 0.01 to 0.24. The strong expected report coupled with potential for solid guidance as sales should have increased in November is definitely helping to provide support for the stock.
Guidance is expected to come in at 0.16 EPS for the November - January quarter along with 27% increase in revenue. The stock broke a key triangle to the upside today, and it is looking very solid. The $11 line is the key resistance left for the stock, and if that breaks, we like it for an even bigger move higher. The positive earnings growth is a definite catalyst, and we believe the stock can move even higher on a break above $11.
Trade: SWHC, Long
Breakout: 11.00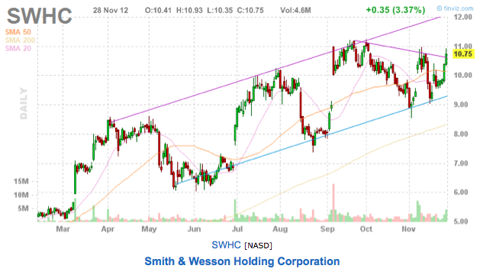 For longs, we like the looks of US Airways and Facebook. LCC looks very close to breaking out while Facebook continues to look solid and should make for a great bull put spread. Airlines are looking very solid after Obama signed into law yesterday a protective bill for airlines that protects airline from paying EU carbon fees. This protective measure will help airlines avoid large fees, and we believe that LCC is looking very solid if it can get over 13.10. The stock broke out of an upward triangle, and it has had resistance at 13.10 on previous tests. This bill is a positive catalyst, and the 13.10 level is a breakout point. Look to buy on that break.
FB is also looking very solid right now. The company has done very well since their last earnings report showed positive momentum in the mobile sector. The mobile ads department saw growth to $150M in sales in the company's latest quarter, accounting for 30% of revenue. This part of the business did not exist before, and that growth has given investors a lot of confidence. Since that report, the stock has improved around 50%. After the report, the company retested $20, held, and moved higher.
We believe FB is a great candidate for a bull put spread as they have positive fundamentals, momentum, and have shown solid technical support at $20. We like that area for a bull put spread. The company has a lot of potential as well with their recent Gifts line and can continue to benefit from movement into commerce.
Equity Trade: LCC, Long
Breakout Point: Break of 13.10
Options Trade: FB, Jan21, 21/20 Bull Put Spread
Max Gain: 11%
For shorts, we like the looks of Chesapeake and AT&T. Despite recent strength in the market, CHK and T have not been participating. Chesapeake is looking fairly weak right now as it has not been able to break 18 for several weeks, and it could have a breakdown coming. CHK has been negatively affected by natural gas prices that have been weaker as of late due to data showing December temperatures will be warmer than expected. As CHK is a nat gas producer, their stock is held in check when nat gas prices are declining or flat. CHK could have a serious breakdown if it fails its upward wedge. It has support at 17.00, and if that level fails, the company should see some solid weakness. The company has about 11% short float, which is above the average, but that level could increase significantly.
AT&T looks weak as well with limited upside catalysts. The stock has been very weak since the beginning of November when Sandy hit, and the stock has not recovered yet. During that event, AT&T saw a number of towers hurt and customers with outages of service and power. The loss of power and loss of consumers negatively impacted sales, and towers cost the company money in repairs. The company continues to look weak and has strong resistance at $35 where it broke down in November. With the fiscal cliff looming and the company still repairing from Sandy, we do not see much of a catalyst for the stock. 35 is a safe level for a conservative bear call spread.
Stock Trade: CHK, Short
Breakout point: Break of 17.00
Options Trade: T, Dec22, 35/36 Bear Call Spread
Max Gain: 9%
Thursday's Outlook:
The market made a solid move to the upside on the back of hopes for the fiscal cliff. President Obama and Speaker of the House Boehner made some positive movement on the fiscal cliff. The cliff is the only issue holding the market back, but talk is just talk. Without action, the market is headed for some major issues. We believe that the government is still far away from making the necessary strides to solve the crisis.
Thursday, we should see some more upside, but the movement up will be based on jobless claims, GDP estimates, and pending home sales. If GDP does not beat estimates, we could see some downside. Jobless claims need to come back down from Sandy as well. Look for some decent upside on the fiscal cliff hopes, but it could be tempered if GDP and jobless claims do not participate.
Chart courtesy of finviz.com.
Disclosure: I have no positions in any stocks mentioned, and no plans to initiate any positions within the next 72 hours.
Business relationship disclosure: The Oxen Group is a team of analysts. This article was written by David Ristau, one of our writers. We did not receive compensation for this article (other than from Seeking Alpha), and we have no business relationship with any company whose stock is mentioned in this article.