"Whatever method you use to pick stocks...,your ultimate success or failure will depend on your ability to ignore the worries of the world long enough to allow your investment to succeed. It isn't the head but the stomach that determines the fate of the stockpicker."--Peter Lynch (Fidelity Investments, Beating the Street, 1994).
Traders and investors need a strong stomach these days. The topics that the financial news media parades before us day after day are ingredients for a cauldron of the "paralysis of analysis". I'm not an ostrich nor a delusional optimist, but even the St. Louis Federal Reserve Bank's "Financial Stress Index" makes it clear that under the generous monetary policies of the Fed, investors really don't really have much to worry about.
If you're the kind of investor or trader that wants to make serious money in the stock or option markets, start by using trailing stops, the kind that the exchanges' market-makers can't see. This way you'll have a meaningful exit strategy or a "safety net" under your investment portfolio. You'll limit the potential for unacceptable losses while doing your best to let your winners run. But you'll never make money by sitting on the sidelines. As the old joke says, "If you're asking God to help you win the lottery you'd better buy at least one lottery ticket".
Even in 2008, when the wheels of the worldwide credit expansion were falling off and financial "harm-aggedon" was unleashed, there was a strong "Santa Claus rally" that occurred in December. This year's rally may begin within days or a few weeks. When it starts it'll be robust!
Here are Some Current "Best Stock Bargains" To Choose From
It might not occur to many that one of the "best stock bargains" right now is a stock that trades for over $580-per-share. Apple Inc. (NASDAQ:AAPL), in my opinion, needs to be at the top of the list. After hitting a bottom on Nov.16th at $505.75, the stock has rebounded 15%, closing on Wed. Nov.28th at $582.94, well off its 52-week high of $705.07. We've probably seen the best entry price come and go.
That being said, AAPL shares may give back 7 or 8% before the Santa Claus rally commences. If you can buy this best-of-breed tech giant at $550 or lower, well, you're getting a bargain. With zero debt, operating cash flow of almost $51 billion (TTM), and total cash (as of Sept.29th) of $29.13 billion, this company can make shareholders smile brightly.
From a value standpoint, AAPL shares are still priced with a forward (1-year) PE of 10 and a undervalued PEG ratio of only 0.57. That means the share price could double and the PEG would be priced at slightly above 1 times its 5-year expected earnings rate. The following chart gives us a year's snapshot of both Apple's stock performance and its Relative Strength Indicator (RSI).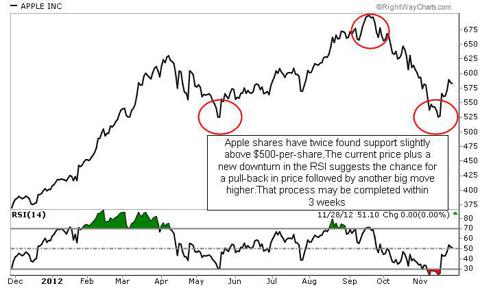 The very popular RSI, or Relative Strength Indicator, is a momentum oscillator that compares the strength of gains against the strength of losses over a given period. RSI always ranges between 0 and 100. Values below 30 and above 70 are typically taken as oversold and overbought respectively. A strengthening RSI indicates that gains are tending to dominate losses. Once the RSI climbs above 70, however, the sustainability of the gains is called into question.
Next let's look at Crocs Inc. (NASDAQ:CROX), which soared 11% higher in the last two days (Nov.27 and 28th), thanks mostly to an enthusiastic buy recommendation from an analyst at Goldman Sachs (NYSE:GS). The analyst gives CROX a one-year price target of $17. "We see Crocs as a lifestyle brand with global appeal that appears both proven and sustainable," he wrote in a note to investors. CROX has little debt, $315 million in total cash (most recent quarter) and is selling with a PEG ratio (5-year expected) of 0.90. It's still a bargain! By the way, a "bargain" to me is not a cheap stock that has lots of downside risk. We want to own stocks with limited downside risk and at least 20% upside potential from where we purchase it.
Another "bargain" example is KeyCorp (NYSE:KEY). KeyCorp operates as a holding company for KeyBank National Association that provides various regional banking services in the United States. At its closing price on Nov. 28th of $8.18, KeyCorp is 10.3% below its 52-week high of $9.12. As the chart below shows, momentum has been waning and the stock is approaching near-term support established on Nov.16th at $7.96. Momentum may soon reverse.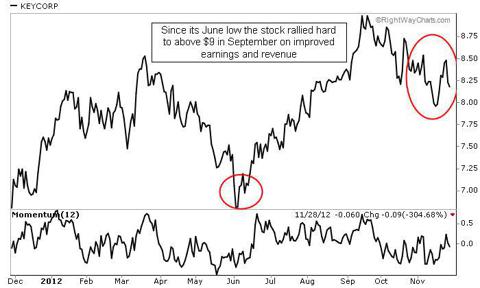 Momentum is simply the most recent price minus the price X days ago where X represents the Momentum period. Like its name suggests, this indicator tells you how quickly (or slowly) a securities price is changing. Values above zero indicate the current price is higher than the price X days ago. An increasing momentum line indicates that recent prices are consistently higher than they were in the past. The current momentum reflects just 2 days. On Nov. 26th KeyCorp closed at $8.48.
CEO Beth Mooney owns nearly 403,000 shares of KeyCorp, and that's partly because her company has a 30% operating margin and more than a 21% profit margin. As of the most recent quarter (Sept.30th), it had total cash of $2.7 billion. That's $2.89 total cash per share. Watch KeyCorp closely in the days ahead. If it successfully tests its recent low of $7.96, you'll have what appears to be an excellent entry point. I'm anticipating a 20% upside potential from there.
Recently I wrote an article that included Take Two Interactive Software (NASDAQ:TTWO). The company develops, markets, and publishes interactive entertainment for consumers in the United States and internationally. Billionaire activist Carl Icahn purchased 1,407,959 shares during a 5-day buying spree November 12th through Nov.16th at prices-per-share of $10.92 to $11.50. He is a "Beneficial Owner" of TTWO, controlling more than 10% of the outstanding shares.
As I commented in the article, "With its total cash of over $328 million it can boast of a Total Cash Per Share of $3.62. That's amazing for a company with a share price of $12.50 trading at a forward (1-year) PE ratio of only 5." In the quarter ending Sept.30th, quarterly revenue growth (year-over-year) was up an impressive 155%.
Another example of a bargain is Silver Wheaton (SLW), a silver royalty company (a.k.a. "silver streaming company"). As of the most recent quarter ending Sept.30th, despite flat silver prices, SLW had total cash of over $555 million with only $57 million in total debt. The promising statistics about SLW are its operating margin (74%) and its profit margin (73%). When the news shifts away from worries like tax issues and towards the Federal Reserve's most generous monetary stimulus program ever, silver and gold should move sharply higher.
That's just one of the reasons that SLW looks cheap below $37-per-share. Analysts consensus 1-year share price target is above $47, and if silver surprises to the upside, expect SLW-- considered by many a proxies on silver-- to exceed the analysts' expectations.
There are other companies in the silver business, like producer Pan American Silver (NASDAQ:PAAS), that are approaching bargain levels again. If the shares of PAAS descend below $18.50 it will be trading at a forward (1-year) PE ratio of only 10. PAAS has $548 million in total cash as of Sept.30th. Its 30% operating margin and 24% profit margin bode well for continued revenue growth. The Market Vectors Gold Miners ETF (NYSEARCA:GDX) owns over 4% of the outstanding shares and Royce & Associates owns 7.38%.
All that glitters isn't silver, and if you're looking for an attractively priced gold producer which also produces copper and silver, keep an eye on Yamana Gold (NYSE:AUY). Of all the gold producers it appears to be a star at controlling costs and the stock has strong upside momentum. As the chart below illustrates, AUY corrected to its Nov.16th low of $18.09. We may be too close to the "Santa Claus Rally" for that price to occur again, so traders might plan on accumulating below $19.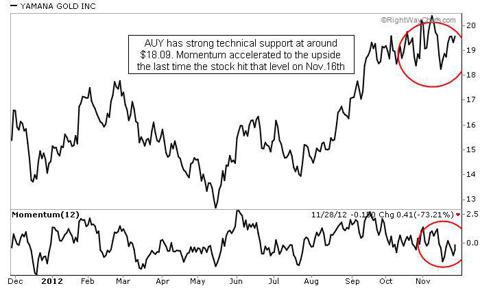 Disclosure: I am long AAPL, AUY, KEY, PAAS, SLW. I wrote this article myself, and it expresses my own opinions. I am not receiving compensation for it (other than from Seeking Alpha). I have no business relationship with any company whose stock is mentioned in this article.