I think every investor has been sucked into investing in a "sum of the parts" story at some point in their careers. The opportunity to buy a struggling business for less than its net asset value seems like a no brainer, something that even the simplest investor could take advantage of. As long as the assets are marked accurately on the balance sheet, management just has to liquidate assets, pay off any existing liabilities and distribute the remaining cash back to shareholders.
Unfortunately, these "buy a dollar for 50 cents" opportunities rarely pan out. The biggest obstacle is generally management teams that refuse to believe that the most shareholder friendly action to take would be to liquidate. They often instead fight to the bitter end, throwing good money after bad until there is no equity left in the company.
With this in mind, I submit the company Retail Holdings (OTCPK:RHDGF) as the exception to the rule, a true sum of the parts investing story with a management team that is definitively aligned to shareholders.
Retail Holdings is a holding company based in Curacao which holds three main assets. They are as follows:
54.1% interest in Singer Asia
Seller notes from 2004 sale of Singer sewing business and trademark
Cash
As this is a sum of the parts analysis, it is only sensible to evaluate each major holding before coming to our final valuation.
Singer Asia
Singer Asia is yet another holding company whose portfolio consists of publicly traded retail companies who in turn sell household products such as refrigerators, sewing machines and home electronics under the Singer brand. If you have never heard of Singer, it is because the vast majority of the brand products are sold in Southern Asia. Products are sold through traditional retail and distributor channels in Pakistan, Sri Lanka and Bangladesh while Indian revenue is generated primarily through wholesalers.
Singer has been a trusted brand name in the region since the late 1800's and with its portfolio of products geared towards middle class families, it could potentially see a marked increase in sales due to middle class expansion in the region.
As a holding company, Singer Asia does not conduct any business directly, but does so through its partially owned subsidiaries. The ownership interests in each of these companies is as follows: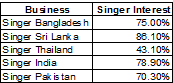 Multiplying each of these ownership percentages by the 54.1% stake in Singer Asia gives you Retail Holding's ownership percentage. Therefore, the trick is to try to get an estimated valuation of what these individual subsidiaries, which are all publicly traded, are worth. I will attempt to do this by analyzing the annual reports of the major subsidiaries.
Singer Sri Lanka
Singer Sri Lanka is the largest in country retailer of home durable goods, with an impressive 30% overall market share. The Singer brand was also voted the most popular brand in Sri Lanka for the 7th year in a row. As Sri Lankan middle class continues to rise due to increasing modernization, demand for home appliances and consumer electronics will increase, evidenced by Singer Sri Lanka's 37% revenue growth in 2011. With the 16 year old civil war between the government and the Tamil Tigers ending decisively in 2009 and increasingly liberal government policies, there is no reason that Singer Sri Lanka should not continue to experience strong growth in the medium term.
Singer Sri Lanka currently trades at ~9X earnings for a total market cap of $97M. I believe the low P/E ratio is indicative of the "risk off" trading currently gripping the markets due to global recessionary fears combined with inflationary pressures in Sri Lanka (Sri Lankan Rupee has devalued ~20% in the past year). If the currency can be solidified and a more positive macroeconomic scenario comes to pass in the next few years, the company could easily trade in the 13-15 multiple range given Sri Lanka's positive growth story. Regardless, I believe $97M is a conservative estimate for the company value and I will use it in my sum of the parts calculation.
Singer Bangladesh
Bangladesh is not a country accustomed to ideal economic conditions and 2011 was no exception; the stock market crashing, the currency devaluing and inflation soaring being some of the major highlights. Amidst these market conditions, Singer Bangladesh dug in, concentrating on improving its product offerings in the refrigerator and television space while maintaining the leading distribution network for consumer durables in the country.
Impressively, the company was able to grow revenue by 13% despite nightmarish market conditions and after removing unusuals, profit remained relatively flat at 400M BDT which equates to $4.8M in income. The current market cap of the Singer Bangladesh is around $75M on the Dhaka Stock Exchange which comes to a P/E ratio of 15, not an unreasonable ratio for a company that is expecting to grow considerably as the country begins to modernize. I will therefore stick with the current market cap of the company as the fair value of the company.
Singer Thailand
The remaining major Singer business is Singer Thailand. The growth story is similar to the sister companies in Bangladesh and Sri Lanka with the sales being levered to a rising middle class and 75% of sales coming from home appliances and consumer electronics. The company managed to grow revenue and profit 15% and 60% respectively in 2011 even as the country had to grapple with terrible flooding disasters at the end of the year.
Singer Thailand currently has a $142M market cap, equating to a P/E ratio of 20 which does not seem outlandish if future medium term growth can come close to 2011 earnings growth.
Remainder
The rest of the Singer businesses held by Retail Holdings consist of Singer India and Singer Pakistan which are small holdings relative to the rest of the portfolio. With this in mind, I will be using the current market caps of these two businesses to determine their value to the parent.
(Note: I realize I have ultimately used the market cap for each public subsidiary but I still believe it was worthwhile to look at each business valuation to ensure that there were no holdings being grossly overvalued).
Seller Notes
Other than the stake in Singer Asia, the other main asset in Retail Holding's portfolio is promissory notes which the company received after completing the sale of the Singer worldwide sewing business and Singer trademark to SVP Holdings in September 2004. The notes currently have a face value of $21.6M as of 6/30/2012.
Due to the global recession, SVP Holdings entered into a default with respect to certain debt covenants in the fall of 2009 and after renegotiations with Retail Holdings, the debt was restructured and the maturity was extended to 2014. In June 2012, SVP was forced to renegotiate debt terms yet again and the note maturity was extended again to 2018.
Clearly, final repayment of the loan from SVP is less than certain given the history of renegotiations and restructurings. Therefore, for the purposes of this exercise we would need to apply a discount to the value of the notes. For conservatism's sake, I am going to apply a haircut of 50% to the loan value.
Cash
As of 6/30/2012, cash on hand was $20.7M. Since then, the company has paid a $2.50 dividend to shareholders. With 5.3M shares outstanding, this comes to a cash outflow of $13.25M, bringing me to a net cash number of $7.5M. Again for conservatism's sake, I am not going to count the cash in the valuation.
Final Valuation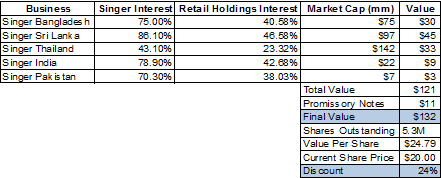 As can be seen above, I am calculating that Retail Holdings is currently trading at a 24% discount to its market cap based on what I believe to be some conservative valuation assumptions. What makes this sum of parts story different than most is that management is on record saying that they intend to sell the assets to maximize shareholder return. Per their latest filing:
ReHo's strategy is to maximize and monetize the value of its assets, with the medium-term objective of liquidating the Company and distributing the resulting funds and any remaining assets to its shareholders.
Proof of these intentions can be seen in the substantial dividend program that has been in place since 2007. The amount of the annual dividends depends on the performance of the Singer subsidiaries along with any asset sales that the company undertakes.
I believe that Retail Holdings offers an intriguing opportunity to buy a company at a substantial discount to its liquidation value at a time when it happens to be liquidating. I also believe there is significant upside if the Singer subsidiaries are able to capitalize on the rapid economic growth of their respective countries. Potential investors should be warned that this is an OTC stock with a low amount of daily volume so the use of limit orders is recommended.
Disclosure: I have no positions in any stocks mentioned, but may initiate a long position in OTCPK:RHDGF over the next 72 hours. I wrote this article myself, and it expresses my own opinions. I am not receiving compensation for it (other than from Seeking Alpha). I have no business relationship with any company whose stock is mentioned in this article.