Kinder Morgan Inc. (NYSE:KMI) derives much of its value from distribution growth at Morgan Energy Partners (NYSE:KMP) and El Paso Pipeline Partners (NYSE:EPB). On the back of KMP's performance over the years, KMI has managed to increase its cash flow from $153 million to $1,381 million between the years 2000 and 2011. With the acquisition of El Paso, Kinder Morgan is now one of the leading players in the industry, and we believe the diversity and scale of operations make KMI a solid income growth play. The current yield of 4.30%, stable cash flows and an achievable 12.5% distribution growth rate make KMI an attractive buy.
Overview:
With a combined enterprise value of roughly $100 billion for KMI, KMP, Kinder Morgan Management (NYSE:KMR) and EPB, Kinder Morgan is the third largest energy company in North America. KMI's assets include the GP, LP and unit ownership in Kinder Morgan Energy Partners and El Paso Pipeline Partners. In the chart below, we present in graphical form the sources of cash needed to pay KMI's dividends.
Chart 1: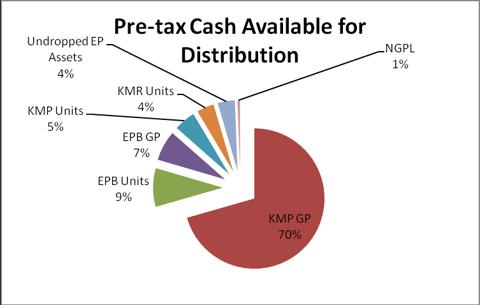 KMP remains the most important source of cash for KMI with a contribution of 70%, as shown in the chart above. With KMI's 2% GP stake in KMP and equal incentive distribution rights (IDR) split, 50% of every distribution increase at KMP flows back to KMI. Since KMI has been in the high split since 1997, almost 46% of all KMP's distributions go to their 2% GP, and the remaining is left for the primary limited partners. Also, KMI will benefit from KMP increasing its equity in order to fund growth because KMI receives 50% of the additional limited partner distributions. Hence, growth in distributions and new equity issuance both lead to more cash for KMI.
Chart 2: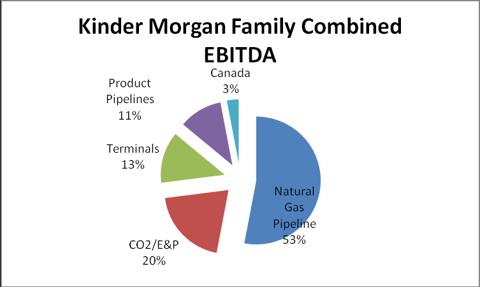 With 53% of EBITDA expected to come from the Natural Gas Pipeline segment, a large chunk of revenue inflow will come from a stable fee-based albeit low growth business. Other segments in addition to CO2/E&P are also based on a stable fee-based model.
El Paso:
KMI agreed to buy El Paso for $39.8 billion and the deal was closed in May 2012. With the help of the deal, KMI intends to increase its long-term dividend growth to 12.5%, increase KMP's long-term expected distribution growth rate from 5% to 7% and make its EPB distribution grow at 9% a year.
Third Quarter:
On the back of the El Paso acquisition, earnings of $0.19 for this quarter went past $0.18 earned in the same quarter of last year. Revenue increased by 35.2% and ended up at $2,870 million. Kinder also increased its quarterly dividend to 36 cents per unit, representing an increment of 20% year over year. The current dividend target for the full year (2012) stands at $1.40, up from $1.35 for the preceding year.
The El Paso acquisition has also made the company more bold in its projections of cash available for payouts which are expected to be $1,325 million in 2012; a figure ahead of its published annual budget.
Risks:
KMI has a high debt to equity ratio of 280% with an interest coverage ratio of 2.3x. KMI is also experiencing a high level of interest rate exposure with its 50% floating rate debt policy.
With ~46% of cash flow going to KMI, KMP has one of the highest IDR burdens in the industry. This translates into a high cost of equity and a slower growth for KMP. A struggling KMP will result in slow growth for KMI.
Valuations:
| | | | | | | | |
| --- | --- | --- | --- | --- | --- | --- | --- |
|   | KMI | National Fuel Gas Co. (NYSE:NFG) | ONEOK Inc (NYSE:OKE) | Spectra Energy (NYSE:SE) | Targa Resources (NYSE:TRGP) | Williams Companies (NYSE:WMB) | Average |
| Forward P/E | 25x | 18x | 22x | 16.5x | 38x | 26x | 24x |
| EV/EBITDA | 18.4x | 8x | 10x | 13x | 6.5x | 11x | 11x |
The mean price target of analysts is $40. None of the analysts has a sell rating on the stock. In light of a strong yield with high expected dividend growth rate and an upside potential of 18.5% (based on sell side estimates), we have a buy rating for KMI.
Disclosure: I have no positions in any stocks mentioned, and no plans to initiate any positions within the next 72 hours.
Business relationship disclosure: The article has been written by Qineqt's Energy Analyst. Qineqt is not receiving compensation for it (other than from Seeking Alpha). Qineqt has no business relationship with any company whose stock is mentioned in this article.