In what largely went unnoticed by the financial markets in the 11/27 trading session, Microsoft (NASDAQ:MSFT) announced a spectacular piece of news. 40 million copies of Windows 8 have been sold after just a month of being out on the market. This is a huge deal, and not simply because the upgrade cycle is off to a better start than its predecessor, the highly successful Windows 7.
It's much, much deeper than that.
Windows 8 Reinvents Windows
Until Windows 8, previous editions of Windows, wasn't very "user centric". Oh sure, it allowed the user to run all of his or her programs, and it had a pretty nice user interface to boot. Simple, elegant, and powerful. But the success of Apple's (NASDAQ:AAPL) more tightly controlled software ecosystem proved that users would rather have something that's easy to use, with almost all of the functionality that the user wants shipped right with the OS.
To combat Apple's increasing PC market share, Microsoft decided to go all-out and do the same thing. Windows 8 comes with all the essentials built in. Want a calendar app? Want to take pictures? Make movies? Check your stocks? Manage your music? How about your own little piece of cloud storage? Microsoft gives the user all of this. The "user experience" is very materially improved.
But that's not all. Windows 8 very successfully integrates the "old" way of doing things - the traditional "desktop" metaphor - with a brand-new touch oriented UI. Not only does this enable a familiar experience for those who just want a better version of the Windows 7 they knew and loved, but this fundamentally enables touch devices.
Touch. It's a huge deal. Laptops are becoming much thinner and lighter than before, and they're coming with touch screens. Tablets also seem to be gaining traction, so that market segment will likely be a growth driver for Microsoft, especially as Windows 8 tablets can double as the familiar PC in a docket mode (and run all the legacy Windows applications to boot). Fundamentally, this is an "innovation" that Microsoft and the PC ecosystem has beaten Apple to the punch to. For the first time in many years, Microsoft products offer something of real fundamental value that the corresponding (and much more expensive) Apple products do not.
If there were ever a reason to upgrade that clunky old laptop, Windows 8 gives users a real reason to. But that's not the only reason to invest in Microsoft.
Windows Phone 8 - Anybody Notice Nokia Lately?
Windows Phone 8 is a product that everyone seems to have written off. And I believe that this is fundamentally a mistake. Not only does the touch-based UI for Windows 8 tablets/PCs enable a new paradigm for computing for the "big" devices, but the unification of the software ecosystem with phones is a step that Apple has successfully leveraged in its own products.
However, success in the phone space isn't really about that. It's about having a quality product with solid marketing and features. That's where Nokia (NYSE:NOK) comes in. While other vendors like Samsung produce Windows Phone 8 devices, Nokia is really gunning to make a name for itself here. And, hey, it seems to be succeeding. According to one analyst, the Lumia 920 is selling "better than expected".
That's what Microsoft needed for Windows Phone. A standout, high-quality, strongly recognized brand to really push it hard with a quality Windows Phone 8 device. While Samsung, HTC, and others are also offerings Windows Phone 8 devices, Nokia's the one whose life is on the line here, so a stronger effort is expected.
But, wait! It's not all about Windows Phone 8. Let's talk about the Microsoft App Store.
Microsoft - Getting A Piece Of The Application Pie
Microsoft is used to getting paid for Windows and then everybody else profits off of the ecosystem. While Apple, Google (NASDAQ:GOOG), and others have leveraged hardware and software as platforms for ulterior mechanisms to generate cash, Microsoft has unfortunately been absent. No longer.
The move to and emphasis on the "new" Microsoft UI is due simply to Microsoft's will to collect a 20% cut of every application sold in the app store. People seem to love spending $1 here and there for small apps for their iPads, iPhones, Android devices, and so on. So why not join in on the fun?
With Windows RT, Microsoft tried to lock users into the "New" UI-compatible apps (as older X86 compatible desktop applications won't work on a Windows RT device), but this seems to ultimately be a strategy to usher in confusion and user frustration when they find out their beloved legacy applications don't work on Windows 8 (which is the huge selling point of a full Windows 8 compatible tablet).
However, Intel (NASDAQ:INTC) has come to the rescue (of both itself and Microsoft) with its "Clover Trail" 2W SoC. Not only is it better on battery life than its ARM (NASDAQ:ARMH) based competitor in the Surface, it's also faster.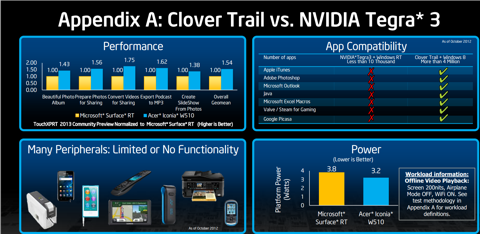 So going forward, with tablets, ultrabooks, notebooks, and desktops, there will be the ultimate flexibility on the application side. And that'll make Microsoft's platform even more attractive in many ways than Android and even iOS. Microsoft will also likely make some nice, easy cash from application royalties. Win-win for Microsoft.
Dividend, Balance Sheet, Etc.
While all of this talk is good, it's important to also keep in mind that Microsoft is a superbly healthy company. It yields 3.4% (and this dividend has been growing), has a fortress of a balance sheet with $62B in cash and $12B in debt. Best of all? The company's been aggressively buying back its shares, so unlike many other technology companies, it is great returning cash to shareholders and shrinking the float. (Intel's pretty good about this too).
MSFT Shares Outstanding data by YCharts
Downside Risks
Obviously there are material downside risks to any investment, and Microsoft is no exception. Here are the main problems that the firm faces:
Android: Google's OS is free, gaining traction, and subsidized by ad/search revenues. Microsoft has "bing", but it is nowhere near as popular as Google. Device manufacturers, operating on already thin margins, may not want to pay Microsoft for its OS.
Windows RT/8 Confusion: It is likely that due to Microsoft's decision to release both Windows RT and 8, some consumers may get confused/frustrated and then simply jump ship to a more "consistent" ecosystem (iOS, Android)
Apple's Dominance: Apple's ecosystem and brand image is second-to-none. While Microsoft's products have now significantly improved to the point of offering a very compelling experience for the average user, it is unclear how much damage to Microsoft's brand image still remains from Apple's aggressive marketing and Microsoft's Windows Vista blunder.
Conclusion
Microsoft's a great company with a solid balance sheet and a dead-on strategy in mobile. Whether consumers ultimately fall in love with Windows Phone 8, I can't tell. However, in PCs it is doing a lot to juice up the ecosystem and make it exciting again, especially as ultra-thin form factors and touch become big there. Tablets, which are really just another PC form factor, should more or less be under Microsoft's control within a couple of years. Legacy compatibility is huge, and the forward-looking "new" UI is great for touch.
I took an initial position in Microsoft at $27.41 and look forward to adding more when/if it gets cheaper. How about you?
Disclosure: I am long MSFT, INTC. I wrote this article myself, and it expresses my own opinions. I am not receiving compensation for it (other than from Seeking Alpha). I have no business relationship with any company whose stock is mentioned in this article.
Additional disclosure: I am short ARMH