"I never met a chocolate I didn't like." - Deanna Troi, Star Trek: The Next Generation
Rocky Mountain Chocolate Factory
Founded in 1981 and incorporated in 1982 in Colorado, Rocky Mountain Chocolate Factory, Inc. (NASDAQ:RMCF) is an international franchisor and confectionery manufacturer. The company headquarters is in Durango, Colorado, and the company manufactures an extensive line of premium chocolate candies and other confectionery products.
As of August 31, 2012, there were seven company-owned, 56 licensee-owned and 300 franchised Rocky Mountain Chocolate Factory stores operating in 40 states, Canada, Japan, and the United Arab Emirates.
In October 2010 Rocky Mountain Chocolate Factory entered the frozen yogurt business with its Aspen Leaf Yogurt, LLC ("ALY"), a wholly owned subsidiary of the company. Aspen Leaf Yogurt is a franchisor and retail operator of self-serve frozen yogurt retail locations, with currently 16 stores in operation and four to be opened soon.
Rocky Mountain Chocolate Factory has been sleeping like a baby, but things could fuel up if investors know all the catalysts that could drive the price much higher.
Catalysts
International expansion
Russel Stover Candies
Aspen Leaf Frozen Yogurt Brand
International expansion
In April 2012, Rock Mountain Chocolate Factory entered into a Master Licensing Agreement for the development and franchising of new Rocky Mountain Chocolate Factory stores in Japan. The agreement requires at least 10 new stores to open each year for the next 10 years, for a total minimum of 100 stores to be opened in Japan by the expiration of the initial term of the agreement. In addition test stores are going to be opened in Hong Kong, Shanghai, Singapore, and Beijing. This will open the door to the rest of South East Asia.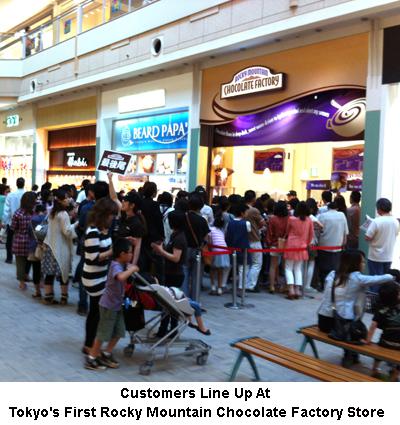 These international opportunities may create a favorable expansion strategy and reduce dependence on domestic franchise openings to achieve growth. As of September 30, 2012, three stores were opened in Japan. Rocky Mountain is also engaged in discussions with other potential licensees in other countries, as well. The earnings and growth rate could get an enormous boost going forward.
Russell Stover Candies Inc.
Russell Stover Candies is a supplier of candy, chocolate and confections in the United States. The company is the nation's leading manufacturer of boxed chocolates and the third-largest American chocolate manufacturer, trailing only Hershy and Mars. The company's three brands - Russell Stover, Whitman's and Pangburn's - account for more than 60 percent of all boxed chocolate sales in the United States. Russell Stover candies are sold in nearly 40 company-owned retail stores and through 70,000 wholesale accounts in more than 20 countries, including the United States, Canada, and the United Kingdom. The company manufacturers nearly 100 million pounds of chocolate annually.
In May 1999 the company was already interested to take over Rocky Mountain Chocolate Factory . Russell Stover Candies had in 2011 $548.28 million in revenue and has been rolling out upgrades to its approximately 40 retail stores nationwide. Most of the company's retail business in the U.S. is through other retailers, which include Walgreen, Kroger stores, CVS Pharmacy, Walmart and Dollar General.
An acquisition of Rocky Mountain Chocolate Factory could expand its footprint and distribution channels. Renewed interest in Rocky Mountain Chocolate Factory could be imminent if RMCF's founder and CEO Franklin E. Crail retires.
Aspen Leaf Frozen Yogurt Brand
The U.S. frozen yogurt market grew approximately 12% from 2008 to 2010 to approximately $700 million in retail sales during 2010. Frozen yogurt remains a rapidly growing segment of the $6.1 billion frozen deserts market with growth forecast through 2016.
This year the frozen yogurt brands are expected to rake in almost a billion dollars. Frozen yogurt, a hybrid between the traditional ice cream dessert and the healthier yogurt-based products, is an innovative way for people to "have their cake, and eat it too."
Although the popularity of the frozen yogurt franchise industry suffered a decline in the late 1990s, the category has been making a comeback in the last decade, with a new generation of flavors, toppings and store settings leading the charge.
Frozen yogurt franchises like, Red Mango, Pinkberry, Yogurtland and Aspen Leaf Yogurt are growing steadily. Even ice cream franchises such as Cold Stone Creamery and Baskin-Robbins are beginning to incorporate the frozen yogurt concept into their businesses.
Even though frozen yogurt franchises may be highly saturated in warm regions such as Los Angeles (250 individual shops in L.A. Country in early 2009 according to the Los Angeles Business Journal), there are still many opportunities to expand beyond these froyo condensed locations. In fact, there a number of areas, both internationally and in the United States, that have yet to discover the latest froyo concepts. Although weather and location may indeed be concerns when opening up these summer-friendly franchises, being one of the first franchisees in the area is an opportunity in itself. That's why the Aspen Leaf Yogurt concept is being deployed in the Midwest.
Frozen yogurt franchise opportunities represent one of the fastest-growing and most popular categories in the entire dessert industry. Today's health-conscious consumers have become much more selective about their dietary choices, but they haven't lost their desire for a tasty after-dinner indulgence. The Aspen Leaf menu emphasizes a variety of frozen yogurt flavors that are non-fat and low-fat and contain active yogurt cultures. Toppings include fresh fruits, nuts, cereal and Rocky Mountains Chocolate Factory premium candy toppings.
The management team at Rocky Mountain believes that their more than 30 years of franchising experience and support, high quality reputation in confection manufacturing, proprietary training and store operating methods, extensive relationships with developers and real estate companies, and their store base of 363 Rocky Mountain Chocolate Factory stores, will allow them to establish Aspen Leaf Yogurt as a premium retail brand within a relatively short period of time.
Open Aspen Leaf Yogurt Stores
| | | | |
| --- | --- | --- | --- |
| | | Facebook | |
| City | State | likes | were here |
| Boulder 1 | Colorado | 843 | 310 |
| Boulder 2 | Colorado | 843 | 310 |
| Broomfield | Colorado | 10 | 0 |
| Golden | Colorado | 62 | 107 |
| Greeley | Colorado | 2967 | 1258 |
| Littleton | Colorado | 11 | 0 |
| Boise | Idaho | 6492 | 1946 |
| Eagle | Idaho | 4334 | 801 |
| Ames | Iowa | 3073 | 219 |
| Iowa City | Iowa | N/A | N/A |
| Gilbert | Arizona | 2176 | 102 |
| DeKalb | Illionos | 3721 | 1852 |
| St. Joseph | Missouri | N/A | NA |
| Farmington | New Mexico | 3331 | 247 |
| Murfreesboro | Tennessee | 1952 | 122 |
| San Antonio | Texas | 2998 | 40 |
Source: own research Facebook
Nowadays, customers aren't just coming in for the frozen yogurt, but also for these franchises' "chill" store settings. Trending away from the outdated ice-cream parlor environment, modern froyo stores include high-end furniture, Wi-Fi, flat-screen televisions, and live musical performances.
Social media impact can be measured. As you can see many Aspen Leaf yogurt stores have an inviting, contemporary look and offer free Wifi internet connection to encourage customers to sit down eat their frozen yogurt and use their mobile Facebook.
The Aspen Leaf Yogurt concept is gaining attraction and popularity. Once the U.S. credit environment for small businesses improves more and more Aspen Leaf franchise stores will being opened.
Financials
Annual Statement for Rocky Mountain Chocolate
Feb 2012
Feb 2011
Feb 2010
Feb 2009
Assets
Cash and Equivalents
4.13M
3.34M
3.74M
1.25M
Receivables
5.09M
5.31M
4.52M
4.23M
Inventories
4.12M
4.12M
3.28M
4.06M
Other Current Assets
281.28K
279.34K
220.16K
224.00K
Total Current Assets
14.10M
13.51M
12.22M
10.14M
Property, Plant & Equipment, Gross
17.83M
15.25M
13.80M
13.57M
Accumulated Depreciation & Depletion
9.32M
8.98M
8.61M
8.32M
Property Plant Equipment Net
8.52M
6.28M
5.19M
5.25M
Intangibles
22.11K
59.22K
110.02K
183.00K
Other Non-Current Assets
478.90K
550.25K
351.70K
216.00K
Total Non-Current Assets
10.06M
7.93M
6.70M
6.70M
Liabilities & Shareholder Equity
Total Assets
24.16M
21.44M
18.92M
16.84M
Accounts Payable
1.36M
1.54M
877.83K
1.08M
Other Current Liabilities
616.24K
607.00K
602.69K
599.00K
Total Current Liabilities
3.54M
3.68M
3.29M
2.77M
Deferred Income Taxes
1.88M
1.11M
894.43K
828.00K
Total Non-Current Liabilities
1.88M
1.11M
894.43K
828.00K
Total Liabilities
5.43M
4.78M
4.19M
3.60M
Common Stock Equity
18.74M
16.65M
14.73M
13.24M
Common Par
184.87K
182.10K
180.81K
180.00K
Additional Paid In Capital
8.71M
8.06M
7.63M
7.31M
Retained Earnings
9.84M
8.41M
6.92M
5.75M
Total Capitalization
18.74M
16.65M
14.73M
13.24M
Total Equity
18.74M
16.65M
14.73M
13.24M
Total Liabilities & Stock Equity
24.16M
21.44M
18.92M
16.84M
Diluted Weighted Shares Outstanding
6.30M
6.29M
6.21M
6.16M
Number of Employees
300
260
250
190
| | | | | | |
| --- | --- | --- | --- | --- | --- |
| Annual Statement for Rocky Mountain Chocolate | | Feb 2012 | Feb 2011 | Feb 2010 | Feb 2009 |
| Sales | | 34.63M | 31.13M | 28.44M | 28.54M |
| Cost of Sales | | 20.11M | 17.80M | 16.41M | 16.80M |
| Gross Operating Profit | | 14.52M | 13.32M | 12.03M | 11.74M |
| Selling, General, and Administrative Expenses | | 7.92M | 6.70M | 5.68M | 5.17M |
| Operating Income before D & A (EBITDA) | | 6.60M | 6.62M | 6.34M | 6.58M |
| Depreciation & Amortization | | 750.86K | 670.32K | 698.58K | 758.00K |
| Interest Income | | 58.90K | 58.70K | 27.21K | 21.00K |
| Total Income Before Interest Expenses (EBIT) | | 5.91M | 6.01M | 5.67M | 5.84M |
| Interest Expense | | 0.00 | 0.00 | 0.00 | 16.00K |
| Pre-Tax Income | | 5.91M | 6.01M | 5.67M | 5.82M |
| Income Taxes | | 2.04M | 2.10M | 2.09M | 2.11M |
| Total Net Income | | 3.88M | 3.91M | 3.58M | 3.72M |
| Diluted EPS Per Share | | 0.62 | 0.62 | 0.58 | 0.60 |
| Dividends Paid per Share | | 0.40 | 0.40 | 0.40 | 0.40 |
RMCF's franchising business model, which generates revenue and earnings from factory product sales to franchisees, in addition to franchise fees and royalties, requires little capital for growth and produces strong cash flows from operations. This has allowed the company to retire all of its outstanding debt, implement a cash dividend policy, complete multiple stock repurchase programs.
During the past several fiscal years, the company's earnings have been relatively flat due to the U.S. recession and a very difficult credit environment that negatively impacted the ability of RMCF franchisees to finance new store openings. However, the company has continued to generate cash from its chocolate store business segment in excess of the amounts needed for cash dividends and capital expenditures, while maintaining a debt-free balance sheet.
Once the economy enters a period of sustainable recovery, the international expansion initiative gains momentum, and Aspen Leaf Yogurt stores begin to contribute to profitability, the company's EPS growth can recover to a 15%-plus average annual rate.
Rocky Mountain Chocolate Factory has earned over 23% after taxes on beginning shareholders' equity during each of the past nine years. In the fiscal year ended February 29, 2012, the company's after-tax ROE on beginning shareholders' equity approximated 23.2%, well above the ROE achieved by most publicly traded companies.
Final Note
Although the stock has recovered significantly from its 2009 lows, RMCF shares are currently trading approximately 50% below their 2005 high ($24.50), the company is paying a substantially higher cash dividend (4%) than it did in 2005, and the international expansion initiative presents growth opportunities not available to RMCF until recently.
The current share price represents an attractive opportunity for intermediate- and long-term investors to establish or add to their RMCF holdings. Activist (hedge) funds could take a position and dust off the company by demanding a more aggressive growth scenario for the chocolate and yogurt franchise business.
There are currently 6.0 million common shares outstanding, and the estimated public "float" is approximately 4.8 million shares. Insiders beneficially own about 20% of the company, while approximately 30 institutions own 33% of the outstanding shares.
Rocky Mountain Chocolate Factory, Inc, is an attractive play because of the international growth prospects and the new Aspen Leaf Yogurt concept. The combination of a recovery in earnings from the company's domestic Rocky Mountain Chocolate Factory franchising business, combined with the growth drivers already mentioned in this report it gives investors the chance to profit accordingly.
Price and Volume
Recent Price
10.42
52 Week High
13.97
52 Week Low
8.40
Avg. Daily Vol. (in mil.)
0.02
Beta (3 year)
0.24
Share Related Items
Market Cap
63.04
Shares Out
6.05
Float
4.41
Dividend Information
Yield %
4.20
Annual Dividend
0.44
Payout Ratio
83.00
Financial Strength
Quick Ratio
2.70
Current Ratio
4.50
LT Debt/Equity
0.00
Total Debt Equity
0.00
Management Effectiveness
Return on Equity
22.00
Return on Assets
17.50
Return on Investments
22.00
Profitability
Gross Margin
42.00
EBIT Margin
16.70
Profit Margin
11.00
Valuation Ratios
Price Earnings
16.50
Price/Sales
1.76
Price/Book
3.53
Price/Cash Flow
13.10
Per Share Data
Earnings
0.63
Sales
5.92
Book Value
2.95
Cash Flow
0.79
Caution
Investing in small float situations, is not suitable for all investors, and can be risky. It's important that investors thoroughly perform their own due diligence and analyze the potential risk.
Disclosure: I am long RMCF. I wrote this article myself, and it expresses my own opinions. I am not receiving compensation for it (other than from Seeking Alpha). I have no business relationship with any company whose stock is mentioned in this article.