As if an income investor needed any more reason to buy the Eaton Vance option-income Closed-End funds (CEFs), Eaton Vance (NYSE:EV) went ahead and changed all of its quarterly distribution funds to monthly pay. This is the first time I have ever seen a fund family do this since the trend over the past few years has been just the opposite. In fact, only a few option-income funds were even left paying monthly distributions so this is a big deal for investors who like the monthly pay feature. You can read the press release here.
Monthly pay funds are generally regarded as much more attractive for investors and though it's hard to quantify, I'm guessing monthly pay funds receive at least a 5% valuation bump. Not only is the frequency of pay more attractive, but the fund is not reduced nearly as much when it goes ex-dividend. This can be a valuable feature since it can take a lot less time for a fund to make up a monthly distribution than a quarterly one.
The Eaton Vance option-income funds that went from quarterly pay to monthly pay include:
This means that now all of the Eaton Vance equity CEFs will become monthly pay beginning in 2013. Two other option-income funds, the Enhanced Equity Income fund (NYSE:EOI) and the Enhanced Equity Income fund II (NYSE:EOS) were already monthly pay as were three leveraged funds offered by Eaton Vance (NYSE:EVT), (NYSE:ETO) and (NYSE:ETG).
Climb On Board The E-Train
I've been a big proponent of most of the Eaton Vance option-income funds since I began writing on Seeking Alpha in early 2011 and though it took awhile for them to get going, investors who took my advice I believe would say they have been well rewarded. Though I have leaned more toward the leveraged CEFs in 2012 to take advantage of a strong market environment, more recently I have been promoting the option-income funds once again due to their more defensive sell option strategy as well as their more tax-advantaged distributions. More on that below.
The two Eaton Vance option-income funds I have written on extensively and promoted as must-own funds for income investors were ETB and ETV, both of which will become even more attractive with the monthly pay feature. On a longer 5-year period covering both the financial crisis of 2008 and the recovery afterward, no other option-income funds have had as good a total return Net Asset Value (NAV) performance as these two. There are certainly more bull market funds than ETB and ETV since both are very defensive, but over varying market cycles, these are two funds you'll want to hold onto for the long haul. How strong have they been over time? On a 5-year total return market price basis, ETB (orange) and ETV (blue) have trounced the S&P 500 ETF (NYSEARCA:SPY) as shown in the graph below. Note: Graph assumes re-investment of all distributions, including the SPDR S&P 500 ETF .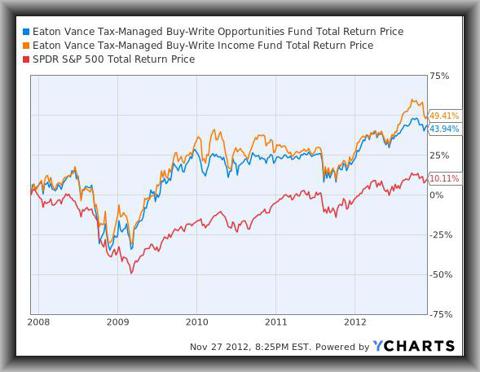 However, other more bullish Eaton Vance option-income funds have started to turn the corner as well and are now showing much improved NAV and market price performances as their lower option coverages and global stock exposure have combined to show much stronger performances in a better year for international markets.
EXG and ETY, two funds which will also be moving to the monthly pay cycle, are two such examples. EXG and ETY had a rough start when they went public not long before the financial crisis began in 2008 and both lost a lot of their NAV while overpaying their distributions during this period. However, through a series of distribution cuts and other portfolio changes, both funds are now among the top performing global option-income funds both on an NAV and market price basis.
This can be seen in a 1-year total return market price graph comparing EXG and ETY to other popular global option-income funds from other fund families such as the BlackRock Global Opportunities Equity Trust (NYSE:BOE), the ING Global Equity Dividend & Premium Opportunity fund (NYSE:IGD) and the Wells Fargo Advantage Global Dividend Opportunity fund (NYSE:EOD). Here, EXG (blue) and ETY (orange) have solidly outperformed BOE (red), IGD (green) and EOD (purple) over the past year.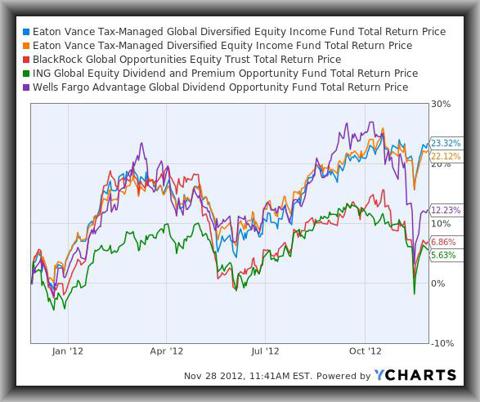 It was almost one year ago exactly that I wrote an article titled "Why EXG Is A Better Fund Than You Think," outlining my reasons why the fund was performing much better at the NAV level than investors thought even if the market price had not yet reflected it. Though EXG has narrowed its discount from about -17% back then to a current -13%, it still trades at one of the widest discounts of all CEFs. You can read the article here.
Distribution Cuts: Getting It Over Early Has Its Rewards
And why are the Eaton Vance option-income funds now outperforming most other fund families both at the NAV level and more importantly for investors, at the market price level as well? Because Eaton Vance made the hard choices early on to cut distributions and get the NAV yields to a more manageable level and as a result, it is now among the first to be reaping the rewards.
It hasn't always been that way and in fact, over the past couple years, I have heard more negative feedback on the Eaton Vance CEFs than on any other fund family. Most of that was due to the distribution cuts that Eaton Vance began in early 2010, which caused all of its option-income funds to drop to wide discount valuations. Over the next two years, Eaton Vance went through a series of distribution cuts on most (not all) of its option-income funds to get the NAV yields down from 12%+ levels to a more manageable 8% to 10%.
Why was this necessary? Because almost all of the option-income funds from Eaton Vance, Nuveen, BlackRock (NYSE:BLK), ING (NYSE:ING) and other fund families came public in the 2004 to 2007 time frame at around 9% NAV yields, and that's the level that they were expected to be able to sustain. Since that time however, option-premium has come down due mostly to a lower interest rate environment but also because of lower market volatility as well as competition among funds to place their option overlays with counter-parties. The end result has been reduced option premium since these funds came public and when combined with a mostly ramp up market from 2009 on, most option-income funds saw eroding NAVs even as the broader markets were recovering.
I have argued time and time again that high-yielding equity CEFs that have 12%+ NAV yields will have a hard time sustaining their NAVs over time and that the end result would be poor total return NAV performance as their NAVs erode under the weight of such a high NAV yield. This is exactly what was happening to all of the option-income funds during the 2009 to 2010 period as their NAVs were not recovering nearly enough to sustain their 12%+ NAV yields even though their NAVs had held up much better during the bear market earlier in 2008. The end result was that these funds were using more and more destructive Return-of-Capital (ROC) in their distributions and this was showing up as eroding NAVs. Something had to be done and the fund families that began distribution cuts the earliest were the first to stem the bleeding.
Of course, no one could understand why Eaton Vance was cutting distributions on option income funds when the markets were on a tear. "There must be something wrong with them" or "option income funds don't work" were some of the more typical complaints I heard. So while other fund strategies and even other option-income funds that hadn't cut yet were seeing their market prices soar to premium levels, I was arguing in article after article that cutting distributions was the proper step for Eaton Vance and in the long run, this would benefit investors.
Repurchase Programs and Now Monthly Distributions
Fast forward to today and look how far we have come. All those high-flying funds that maintained their overly generous NAV yields for too long have all crashed and burned as recent distribution cuts and other negative news finally caught up to them.
And what has been the recent news flow for the Eaton Vance option-income funds? In early August of this year, Eaton Vance announced a 10% repurchase program for all of its option-income funds. This was a strong vote of confidence by management that not only were the funds undervalued but that there would be no more distribution adjustments for the foreseeable future.
And, of course, just two days ago Eaton Vance announced the modification of the rest of its option-income fund distribution cycles from quarterly pay to monthly pay. All of this is great news for investors and has helped propel several of the Eaton Vance option-income funds to some of the best market price total return performances YTD. This is shown in the following table in which out of roughly 50 option-income funds available to investors, four of the top 10 total return performances YTD are from Eaton Vance (shown in green). The only Eaton Vance option-income fund that has not performed relatively well is ETJ, which just so happens to be the only Eaton Vance CEF I have been negative on for quite awhile now. Note: Total return performances are YTD through November 27, 2012.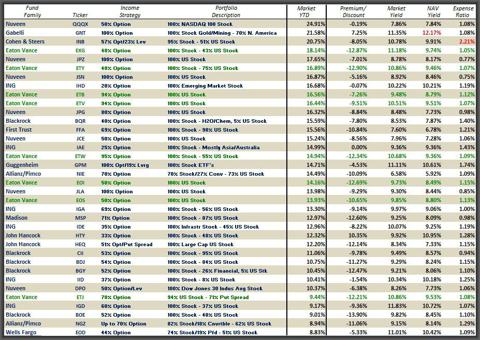 High ROC And Tax-Free Distributions
As if all of that wasn't enough, high-yielding option-income funds may become even more attractive if taxes on high-dividend focused funds increases. This is because most option-income funds include a lot of Return-of-Capital in their distributions and ROC is not taxable in the period received, though an investor would need to reduce his or her cost basis in the fund by the ROC amount. In fact, most of the Eaton Vance option-income funds are managed to maximize ROC in their distributions, typically resulting in 80% to 90% of their distributions as ROC. That is why many of the funds include "Tax-Managed" in their titles.
How does it do this without hurting total return performance? I know a lot of investors simply think ROC is just a fund returning your investment but that is not necessarily the case. That would be the definition of "destructive" Return-of-Capital and many funds are guilty of that at one time or another and some continue to be. However, many option-income funds are managed to maximize ROC without using destructive ROC. Though it is difficult to quickly explain the strategy, essentially, option-income funds are the only fund strategy that can realize losses in their portfolios no matter what the market trend is. If the market goes up strongly, the fund can realize losses in its option positions while holding on to unrealized gains in its stock positions. If the market goes down sharply, the fund can realize losses in its stock positions, which can be offset against gains in their option positions. Thus, by taking realized losses no matter what the market is doing, option-income funds can classify most of their distributions as ROC. Though you limit your NAV upside with most option-income funds because selling options is a defensive strategy, these funds can still grow their NAVs while including high ROC in their distributions, thus minimizing the "destructive" ROC concern.
Conclusion
I continue to be flabbergasted that not more investors, individual and institutional, aren't catching on to what I believe is one of the most compelling investment stories in the market today. Leveraged municipal bond CEFs at 5% mostly tax-free yields are going through the roof currently and trading at all-time highs because of the tax concerns on dividend-focused stocks and funds. And yet here are option-income funds offering 9% to 11% market yields (with manageable 8% to 10% NAV yields) trading at -10% to -13% discounts with many of the same tax-free characteristics of municipal bonds. Though an investor takes on more risk in equity funds, even that could be argued against because option-income funds are defensive while municipal bond CEFs are leveraged. It's truly one of the most compelling stories I know and yet most investors and financial news are oblivious to it.
After the latest announcement to make all of its high-yielding option-income CEFs monthly pay beginning in 2013, Eaton Vance has given income investors every reason to want to own, and hold onto, its option-income funds. I believe investors would be wise to accept the invitation.
Disclosure: I am long ETV, ETB, ETW, EXG, ETY, EOI, EOS. I wrote this article myself, and it expresses my own opinions. I am not receiving compensation for it (other than from Seeking Alpha). I have no business relationship with any company whose stock is mentioned in this article.