The previous article on Brazil has mentioned the protectionism policy and heavy handed government intervention in the markets. With that they follow a path of many other developing countries. A paper on protectionist policies of developing countries states that during their early stages of development, now-developed countries systematically discriminated against foreign investors. They have used a range of instruments to build up national industry, including: limits on ownership; performance requirements on exports, technology transfer or local procurement; insistence on joint ventures with local firms; and barriers to 'brownfield investments' through mergers and acquisitions. The author claims that only when domestic industry has reached a certain level of sophistication, complexity, and competitiveness do the benefits of non-discrimination and liberalization of foreign investment appear to outweigh the costs.
One could argue with the author's conclusion, but the fact is that Brazil is still employing at least some of these protectionist measures, and that is the hindrance and a caveat for outside investors.
Taiwan Opportunities
Today we'll look at a small island of Taiwan that lies some 110 mi off the southeastern coast of mainland China, across the Taiwan Strait, and has an area of 13,855 sq mi. It is the sixteenth most densely populated country in the world, with a population at over 23 million. With practically zero natural resources, Taiwan has become one of the "Four Asian Tigers" alongside Hong Kong, South Korea and Singapore. They did it undoubtedly through an emphasis on education. Unlike their big brothers in Mainland China they followed the western lead and were spared the throes of the "cultural revolution" and other communism excesses.
Education System in Taiwan
Although current law mandates only nine years of schooling, 95% of students go on to high school, trade school or college. There are over 100 institutions of higher education in Taiwan. Roughly 66.6% of the over 100,000 students taking the national university entrance exams are accepted to a higher educational institution. Since the 1990s many trade schools and junior colleges have been 'promoted' to university status.
Economy
Taiwan has a developed capitalist economy that ranks as the 19th largest in the world by Purchasing power parity ((NYSE:PPP)), ranks as 18th in the world by GDP at purchasing power parity per capita. It ranks fifths in economic freedom among Asia Pacific countries, and 18th in the world.
Unlike its neighbors, South Korea and Japan, the Taiwanese economy is dominated by small and medium sized businesses, rather than the large business groups. Since the beginning of the 1990s, the economic ties between Taiwan and Mainland China have been very prolific. As of 2008, more than US$150 billion have been invested in the PRC by Taiwanese companies, and about 10% of the Taiwanese labor force work in the PRC, often to run their own businesses.
Since the global financial crisis starting with United States in 2007, the unemployment rate has risen to over 5.9% and Economic Growth fallen to -2.9%. However, Taiwan managed to emerge from the crisis in very good shape. In 2010, economic growth reached 10%, the highest rate in almost 30 years, international trade jumped more than 39% to US$526.04 billion, and the job market rose with most businesses set to recruit. As a result, the IMF estimated Taiwan's 2010 GDP-PPP per capita at over US$34,700, surpassing those of Finland, France and Japan.
The chart in Fig. 1 shows two different views of Taiwan TWII index, the blue line is for the Taiwanese investor in Taiwan dollars, the green line is for the $US dollar investor. As in the case of Brazil, due to exchange rate differences, the timing of the entry and exit to any foreign market can make a big difference in the US dollar returns!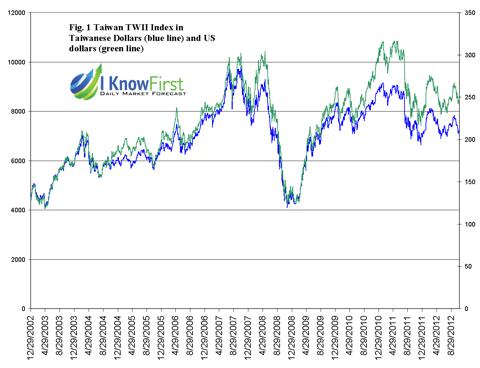 Taiwan Exports and Consumer Market
Taiwan's economy is export-oriented. Main export products are electronics (28% of total), basic metals (9%), plastics & rubber (8%), optical and photographic instruments (8%) and chemicals (7%). Main exports partners are Mainland China & Hong Kong (42% of total), USA (12%), Japan (7%), Europe (11%) and ASEAN countries (15%).
Taiwanese produce electronics, they also use them extensively. They have the world's fifth-highest ratio of Smartphone users who use mobile Internet every day. Facebook (NASDAQ:FB) has allied with Taiwanese smartphone maker HTC Corporation (OTC:HTCKF) to build a customized smartphone powered by Google's Android mobile operating system GOOG. In recent news HTC has settled with Apple AAPL on their outstanding patent disputes. The two companies said they also signed a 10-year license agreement that will extend to current and future patents held by one another.
Taiwan has sophisticated consumers. They follow international trends closely. A growing niche market exists for environmentally friendly and natural-ingredient based products. Local consumers perceive cosmetics and toiletries products with natural ingredients as pure, gentle and effective. It is the world's No. 5 Scotch whisky consumer.
How can one play the Taiwan Renaissance?
There is an ETF that invests in Taiwan, iShares MSCI Taiwan Index ETF (NYSEARCA:EWT) that mirrors the TWII Taiwan Weighted index. Here's a list of Taiwanese ADR Stocks traded on the US stock exchanges.
Here are two examples of I KNOW FIRST algorithm forecasting the TWII index (Fig. 2). The basics of this stock forecasting system are described here, here and here. Each point on these charts was taken from the actual daily forecast published the morning before the next market open. Each forecast contains six different time horizon forecasts, from three days ahead to one year ahead. The charts show the actual price in blue and the signal line in red. The positive or negative (up or down) signals of the forecast were added to the actual last known price at the time of forecast. Thus, when the signal line is above the actual line, it means "buy", if below, then "sell". The green and red arrows show what would be the best times to enter the market. One should watch the signals daily, but trade only on strong and consistent signals.
Case Study 1. March to June TWII INDEX downtrend.
At the beginning of March TWII index gave two strong down signals in multiple day forecasts (Fig. 2, on the left side). Shortly after this the index began to slide. After the double peak of 8144.04 on March 2 and on March 15, the index began to fall and continued downhill till the bottom of 6894.66 on June 4, a 15.4% decline.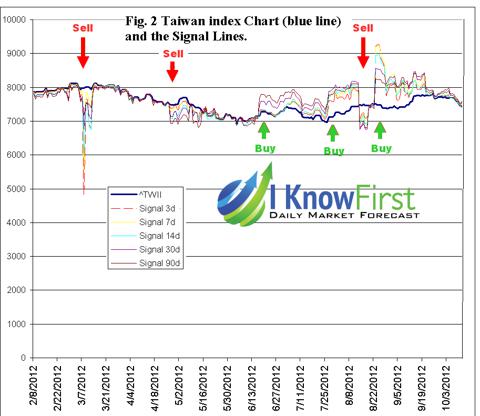 Case Study 2. June to September TWII uptrend.
Mid June, at the middle of the double bottom between June 4, and July 26, the I Know First system began to show the first up signals for TWII index (beginning of July); which became very strong after the second bottom on July 26. As the index began to rise, the signal got stronger.
One can see that the charts on Fig. 2 contain some weak contradictory signals. Thus it is important to pay attention to the signal strength. It is preferable to enter the market on strong signals, indicated on these charts by green and red arrows, and even better, at the end of a larger movement, when the system signals the turnaround.
Conclusion
Taiwan is a thriving free market and a foreign-investor-friendly economy. We should watch it grow and consider investing in. A government site actively promoting foreign investment in Taiwan states "As the hub that connects Europe, the United States, Japan and the emerging Asian markets, Taiwan is very crucial in terms of its high economic and strategic value". We tend to agree.
Disclosure: I have no positions in any stocks mentioned, and no plans to initiate any positions within the next 72 hours. I wrote this article myself, and it expresses my own opinions. I am not receiving compensation for it (other than from Seeking Alpha). I have no business relationship with any company whose stock is mentioned in this article.