Unless you've spent the past few years, and particularly 2012, in some remote part of the world soaking up sun rays and drinking piña coladas, you know that Apple (NASDAQ:AAPL) has been the talk of the investment world. We've all heard the nicknames -- the Apple-DAQ -- seen the headlines, and have witnessed the power the of the biggest company on this place we call Earth. Apple dominates the conversation from CNBC to Seeking Alpha -- with 73,000+ users getting daily email notifications -- to the next door neighbor at the weekend cookout.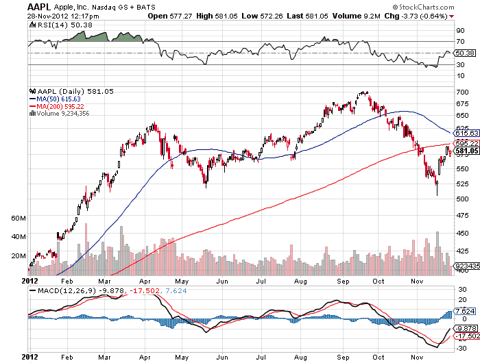 Source: Stockcharts.com
All of this has left some investors in an interesting position regarding Apple. Perhaps some bought a handful near the top, around $700, then watched it cruise down to $500 before selling in frustration. Maybe some averaged down and are finally above water, but just barely. There's also some investors nervously watching, waiting for a chance to get in but haven't got a clue when that might be, due to all the price swings and volatility. But there's an alternative to all this, the Powershares QQQ Trust (NASDAQ:QQQ), an ETF that tracks the NASDAQ.
The QQQ ETF can effectively make an investor long Apple, without having the entire commitment of being long Apple. Apple, the largest holding in the fund, makes up 19.7% of its holding or nearly one-fifth. With so much exposure to Apple, an investor who purchases shares of QQQ can still ride the Apple bus, without the fear of getting run over from it.
I can already picture the comment section filling up from the Apple perma-bulls now, but by purchasing shares of QQQ, which is comprised of ~20% Apple, you can still get the exposure you need, even if you are subjected to the other companies included in the QQQ fund. But it's the volatility that deters - as well as attracts many traders and investors - from including Apple in their portfolios. Below is a chart displaying the year-to-date price fluctuations in Apple that investors have experienced so far:
| | | | |
| --- | --- | --- | --- |
| Time Frame | Price Range | Change ($) | Change (%) |
| January - April | $410 - 640 | $230 | 56% |
| April - May | $640 - 522 | ($118) | (18%) |
| May - September | $522 - 705 | $183 | 35% |
| September - November | $705 - 505 | ($200) | (28%) |
| Mid-November - Present (XX Days) | $505 - 590 | $85 | 17% |
| Year-To-Date | $405 - 590 | $185 | 47.5% |
As you can see on the chart above, Apple has experienced quite a bit of volatility. Though it only has a beta of 1.2, and the chart above can be extreme when analyzing price movements, Apple is volatile any way you split it. Since January, Apple has moved up or down in excess of 17% five different times. 17% was the minimum move in the chart and has only occurred over a current two-week time span, meaning a run back to $700 is still in the cards, allowing the percentage to rise as well.
QQQ, also known as "the Q's," leave the shareholder to less Apple exposure, but still provide a solid return. While you certainly do not get the same reward for owning the Q's over Apple, you don't take on the same types of risks either. Below is a chart similar to the one above, but this time displaying the price swings of the QQQ ETF:
| | | | |
| --- | --- | --- | --- |
| Time Frame | Price Range | Change ($) | Change (%) |
| January - April | $57 - 68 | $11 | 20% |
| April - June | $68 - 60 | ($8) | (12%) |
| June - September | $60 - 70 | $10 | 16.5% |
| September - November | $70 - 62 | ($8) | (11.5%) |
| Year-To-Date | $57 - 65 | $8 | 14% |
As you can see, the Q's have had its share of movement as well, but nothing compared to that of Apple. Apple's smallest percentage change, 17% and climbing, is almost equal to that of the QQQ's largest percentage move, which was a rise of 20% from the start of the year to the topping in April. The QQQ fund represents much less volatility, yet a quick Google search will yield that it has a current beta reading of 1.1, nearly the same as Apple.
So what if Apple fell by 50%, and you were long shares of Apple? Your total investment would be down 50%. But if you were long the Q's instead and Apple fell 50%, with all other things being equal, you would technically be down about 12.5%. However, if Apple were to fall 50%, you could bet that the technology sector, and even the market as a whole, will likely be in decline as well.
But that's not the point, the point is that you can gain substantial exposure to Apple, without the headache of actually owning Apple. While you'll still experience losses if Apple falls, the losses won't likely be to the same extent of Apple's losses. Below is a chart of the top 10 holdings in the QQQ ETF:
| | | |
| --- | --- | --- |
| Company | Percentage of Holdings | Year-To-Date Return |
| Apple | 19.72% | +47.5% |
| Microsoft (NASDAQ:MSFT) | 7.87% | +12.25% |
| Google (NASDAQ:GOOG) | 6.23% | +5.3% |
| Oracle (NYSE:ORCL) | 4.85% | +22.1% |
| Amazon (NASDAQ:AMZN) | 3.62% | +34.5% |
| Intel (NASDAQ:INTC) | 3.58% | -8.15% |
| Qualcomm (NASDAQ:QCOM) | 3.36% | +8.85% |
| Cisco (NASDAQ:CSCO) | 3.22% | -3.2% |
| Comcast (NASDAQ:CMCSA) | 2.38% | +60.3% |
| Mondelez International (NASDAQ:MDLZ) | 2.31% | +12.1% |
As you can see on the chart above, Apple is clearly the biggest holding in the QQQ fund. Only two other companies, Google and Microsoft, make up more than 5%, which is still a long shot from the 20% that Apple makes up.
The benefit to owning Apple shares over the QQQ shares is obvious -- and also the downfall -- pure outperformance, in both directions. In the first four months of the year, Apple shares were up over 55%. Yeah, in the first four months. That's something you could expect from a penny stock or bio-pharmaceutical company, but not from a company vying for the largest market cap in the world. In that same time span, the QQQ fund generated a return just north of 20% -- which is nothing to sneeze at. Below is a year-to-date graph illustrating Apple, the QQQ ETF, and the S&P 500 ETF (NYSEARCA:SPY):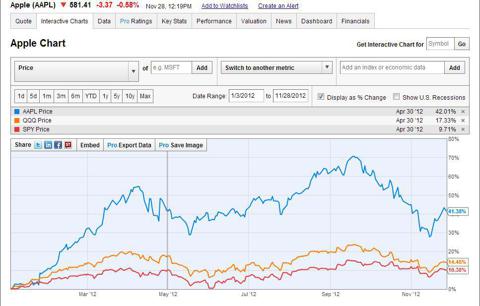 Source: Ycharts.com
As you can see on the chart above, Apple (blue line) has greatly outperformed the Q's (orange line), but with much more volatility. You may wonder if the Q's are better than any other index fund, and in this case, it is. With QQQ up 20% in April, the SPY (red line) was only up approximately 10%. "Only" is used lightly, as that is typically a remarkable return for such a short time frame.
But the truth of the matter is simple, the QQQ index fund can generally perform extremely well, especially when Apple is performing well, given how much of the fund is made of Apple. There are certainly benefits to owning Apple, I won't deny that. But the Q's can provide a much smoother ride, while still enjoying juicier returns than the standard index fund, due to the oversized nature of Apple's position within the fund.
Investing is all about risk management, or more simply put: risk versus reward. For those who are older, more conservative, less-risky or any combination of the three, there is an alternative to owning Apple without owning Apple. The QQQ ETF gives investors a chance to still catch a ride from Apple, without the constant headache, whiplash and volatility.
Disclosure: I have no positions in any stocks mentioned, but may initiate a long position in QQQ over the next 72 hours. I wrote this article myself, and it expresses my own opinions. I am not receiving compensation for it (other than from Seeking Alpha). I have no business relationship with any company whose stock is mentioned in this article.