Costco (NASDAQ:COST) has joined the list of the companies which are announcing special one-time big dividends this year, because of a speculation of an increase in the dividend-tax rate in 2013. Yesterday it declared a one-time dividend of $7 per share in addition to the quarterly dividend of $.28. This one time dividend translates into a payment of $3 billion due next month. The stock is up 6% after the news, and we feel that this good news is already priced in. This is not the right entry point to buy Costco. Other than this one time payment, the stock offers a dividend yield of just 1% and is trading at expensive valuations.
Financial Overview:
As the largest warehouse retailer, Costco has been reporting strong profits year-to-date. It has reported $8.15 billion revenues for November 2012, a 9% increase from the same period of the prior year. The company has been enjoying a steady growth in revenue this year. The Q42012 sales have gone up by 14% compared to Q42011 while gross-profit margin has gone up by 5%. Its net operating and net profit margins have gone up by 10bps and 16bps respectively, as shown in the following graph.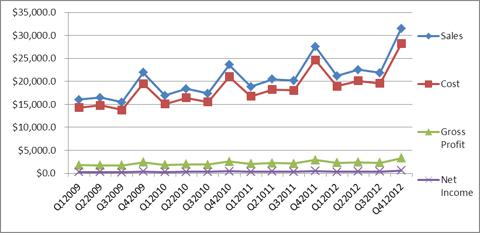 The company appears quite stable from an operational perspective. While its competitors such as Wal-Mart (NYSE:WMT) and Target (NYSE:TGT) have been experiencing a decline in same-store sales (SSS), Costco has been able to keep the SSS growth stable at 5%. A comparison between Costco and its key rival SAM (subsidiary of Wal-Mart) clearly shows that Costco is better in terms of SSS, as shown in the graph below.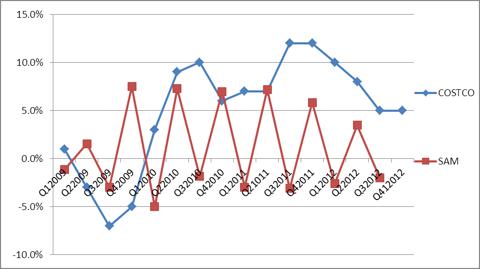 Also, things are fine on the balance sheet where the capital structure is on the modest end. The debt-to-equity ratio has gone down from 17.9% to 11.2%. The managerial efficiency has improved as both ROA and ROE have improved.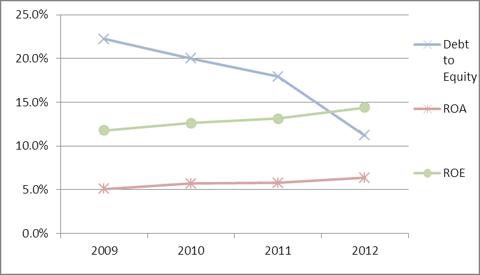 Relative Valuation:
Despite a fair-financial performance, Costco appears overvalued if analyzed from a relative perspective. Its P/E of 19x is higher than the competitors average of 13x. Same is the case with EV/EBITA, which is 10x, compared to the competitors average of 7.8x. Although, Costco has been operationally efficient over time, we feel that a valuation which is 50% higher than competitors like Wal-Mart and Target Corp is less likely to be justifiable. If based on competitor average, Costco deserves a price of $75.2.
A Relative Analysis Based on Multiples

Company

Trailing P/E

Forward P/E

PEG

P/S

EV/EBITDA

WalMart

14.30

12.92

1.54

0.50

7.85

Target Corp

13.87

12.74

1.20

0.57

7.80

CostCo

24.80

19.19

1.72

0.42

10.48

Competitor Average

14.1

12.8

1.35

0.52

7.8

COST Forward EPS

$5.03

COST P/E Historical Average

22.83

COST TARGET PRICE based on Competitor Average

$75.20

COST TARGET PRICE Based on Historical Average

$114.83
Is COST Worth Buying?
It is important that overvaluation is not the only issue which makes us neutral about Costco. A significant issue is the impact which the dividend payment can have on future growth of Costco. Costco has $4bn in cash and after making the one time dividend payment they will be left with just $1bn. They have to do an annual capex of around $1.5bn and pay an annual dividend of $446 million (which it will pay - apart from the one-time dividend of $7 per share).
While paying the one-time dividend appears as good news, it will result in a significant reduction in the company's cash. This can become a hurdle for future growth of the company as not much cash would be left for inorganic ventures e.g. acquisitions. Moreover, things can become more complicated if the company has to increase its CAPEX in the coming years. Please keep in mind that Costco can keep paying this 1% dividend yield and its free cash flow positive; however, future dividend growth looks like a problem.
Our Stance:
Costco is quite attractive if analyzed from an operational perspective. However, it is overvalued and does not deserve such premium valuations. Although, a one-time dividend declaration appears quite lucrative, it can certainly dampen future growth opportunities as less cash would be left for inorganic ventures. Moreover, we don't see a further increase in stock value in the coming quarters as news of dividend declaration seems to be priced in. We have a neutral rating for the stock.
Disclosure: I have no positions in any stocks mentioned, and no plans to initiate any positions within the next 72 hours.
Business relationship disclosure: The article has been written by Qineqt's Retail Analyst. Qineqt is not receiving compensation for it (other than from Seeking Alpha). Qineqt has no business relationship with any company whose stock is mentioned in this article.