So month-end rebalancing which saw heavy selling of bonds benefited equities Friday and held sway over more dismal economic news. Funds have been overweight safe haven government bonds and underweight stocks for some time and they sought to reverse that to bring themselves back into line with their benchmarks. JPMorgan (NYSE:JPM) led the way while GM was the main drag.
So has the worm turned? Alas, despite the 11% rise in US equities last week and the fact that the equity markets are famed for being forward looking, I fear not. The consensus now is that we are heading for the worst recession since World War II. While Reuters reported that 56% of respondents expected a relief rally on a clear Obama win, I feel that the focus could shift decisively from our daily diet of bailouts and IMF loans to the real meat & two veg of company earnings and economic data. If so, then equities will struggle.
Today's Market Moving Stories
Germany is planning to introduce a stimulus package that will generate up to Eur50bn in investments over the next 2 years. The package is costed at Eur10bn. Separately the Finance Ministry denied reports that it will force banks to accept capital, though Commerzbank is the latest to eat humble sauerkraut and is to get a Eur8.2bn capital injection after reporting a woeful Q3. Deutsche Bank (NYSE:DB) have again said they have no need of Federal monies, which must indicate further deleveraging as their balance sheet is still 30 times their equity / capital base.
Meanwhile Portugal is to inject Eur4bn of fresh capital in its banking system & nationalize BPN (who'd run up losses of Eur700m). Italy is mulling over doing something similar. An announcement is expected next week.
Another bank in the wars, French giant Societe Generale, saw profits down 84%. This was due to higher than expected write downs due to their exposure to the defunct Lehman Brothers.
There's talk in the UK press that BNP or Santander are snooping around trying to counterbid for HBoS (which has sought shelter from the storm in the arms of Lloyds).
And the carnage is not limited to banks. The Sunday Times had a report that one of Europe's biggest hedge funds, GLG, is reviewing its liquidity position and it apparently not permitting withdrawals from one of its funds for 6 months. This will spook a lot of folks and these kinds of stories can lead to a vicious circle of redemptions.
The anointed ones, JPMorgan are reported to be adjusting the terms on $110bn of their mortgages that are close to default. They appear to be acting more like an agent of the government by the day. Seems they are ahead of the curve here (as always). Fed Chairman Bernanke opined over the weekend that the US mortgage market requires support through government guarantees or insurance programs.
For U.S. banks the talk is that the next hippo in the room is the rise in credit card defaults rates. This will disproportionately hit banks like Citigroup (NYSE:C) and, believe it or not, McDonalds (NYSE:MCD). I bet you didn't realize that they are now the second biggest credit card merchant vendor!
BRIC's growth (or the lack of it) is in the spotlight with rate cut from India & a de facto loosening of credit controls in China (note the big fall in the PMI there), while South Korea announces a $10.6bn stimulus package of their own.
And lastly, there is ominous creeping deflation worries coast to coast in the States. See Investors Brace For A Case Of Deflation and Fear Of Deflation Lurks As Global Demand Drops
And I missed this Friday. But it shows the number of mortgages in US states that are underwater, i.e. the value of house is less than the value of the mortgage loan.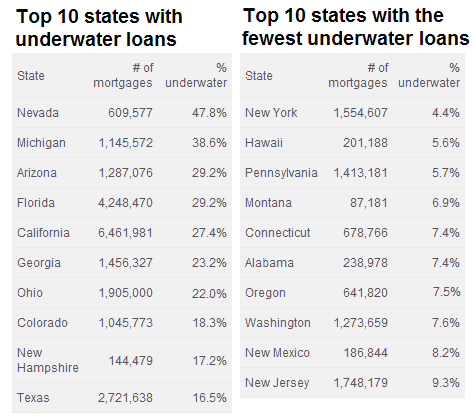 REQUIEM For The Free Market
We live in extraordinary times and it's important sometimes to take a small step back & realize how far we have journeyed. In October we crossed over the Rubicon. The post big bang world has been turned on its head. Authorities and policymakers around the globe switched from talk of moral hazard & laissez faire oversight to direct state intervention & regulatory reform. Banks (those still left standing) will have to radically rethink their core business models to survive. The world's central bankers have changed focus from inflation fighting to worrying about the vista of deflation and sluggish economic growth. As Richard Nixon once observed, "we are all Keynesians now" (again). Milton Friedman, Hayek & Schumpeter would be appalled!
Data This Week
Just a U.S. election tomorrow, rate cut meetings (it's merely a question of size) from the ECB & BoE (NYSE:MPC) Thursday & Amercian Non Farm Payrolls to negotiate Friday.
And Finally