Pet supplies retailer PetSmart (NASDAQ:PETM) reported better than expected third quarter results. Revenue grew 9% year-over-year to $1.6 billion, roughly in-line with consensus expectations. Earnings per share jumped 50% year-over-year to $0.75 per share, cruising past consensus estimates. Cash flow was also strong, as the company generated $93 million in free cash flow, returning $18 million via dividends and $60 million worth of share repurchases.
Pet spending continues to remain resilient, as same-store sales surged 6.5% compared to the same period last year on 2.3% more transactions. Merchandise sales were strong, growing 9% year-over-year to $1.4 billion, and gross margins increased 30 basis points to 30.2%. Services revenue, which includes veterinary and training services, increased 8.4% year-over-year to $175 million, though gross margins were flat at 26.3%. SG&A for the quarter increased by a few million dollars on an absolute basis, but fell 80 basis points as a percentage of sales to 21%. New marketing campaigns continue to drive consumers through the doors, and the firm is experiencing great SG&A leveraging. With a move towards smaller store sizes, PetSmart has also been able to boost sales per square foot while taking on lower fixed costs-almost always a positive for profitability.
The company continues to benefit from a shift to "upscale consumables," which has increased merchandise margins, as well as average revenues per transaction. The same shopper that has continued to frequent Whole Foods (NASDAQ:WFM) in spite of its high prices is shopping at PetSmart and purchasing organic food and treats for dogs and cats. As much as people love their pets, we think spending on these items will be sensitive to any major economic deterioration. Still, the "humanization" of pets continues to be a positive trend for the company, in our view.
Going forward, the company expects comparable store sales growth of 6%-7%, and total sales growth of 10%-11% for the year. The firm also boosted its full-year earnings guidance to $3.47 to $3.51 from its previous range of $3.30 to $3.40. It also announced CFO Chip Malloy will resign effective June 2013. We cannot really say anything negative about Malloy, who has presided under the firm's fantastic capital allocation strategy over the past few years.
Although the quarter was strong, we still aren't fans of PetSmart at its current valuation. Though worries of the fiscal cliff and a change in tax policy have yet to hit pet enthusiasts, we think any material negative economic momentum resulting from the failure to strike a deal will hurt both margins and sales growth. We hold a put option on the name in the portfolio of our Best Ideas Newsletter for downside protection in event of a market swoon. We disclose the portfolio of our Best Ideas portfolio below: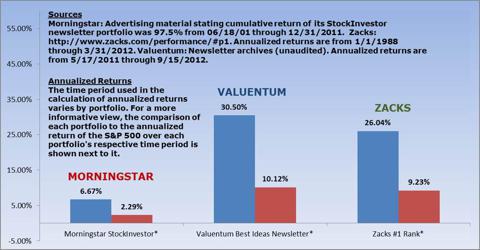 Disclosure: I have no positions in any stocks mentioned, and no plans to initiate any positions within the next 72 hours. I wrote this article myself, and it expresses my own opinions. I am not receiving compensation for it (other than from Seeking Alpha). I have no business relationship with any company whose stock is mentioned in this article.