Dr Pepper Snapple Group (NYSE:DPS) is among the leading beverage producers, with target markets in North America and the Caribbean. This limits its growth opportunities as compared to its competitors, which are targeting international markets, especially emerging markets, to expand their operations. Also, the company has been struggling to expand its sales volume due to an intensely competitive market environment in North America and the Caribbean.
The company's brand portfolio includes more than 50 brands, including Dr Pepper Snapple, Mott's A&W and 7UP. The company was formed in 2008 after the spin-off from Cadbury Schweppes plc.
The company is not only operating in a highly competitive industry, but also facing problems of rising commodity prices. In recent times, the company has been struggling to increase its sales volume. Also, going forward, volumes for Pepsi and Coca Cola are expected to be better than those for DPS. Dr Pepper Snapple's sales growth was the weakest among its competitors, as shown in the table below.
| | |
| --- | --- |
|   | 3Q 2012 Sales Volume Growth |
| DPS | -3% |
| Coca Cola (NYSE:KO) | 4% |
| PepsiCo (NYSE:PEP) | 1% |
We believe that in order to improve upon its sales volume and market share it has to focus on boosting its promotional activities and advertisement spending. However, the weak consumer spending remains a risk for the company's performance.
The chart below shows the advertisement spending trend for the company in the last five years.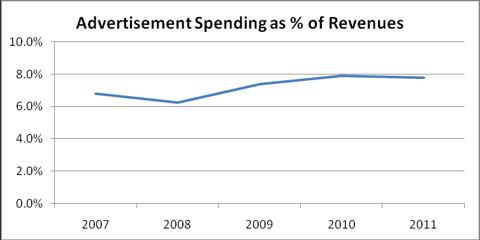 Source: Qineqt's calculations
Last month, the company reported quarterly net sales of $1.52 billion, in line with 3Q 2011 sales. Sales volume for the quarter was weak, down 3% YoY. The sales volume was down 2% for carbonated drinks and 5% for non carbonated drinks in the quarter. Pricing for the quarter was up 4%. Despite the fact that the company was able to increase net pricing for its products, we believe that weak consumer spending poses a threat to its top-line growth as net prices increase. Core EPS for the quarter was $0.79, up 7% YOY, beating consensus estimates by 2%.
DPS has three reporting segments. The revenue contribution of each segment is shown in the graph below.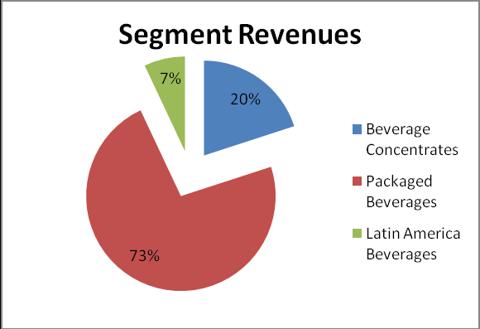 Source: Earnings release
Analyses of different reporting segments
The net sales of its Beverages Concentrates segment increased by 4%, mainly due to higher prices and lower discounts, which were partially offset by a volume decrease of 2%. The net sales of Packaged Beverages took a hit from a 6% volume decline and were down 1% YoY. Latin America has the lowest contribution of 7% to total sales. The net sales for the segment were up 7% YoY due to the favorable impact of higher sales volume and prices.
DPS has been able to control its costs, which had a positive impact on the company's margins. The table below shows margins expansion for the company in the recent third quarter as compared to 3Q 2011.
| | | |
| --- | --- | --- |
|   | 3Q 2011 | 3Q 2012 |
| Gross Profit Margin | 56% | 59% |
| Operating Income Margin | 17% | 20% |
| Net Income Margin | 10% | 11.7% |
Source: Earnings Release and Qineqt's calculations
Margins expansion would magnify the impact on shareholder's returns because the company is undergoing a share repurchase program. It already has a high ROE of 28% compared to Coca Cola and PepsiCo , who each have a 26% ROE. DPS has purchased $262 million worth of its common stock year-to-date. It is anticipating that the total repurchase program would go up to $400 million, or 4.5% of its current market capitalization for the full fiscal year 2012.
For the full fiscal year 2012, DPS is anticipating core EPS to be in the range of $2.9 - $2.98 as compared to analysts' expectation of $2.95. The company is expecting a net sales growth of almost 2%.
A comparison with competitors such as KO and PEP reveals that DPS' markets are concentrated and it operates only in the U.S., Canada, the Caribbean and Mexico, whereas KO and PEP operate worldwide. DPS has almost a 17% market share in carbonated soft drinks in the United States.
Currently, DPS has a debt-to-equity of 120%, higher than KO. The company has a strong interest coverage ratio of 8x. Moreover, the company offers an attractive dividend yield of 3.1%, which makes it an attractive investment for income-seeking investors. Recently, DPS declared a $0.34 quarterly dividend per share.
DPS has a higher dividend yield than KO and in line with that of PEP; however, DPS has the lowest payout ratio among its competitors. The table below shows the dividend yield and payout ratio comparison of the company with KO and PEP.
| | | | |
| --- | --- | --- | --- |
|   | DPS | KO | PEP |
| Dividend Yield | 3.1% | 2.7% | 3.1% |
| Payout Ratio | 47% | 52% | 56% |
Source: Yahoo finance
We believe that the dividends offered by the company are sustainable. In 2010 and 2011 it had dividend coverage ratios of 13x and 3x, respectively.
(Dividend Coverage= Operating free cash flow / Dividends paid)
| | | | |
| --- | --- | --- | --- |
|   | DPS | KO | PEP |
| Forward P/E | 14x | 17x | 16x |
| PEG | 2 | 2.3 | 4 |
| Debt to Equity | 120% | 95% | 130% |
Source: Yahoo finance
DPS is currently trading at a forward P/E of 14x, less than that of its competitors. However, we believe DPS has lower valuations because it is not as geographically diversified as KO and PEP. It is a fact that emerging markets offer better growth opportunities than what developed markets have to offer and DPS is focused on the latter. Also, sales volume for the company has been lower than its competitors. Therefore, we think DPS is not the best positioned beverage company.
We believe that the better option at the moment is investing in KO because it is geographically diverse and pays a decent dividend yield of 2.7%. Also, KO has a healthy PEG of 2.3. The company holds a strong position in the market because it was able to make its sales volume grow by 4%, which is higher than what any of its competitors could manage. For KO, analysts are also forecasting a high growth rate of 7.5% for the next five years as compared to PEP's 4.7%.
Disclosure: I have no positions in any stocks mentioned, and no plans to initiate any positions within the next 72 hours.
Business relationship disclosure: The article has been written by Qineqt's Consumer Staples Analyst. Qineqt is not receiving compensation for it (other than from Seeking Alpha). Qineqt has no business relationship with any company whose stock is mentioned in this article.