Ingredion Incorporated (NYSE:INGR), formerly known as Corn Products, is a little-known company that produces goods in many everyday products. These products include sweeteners such as glucose corn syrups, high maltose corn syrups, and high fructose corn syrups, as well as industrial and food-grade starches. The reason for the name change, which went into effect June 4, 2012, was because the new name "better describes our business model and our portfolio of ingredient solutions."
INGR has a large geographic range as its operating segments are in four areas: North America, EMEA, Asia-Pacific, and South America. Part of the reason for this disbursement is the basic products that it provides and large customers like Coca-Cola (NYSE:KO) and Unilever (NYSE:UL). Customers range between a variety of industries, including beverage, brewing, and food products, across the world. 31% of sales in 2011 were from the processed food industry, 14% from soft drinks, 12% from animal feed, 10% from paper, and 9% from brewing.
The most recent Seeking Alpha earnings transcript available is from Q1 2012. This quarter was well-before the summer droughts and corn price increases. Here are some quick highlights from the call that an investor, potential investor, or investor in the food products industry should know:
Volume increases for INGR were driven by strong performance in NA, which was up 14% due to a mixture of price and volume. This was especially the case for the brewing and beverage industries.
Successful in passing on higher input costs to consumers.
The SAP integration of U.S. and Canadian segments occurred on Feb. 1, European businesses in May, and the Asian-Pacific business in Q3.
Investments relating to the upcoming World Cup and Olympic Games.
Highlighted minimum wage growth was going to help drive South America.
Continuing to see mixed demand trends in Asia-Pacific but volume and operating income increased.
Increased dividend to $0.80 annually from $0.66 annually, and expects a payout of 15%-20% to trend toward other ingredient companies of 20%-25% eventually.
Expects EPS growth of 7% to 12%, volume growth of 3%-4%, a tax rate for the year between 31% to 33%, cash flow from operations (CFO) of about $600 million, margins to remain stable, and inventory levels to be reduced.
Capital spending is expected to be $275 million to $325 million for the FY, with 75% of capital spending toward improvement at the operating income level with cost savings.
If one read the transcript of the call, it didn't seem like a terrible quarter. However, the stock price fell 19.64% to its low this past summer and has since increased 13.87% since Q1 was announced. The reason for the decline was not the quarterly results, but the correlation to corn prices. Corn and wheat are INGR's main input costs. The company does hedge these costs though to try to keep gross profit margin stable.
Also from the call, INGR highlighted that it was correlated to GDPs of specific countries for each area, like Mexico. As mentioned above, INGR likes looking at GDP and standard living conditions for how its going to do. In 2011, 15.4% of revenues came from Mexico. The graph below shows the per capita GDP, which is useful in showing the standard of living within a country:
Click to enlarge images.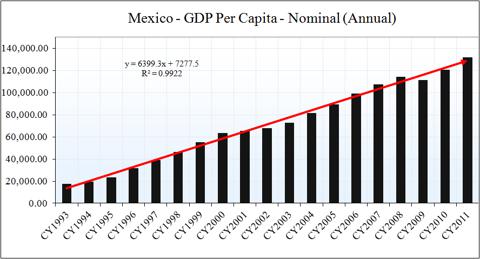 Source: Capital IQ.
Mexico has been growing and is expected to continue to grow. The trend on the chart above is very strong and does not regress from it often. Mexico has advanced at an 11.3% CAGR for its GDP per capita. The U.S. is about 30% of INGR's sales and has been seeing an increase in the standard of living during this time frame as well, but only at a 3.4% CAGR: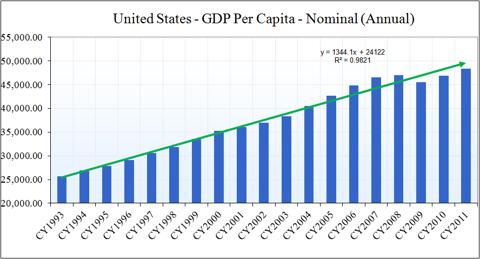 Source: Capital IQ.
In my previous article, I commented that INGR could be the next Ralcorp (RAH). I said that a company like H.J. Heinz (HNZ) could acquire it. There is a company out there that actually is way better suited for this kind of acquisition, as from a supply chain perspective, would create synergies and an agricultural powerhouse. On June 21, 2008, Bunge Limited (NYSE:BG) attempted to buy and merge with INGR for $4.3 billion (source: Capital IQ). The deal was accepted and set to go until BG withdrew its offer on Nov. 10, 2008, despite regulatory status being approved. The reason for this is most likely the global meltdown and fear of the unknown.
The deal would have gone for 1.3 times EV/revenue, 9.8 times EV/EBITDA, or 2.4 times EV/BV. This deal would have been less expensive than what ConAgra (NYSE:CAG) paid for RAH. If the global economy can exit the uncertainty, it is very possible that BG could make another run at INGR. BG is a much larger company with revenue of $62 billion and a market cap of $10.6 billion. This compares to INGR's $6.2 billion in revenue and $4.9 billion market cap. Right now, BG has a debt/capital ratio of approximately 39%. INGR is currently at 0.97 EV/revenue and 9.86 times EV/EBITDA. To put it in perspective, CAG just paid 12.4 times EV/EBITDA for RAH.
INGR is also an improving company, especially since the Great Recession. Here are some of the main ratios of the company over the last few years: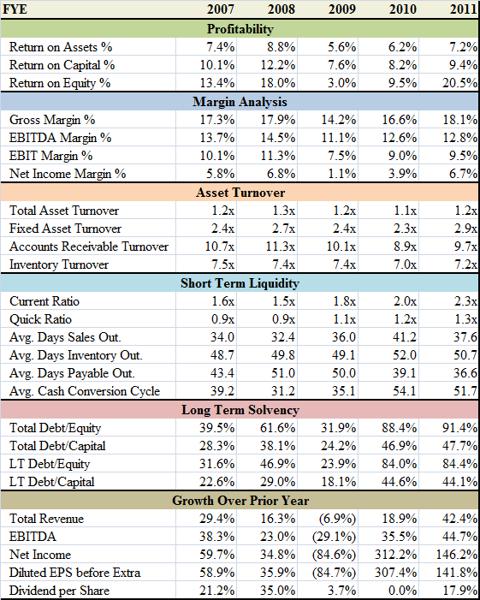 Source: Capital IQ.
What I like from this company are the improving profitability and margins since the Great Recession, and the relatively low amount of debt. The strong revenue and EPS growth rates are another solid plus. It also has the capability to increase its dividend in the long run, increasing return to shareholders.
What I don't like about these ratios are the "flat" changes over the past five years, lack of improvement in TAT, IT, and an increasing cash conversion cycle due to rising average days sales outstanding and average days inventory outstanding and declining average days payable outstanding. The company is also very cyclical, as evidenced by the downturn in the economy in 2009.
My valuation for the company is very wide in range, which is uncharacteristic of me. If you look at what other analysts are projecting, though, this range is not out of the question:

In Q3, management raised guidance expectations with EPS to be in the range of $5.30 to $5.30. which is a 17% to 19% improvement from 2011. It also expects taxes to now be 29% to 30% and to generate $600 million in CFO. The discount rate used was 9%, given a cost of equity of 11.2% and a cost of debt of 5.1%. These models are in line with what management is expecting for the coming year. Given that my required rate of return is less than the base projection return, INGR could be a buy down at these levels.
It's hard to invest in a company that is driven by commodity prices, especially with the volatility of corn prices. INGR clearly trades with the price of corn, even though it is not entirely what the company does. The market is only pricing in about 24% of the growth from a PVGO standpoint, which seems quite low for a consumer staples company. The possibility of increasing dividends, multiple expansion (given the lower-than-average multiples of INGR of late), and the potential long-term buyout from a firm like BG all leave INGR a good possible long candidate for investors looking for an agricultural play that has its hands in most consumer goods businesses. I suggest investors look for strong pullbacks (5% to 10%) before taking long positions.
Disclosure: I have no positions in any stocks mentioned, and no plans to initiate any positions within the next 72 hours. I wrote this article myself, and it expresses my own opinions. I am not receiving compensation for it (other than from Seeking Alpha). I have no business relationship with any company whose stock is mentioned in this article.