Company Overview
American Tax Exempt Investors (ATAX) is a partnership originally created to manage and acquire tax-exempt mortgage revenue bonds (TEBs). The partnership is externally managed by America First Properties Management (AFCA 2).
TEBs are financing arrangements that provide the creditor with tax free interest payments on multi-family construction loans or permanent financing. American Tax Exempt investor provides quarterly dividends to the unit holder that is not subject to federal taxes (please see tax disclosure). Throughout its history, American Tax Exempt Investors has provided steady dividends to its unit holders and currently pays $.13 per share on a quarterly basis, or a yield of 8.2%.
Recommendation: Buy
Fair Value: $7.00 per share.
Consider Buying: $6.00-$7.00 per share.
| | |
| --- | --- |
| Share Price | $6.34 |
| 52 Week Range | 4.90 - 6.46 |
| Average Volume | 112,568.00 |
| Dividend Yield | 0.12/8.2% |
| Market Cap | 271.18M |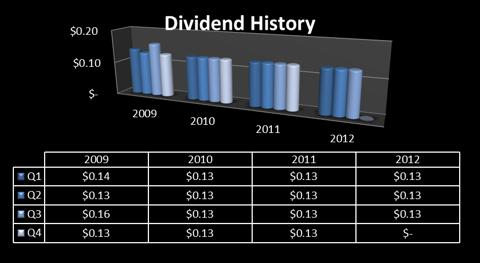 The main benefit of American Tax Exempt Investors over other tax free bond funds is its strategic partnerships and variable interest entities (VIEs). These entities, controlled by the partnership, are like restructuring vehicles for multi-family properties. Subsidiaries such as MF Properties, purchase real estate, manage it, collect rent and turn it around for sale. The resulting sale, is financed through TEBs or affordable housing tax credit financing, issued by American Tax Exempt Investors.
First And Foremost, Let's Avoid Balance Sheet Confusion with VIEs.
Let's avoid a common pitfall with funds that have consolidated "variable interest entities," or VIEs. American Tax Exempt Investors has consolidated multi-family properties on its balance sheet, consisting of 1,558 rental units. These properties are managed and owned by American Tax Exempt Investors, and restructured for sale. VIEs are like an echo; they exist only as future benefits to the shareholder, giving the partnership the ability to invest in and restructure assets for sale, in exchange for tax free financing. The income and liabilities are "consolidated" but do not pass benefits or liabilities to the unit holder. This enables the partnership to maintain a tax free dividend while investing in future growth, as revenue from multi-family properties would be unqualified.
VIEs provide the partnership with special purpose vehicles that have two amazing benefits:
They are future investments controlled by the partnership that do not effect the tax exempt status of dividends as the partnership does not receive any of their cash flow.
The properties in the VIEs can be sold in exchange for future syndication of low income housing tax credits under Section 42 of the Internal Revenue Code or to a tax-exempt organization.
The benefits above allow American Tax Exempt Investors to sell the properties in the consolidated VIEs and acquire tax-exempt mortgage revenue bonds (TEBs). In addition, the VIEs manage the properties, and have an in depth knowledge or their operations. Subsequently the VIEs control how the properties are positioned for sale.
VIE Drawback: Consolidated VIEs do effect cash available for distribution (CAD), as they are included in"Net loss related to VIEs and eliminations due to consolidation" which is subtracted from net income. However, the partnerships VIEs "net loss" item only includes the unallocated deficit of the consolidated VIEs, which are a function of net losses since they were consolidated. In other words, net losses past the date of consolidation are not included in the "net loss" line item.
Why I Am A Buyer
Over time, through the acquisition of properties via VIEs; American Tax Exempt Investors has built an arsenal of high occupancy cash flow positive assets positioned for sale. The company's VIEs (currently MF Properties and PHCP) have a solid track record of acquiring properties and preparing them for sale:
"On September 21, 2012, the Company executed a purchase and sale agreement which met the criteria to classify it as held for sale. In the first nine months of 2012, Net Operating Income was $191,000 as compared to $172,000 in 2011. This increase was the result of a decrease in repair and maintenance expenses and advertising expenses. The economic occupancy rate for September 2012 was 86% as compared to 84% in September 2011."
Currently, the partnership has three properties pending sales agreements: Willowbend, Postwoods and Crescent Village with a combined NOI of over 1.2 million. Assuming an economic NOI of 9-9.5% on these properties, the sales should be in the 13 million dollar range.
MF Properties, a wholly owned subsidiary of the partnership, owns 860 rental units, currently being "restructured" and prepared for sale. The partnerships intent is to assume low income housing debt on these properties to increase its portfolio of tax free income.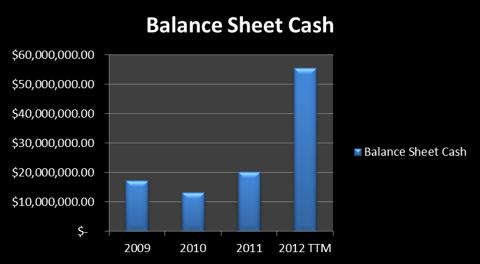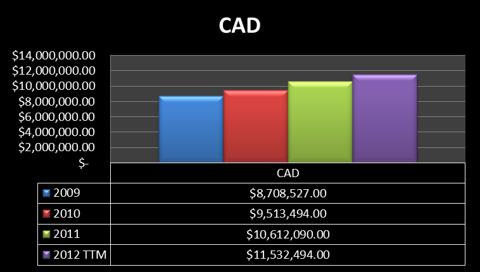 TEBs Revenue Streams
All of the bonds in American Tax Exempt Investors portfolio are backed by first liens on the underlying assets. In my opinion, asset backed bonds are superior to mortgage backed securities in terms of stability. I state this opinion because property backed debt is far more easy to predict, than MBS debt. For instance, predicting the yield-to-maturity on MBS is challenging because mortgagors have the option of pre-payment, an unpredictable variable.
Below is a trailing twelve month earnings before depreciation and amortization for American Tax Exempt Investors income from TEBs.
| | |
| --- | --- |
| 2012 TTM TEBs Revenue | $12,077,848 |
| 2012 TTM TEBs Interest Expense | $(4,814,477) |
| 2012 TTM TEBs EBDA | $7,263,371 |
Interest Rate Caps:
These following interest rate derivatives do not qualify for hedge accounting, subsequently, they are carried at fair value (NASDAQ:FV). The partnership reports with changes in FV in "current period earnings within interest expense." The partnership reported an increase in interest expense of 1.1 Million for the nine months ending on September 30th, subsequently increasing their FV.

Property Loans and Financial Condition
As of September 2012, American Tax Exempt Investors had 10 TEBs held in trust or by the partnership with an aggregate fair value of $138,802,264 carrying an unrealized gain of $13,148,208.
The partnerships debt has remained in a reasonable range in regards to both consolidated VIEs and partnership interests. With 53 million of cash, and an aggregate VIE property NOI of over 8 million dollars, near term debt should not present an issue.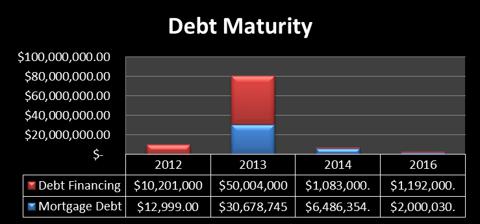 Conclusion
The partnership has an excellent ongoing strategy: purchasing properties via its VIEs such as MF Properties and selling them in exchange for tax free, asset backed debt. This strategy, in combination with continued increases in CAD and the partnerships largest cash balance in a decade, should serve investors well in 2013.
Note: The distributions to investors may be subject to AMT depending on the type of investments within the Fund. For further clarification, please consult your tax accountant regarding distributions and other items that may be impacted by AMT regulations. If you do not live in a state that issued any of the portfolio bonds you may be subject to state taxes. However it is important to note that because the Fund is structured as a partnership, the taxes are based on the pass-through items identified on your K-1. For further clarification, please speak with your tax accountant.
Disclosure: I have no positions in any stocks mentioned, and no plans to initiate any positions within the next 72 hours. I wrote this article myself, and it expresses my own opinions. I am not receiving compensation for it (other than from Seeking Alpha). I have no business relationship with any company whose stock is mentioned in this article.