PepsiCo, Inc. (NYSE:PEP) is a global food and beverage company that manufactures, markets, and sells a variety of salty, convenient, sweet, and grained-based snacks, as well as carbonated and non-carbonated beverages. Its portfolio of brands includes Pepsi, Mountain Dew, Gatorade, Tropicana, Lay's, Doritos, and Quaker. With its economies of scale, efficient distribution network, and dominance in the snack category, PEP has built a wide economic moat. PEP's strong returns on invested capital should be maintained with its direct-store delivery system, allowing the company to leverage its portfolio of brands. PEP will be a safe play during economic uncertainty, with its strong cash flow and consumer-defensive nature in the beverages industry.
Recent Development
On Oct. 17, 2012, PEP announced that it earned $1.9 billion for Q3 2012, which is down 5% from $2 billion in the same period last year. Adjusted EPS of $1.2 beat the analyst estimate of $1.16. The revenue of $16.65 billion fell short of the Wall Street forecast of $16.96 billion. The lower revenue was caused by a rising U.S. dollar on international sales, as well as its operational adjustments. Removing these factors, revenue increased 5% over last year due to price increases and 1% rise in overall sales volume. PepsiCo Chairman and CEO Indra Nooyi said, "Our disciplined pricing and sustained investment in brand building drove 5% organic net revenue growth reflecting 1% organic volume growth and 4% effective net pricing." The company also reiterated its earlier forecast that full-year revenue for 2012 will be 5% less than last year.
Based on the current analyst estimates, PEP is expected to generate $65.27 billion in revenue for 2012 and $68.20 billion for 2013, with an estimated EPS of $4.06 for 2012 and $4.41 for 2013.
Click to enlarge images.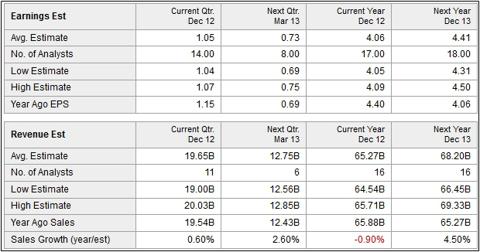 Source: Yahoo Finance.
On Nov. 27, 2012, PEP's board of directors declared a quarterly dividend of $0.5375 per share of PEP common stock, payable Jan. 2, 2013, to shareholders of record on Dec. 7, 2012. This quarterly dividend is a 4% increase vs. the comparable year-earlier period.
Fundamentals Overview and Technical Analysis
By using data obtained from MorningStar, PEP's key stats can be compared to its competitors in the beverage industry, including Coca-Cola Co. (NYSE:KO), General Mills, Inc. (NYSE:GIS), Kellogg (NYSE:K), and Dr. Pepper Snapple Group, Inc. (NYSE:DPS). Despite the trailing EPS growth of 7.9 (three-year average), PEP has a much higher revenue growth (three-year average) of 15.4, as compared to the industry of 6.2. The operating margin of 13.9% TTM and net margin of 9.0% TTM are both lagging the industry averages of 16.7% TTM and 11.4% TTM, respectively. However, PEP was able to generate higher than the average ROE of 26.4 with a lower debt-to-equity of 1.1, as compared to the industry average of 24.4 and 3.4, respectively. PEP is currently undervalued with P/E of 18.7 compared to the average of 19.4.
PEP closed at $70.35 with a 0.34% gain on Nov. 28. The volume of 4.43 million is 17.35% less than the 30-day average of 5.36 million. PEP had been trading in the range of $62.15-$73.66 in the past 52 weeks. The MACD (12, 26, and nine) indicator started to show a bullish sign since Nov. 19, 2012, and the MACD difference continued to diverge. PEP managed to stay above its 50-day MV of $69.82 in the past four trading days. As seen from the chart below, the next resistance will be $71.07, R1 pivot point, followed by $72.89, R2 pivot point. From the momentum perspective, RSI (14) of 62.09 is indicating an increasing buying momentum.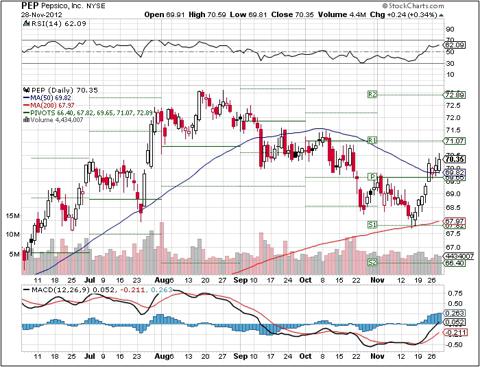 Source: StockCharts.com.
Options Play
PEP is a solid play for cash flow during economic uncertainty, and its revenues and profits are expected to grow in 2013. While the short-term trend is bullish, a bullish credit put spread will be reviewed below for investors who would like to acquire PEP stock at a discount price while gaining some upside potential.
Short 1x April 20, 2013, put at the strike price of $65.00 for the credit of $0.99
Buy 1x April 20, 2013, put at the strike price of $60.00 for the cost of $0.38
The maximum profit is $0.61, and the maximum risk/margin requirement is $4.39 ($5 loss - $0.61 credit received). If PEP closes above $65 on April 20, 2013, a 13.9% return on margin will be gained. If PEP falls below $65 upon options expiration, PEP stock will be purchased at $64.39, which is 8.47% lower than the current price of $70.35. The projected annual dividend yield will be 3.35%, based on the acquisition cost of $64.39 and projected dividend of $0.54 per quarter.
All prices are quoted as of the close on Nov. 28, 2012, and all calculations are before fees and expenses.
Disclosure: I have no positions in any stocks mentioned, but may initiate a long position in PEP over the next 72 hours. I wrote this article myself, and it expresses my own opinions. I am not receiving compensation for it (other than from Seeking Alpha). I have no business relationship with any company whose stock is mentioned in this article.
Disclaimer: Investors and traders are recommended to do their own due diligence and research before making any trading/investing decisions.