As is tradition with the loss-making Amazon.com (NASDAQ:AMZN) order-by-mail retailer, again this year it put out a cryptic numberless press release heralding the conquests of Thanksgiving. This year's conquers revolved around selling twice the Kindles it sold during 2011 during the Thanksgiving weekend. And in 2011 it revolved around selling four times the Kindles it had sold during 2010.
Putting aside the fact that Amazon.com introduced the Kindle Fire during 2011, which helped it beat the sales from 2010, and in 2012 it introduced the Kindle Fire HD and Kindle Fire 8.9 HD during 2012 while still selling the original at a lowered price, there's still something else we can conclude from the press release. And it isn't pretty.
Why isn't it pretty?
We're not talking same store sales here. Amazon.com is introducing new products and then comparing the size of the category (Kindles) these new products are sold in. So let us see what happened here.
During Thanksgiving 2012, Amazon.com had a promotion running, where it discounted the "classic" (last year's model) Kindle Fire from $159 to $129. This naturally led to increased sales. So increased, in fact, that yesteryear's Kindle Fire actually managed to top this year's Kindle Fire HD during Thanksgiving, as we can see in the Amazon.com best sellers list below: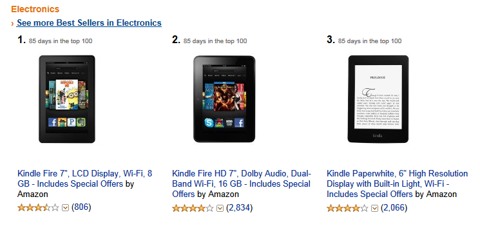 Remember now, Amazon.com said Kindle sales doubled. They didn't treble or quadruple. But the classic Kindle Fire outsold the Kindle Fire HD because of the promotion. So the Kindle Fire HD couldn't have been more than half of the Kindle sales, which means that the new model is not outselling 2011's numbers! Sure, in the aggregate and with the promotion sales have doubled, but this would still be the same as Apple's 2012 iPad not outselling Apple's 2011 iPad. This is even more pronounced when we take into account that Amazon.com titled the press release "worldwide" when the Kindle Fire was only selling in the US back in 2011.
Conclusion
As always, Amazon.com uses obfuscation to deliver the news. This time the news was that the Kindle family sold double the numbers during 2012's Thanksgiving versus 2011. It so happens that Amazon.com carried out a promotion on its old Kindle which, by way of fortune, made it sell enough to outsell the new model (Kindle Fire HD). Since we know sales doubled and the Kindle Fire HD was less than half of those sales, we thus know that the Kindle Fire HD is not outselling the original Kindle Fire (back in 2011), which is hardly positive.
Anyway, the loss-making Amazon.com retailer continues to trade at a huge valuation while seeing earnings and estimates plunging. At some point reality will reassert itself and Amazon.com will trade at half or less of its present quote, so I remain short.
Disclosure: I am short AMZN. I wrote this article myself, and it expresses my own opinions. I am not receiving compensation for it (other than from Seeking Alpha). I have no business relationship with any company whose stock is mentioned in this article.