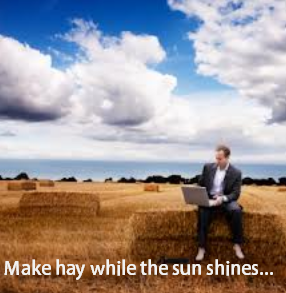 It's a cliff-driven news market, bringing rapid trading and increased volatility. One day Boehner says something encouraging and the next, reverses course. Then both parties had a more optimistic tone late in the day Thursday. Politicians of both parties, including the WH, have been chirping away and talking to their base. Behind closed doors, maybe more serious things are being discussed. The president wants a deal before Christmas. Given his schedule (20 days in Hawaii), that would mean December 21st. In the meantime, the chatter will continue and so will the volatility.
Given this unique environment of QE and ZIRP, perhaps old reliable indicators and reports lose their impact for now, anyway. The respected Economic Cycle Research Index (ECRI) has been forecasting that a recession is coming since May 2012. And some recent statistics indicate this as true (today's Kansas City Fed Manufacturing Data, -6 vs. -1 expected), but perhaps it's been hindered or delayed by monetary policies.
In overseas news, China's Shanghai markets have fallen to their 2009 lows, reported PEs are below 11 (the lowest since 2011) and brokers will be cutting commissions. Europe was higher on follow through bullishness from previous budget "happy talk" Wednesday. This positive result came even as German unemployment rose to an eight-month high. And Greece remains in the news as Dutch Prime Minister Rutte confirmed yesterday's "Greece will need more help" message as valid.
In the U.S., Jobless Claims remain high (393K vs. 390K expected, and prior revised higher to 416K from 410K). The consistent higher revisions allow for headline making better "beats," which you see in the financial media. GDP data was reported (2.67% vs. 2.8% expected, and prior 2%). Within the data were more important data: a massive build in defense spending and a serious decline in consumer consumption. All this is well summarized by Consumer Metrics Institute. In other words, if you look under the hood of the data, there isn't much positive going on. But looking under the hood isn't the way algos and bulls roll now. After a miserable New Home Sales report the other day, Pending Home Sales brightened the mood (5.2% vs. 1% expected, and prior .4%).
Some current WH supporters are doing some hypocritical things. For example, Costco (NASDAQ:COST) co-founder and Obama supporter, Jim Sinegal, is having a large special dividend payable before the fiscal cliff when an increase in the tax on dividends from 15% would be likely. Note Sinegal owns 2 million shares, or a $14 million gross windfall. Wynn Resorts (NASDAQ:WYNN) and Tyson Foods (NYSE:TSN) are doing something similar.
Stocks moved about rapidly with each positive or negative comment from politicians promoting positions to their base. Depending on your stomach for volatility, you can jump in or stand aside until they work it all out.
The dollar (NYSEARCA:UUP) was lower once again and gold (NYSEARCA:GLD) recovered much of the previous day's losses. Commodities (NYSEARCA:DBC) rose as oil USO) rebounded. Bonds (NYSEARCA:TLT) were flat for the most part. Stocks were led higher once again by tech (NYSEARCA:XLK) and social media (NASDAQ:SOCL), for example. Helping markets rally throughout the day were previous comments from former Fed Governor William Dudley suggesting QE3 could continue throughout 2013. Lastly, the consensus among traders is at least a short-term fiscal cliff deal will be had -- increase taxes first, then deal with spending (not a chance) later.
The Fed has shown, but not detailed in their holdings of "other" Federal Reserve Assets a little over $200 billion. Most of this may be foreign currencies or securities from overseas. (Spanish Bonds? Who knows?)
(click images to enlarge)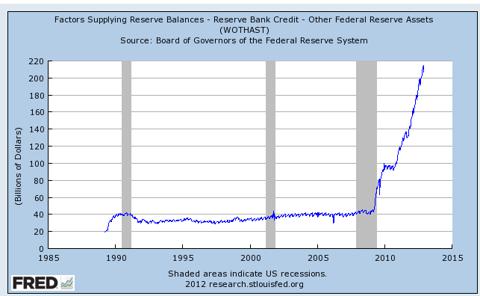 Volume was modest, and breadth per the WSJ was positive.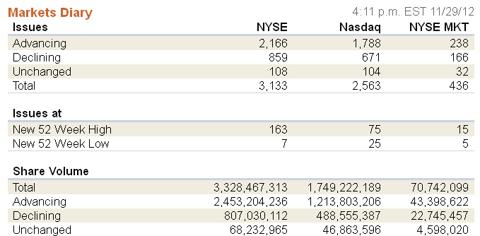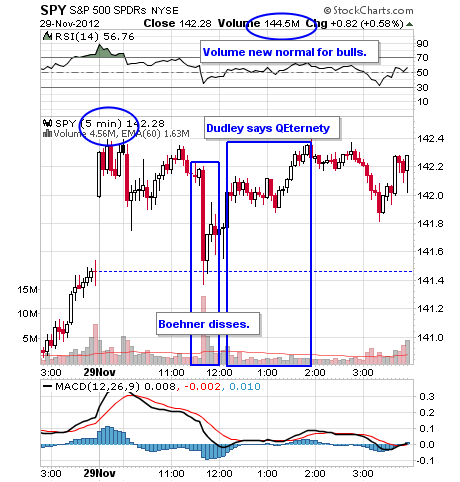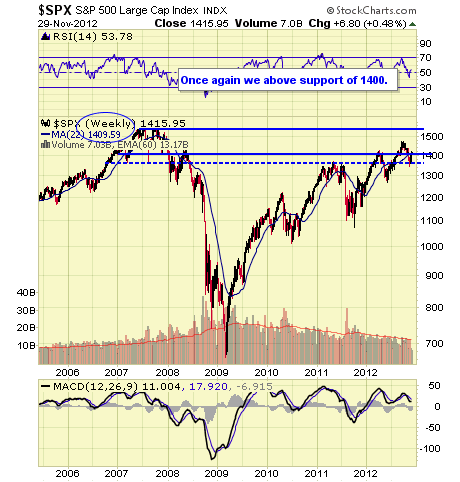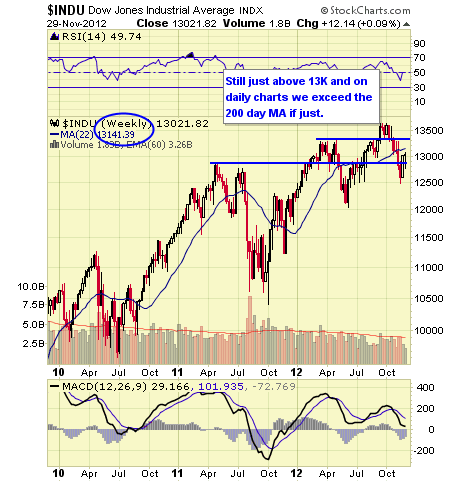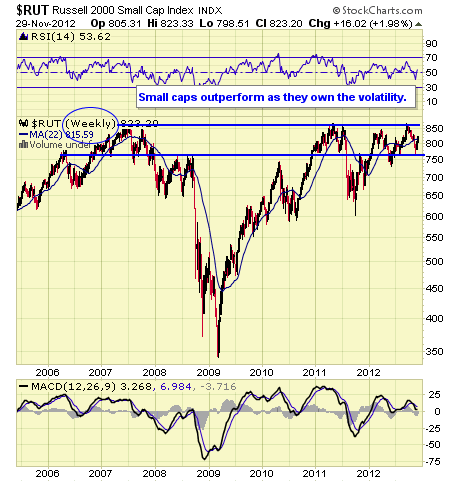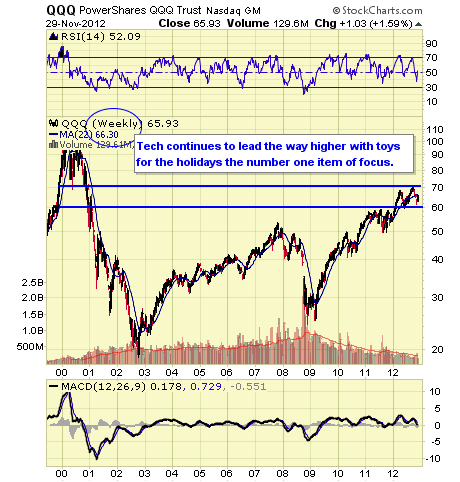 Continue to U.S. Sector, Stocks & Bond ETFs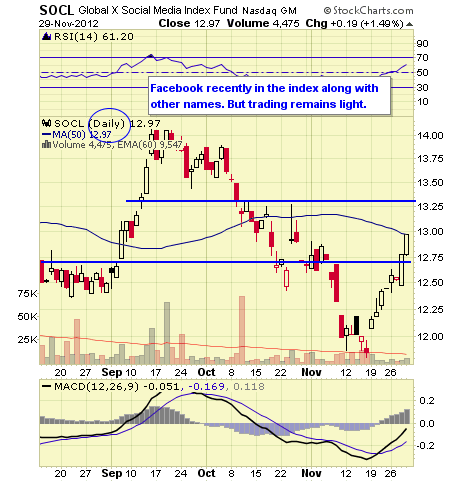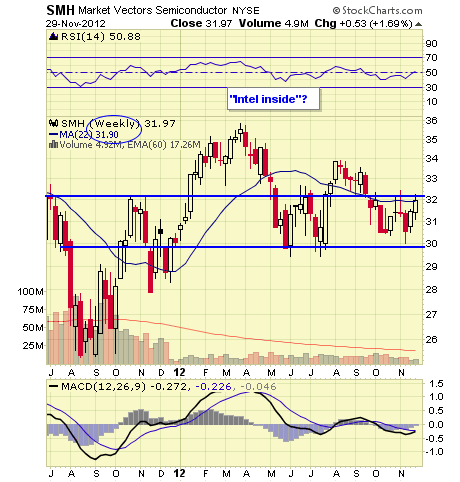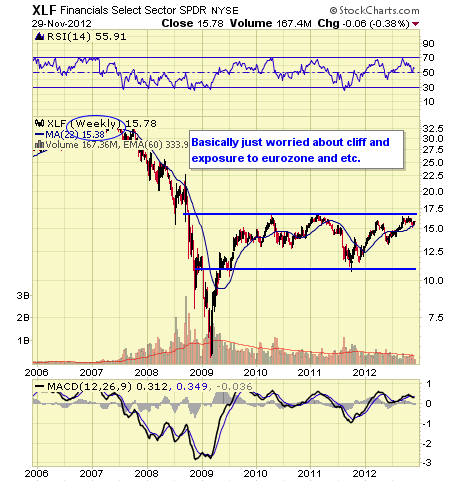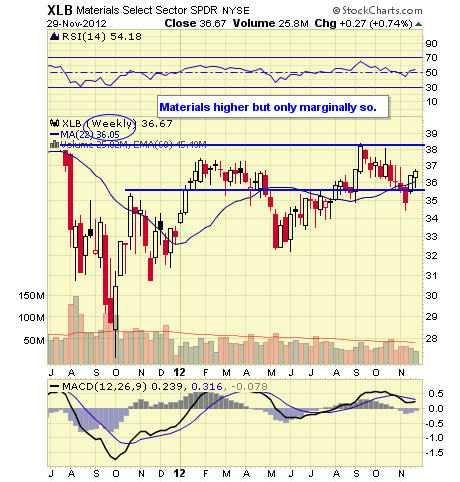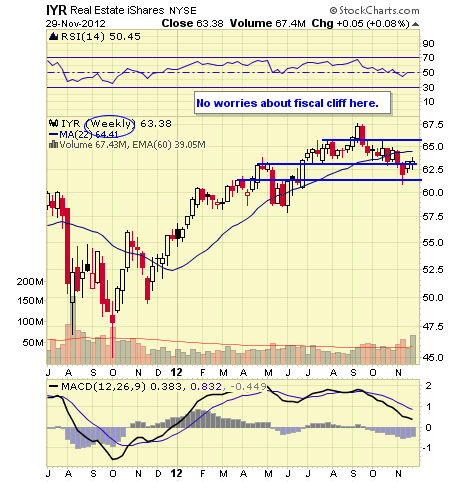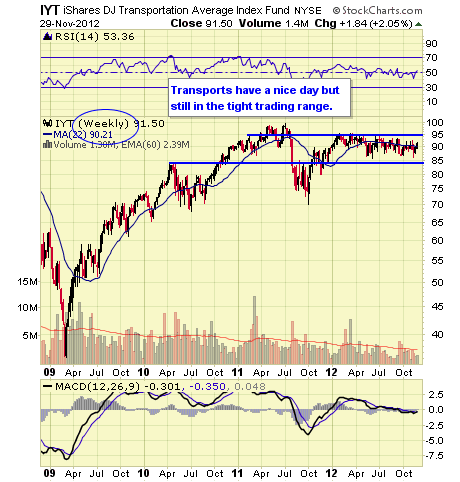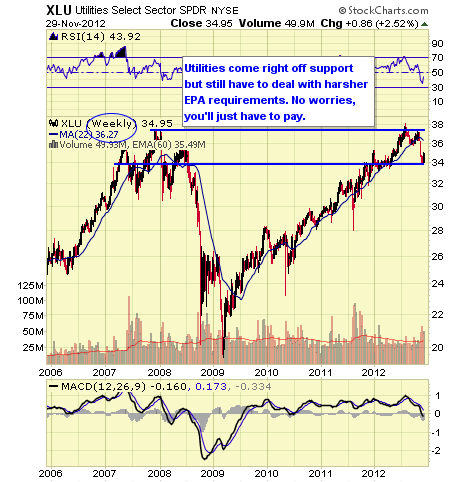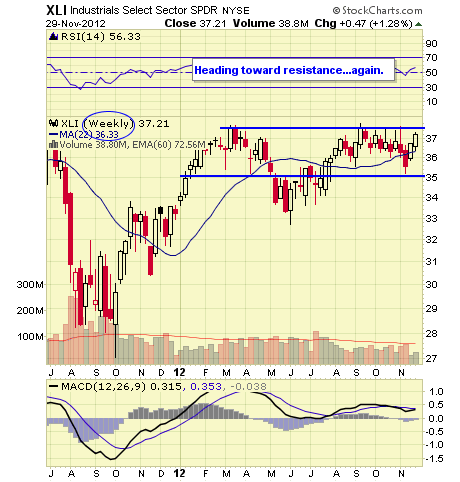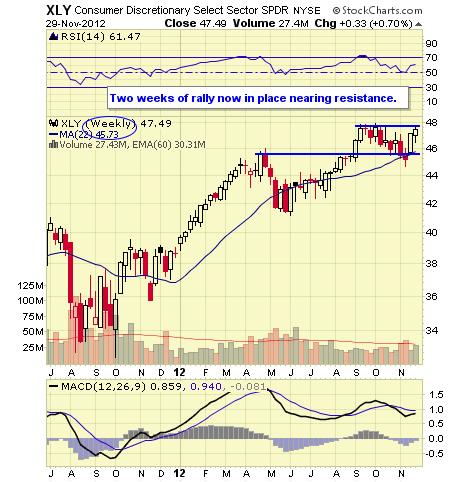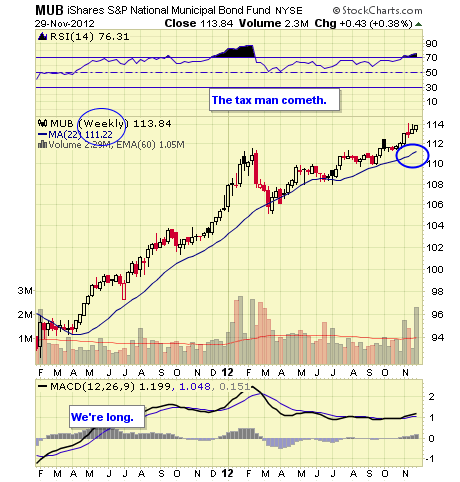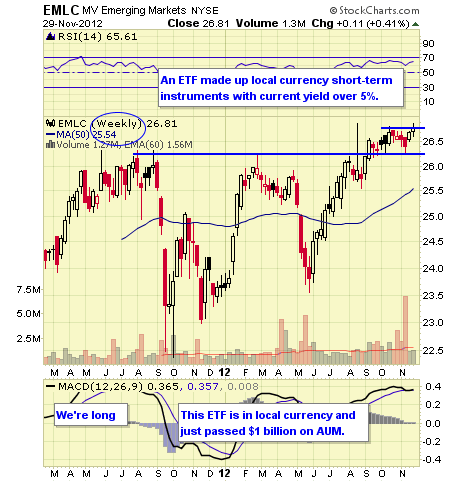 Continue to Currency & Commodity Market ETFs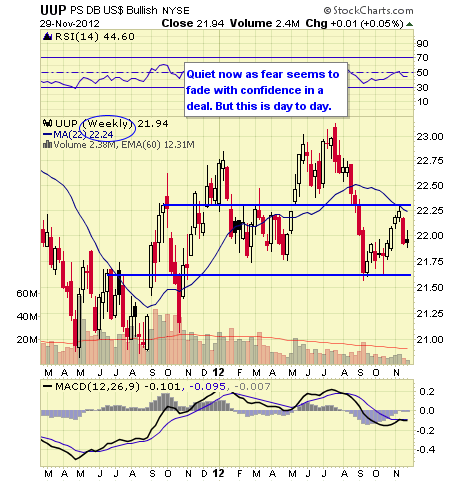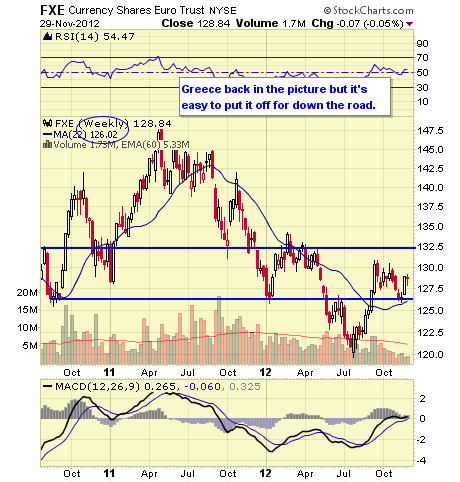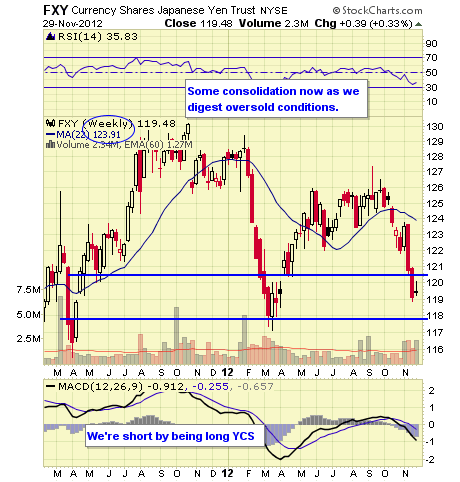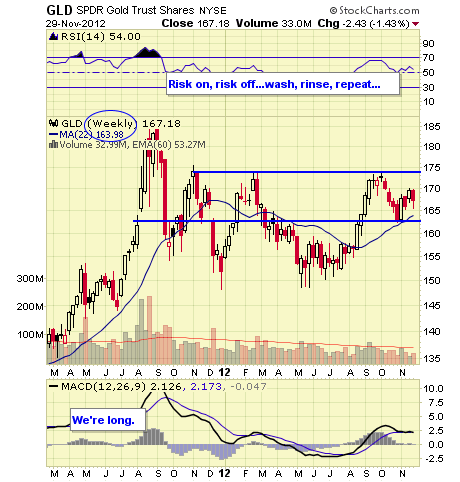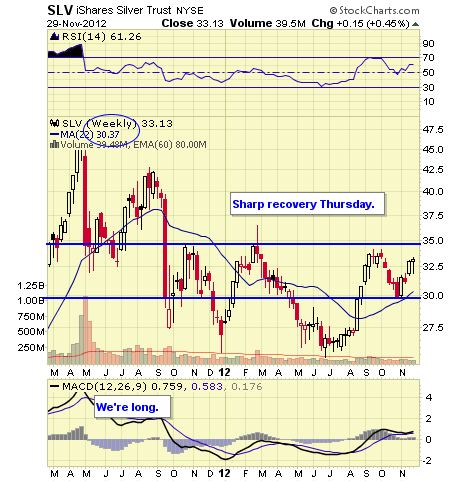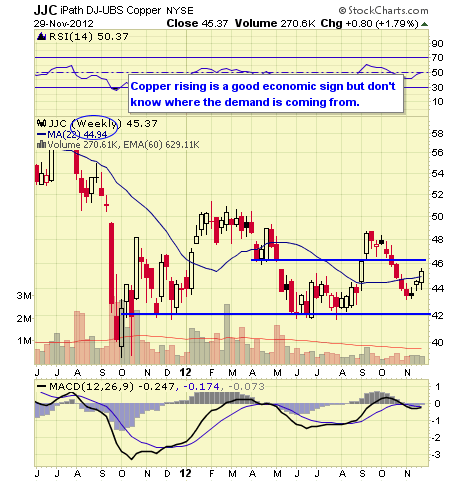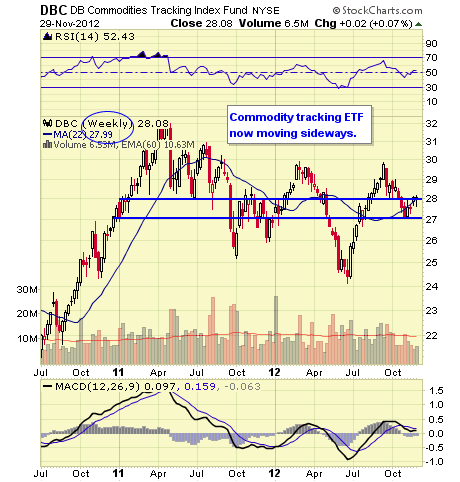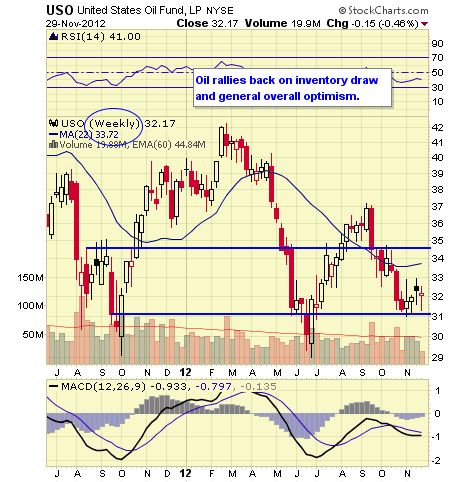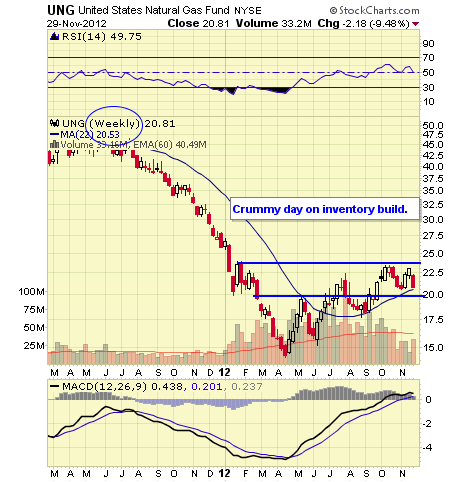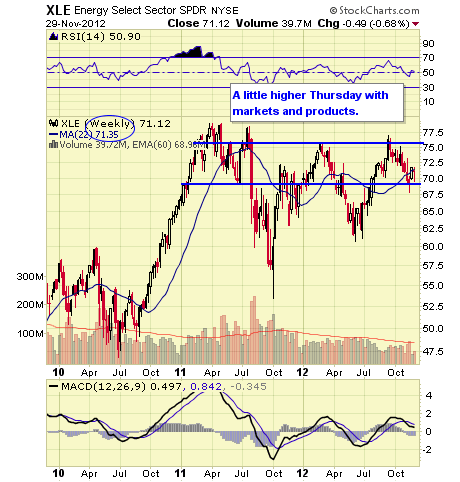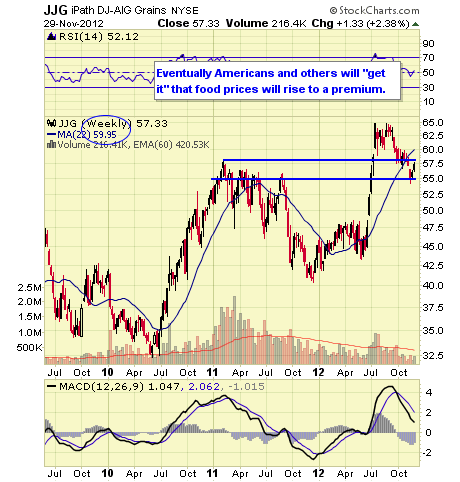 Continue to Overseas Sectors & ETFs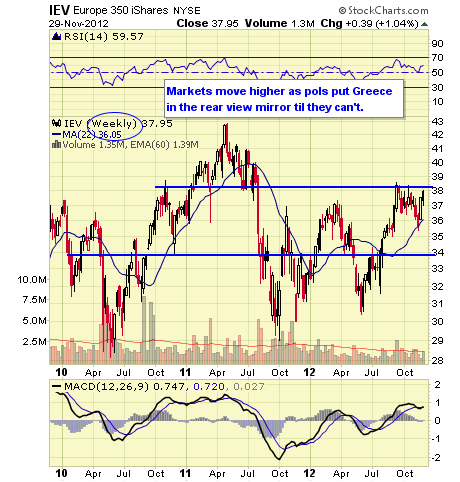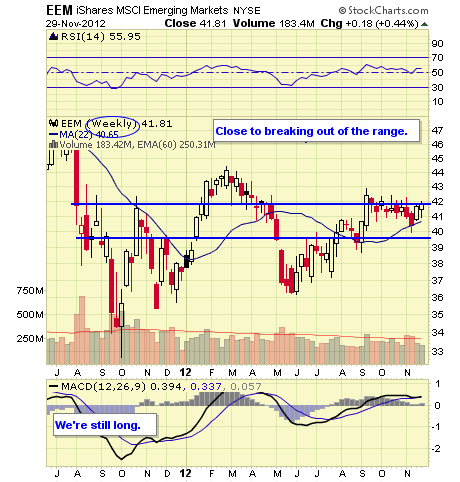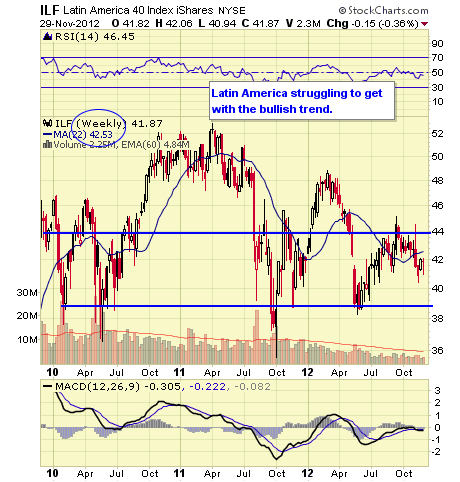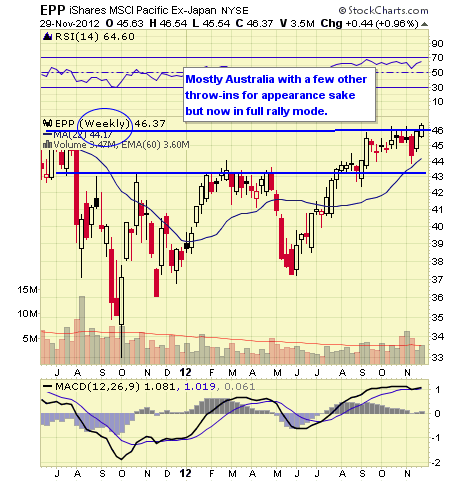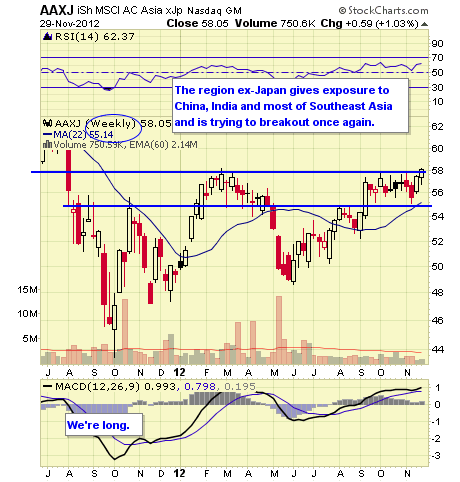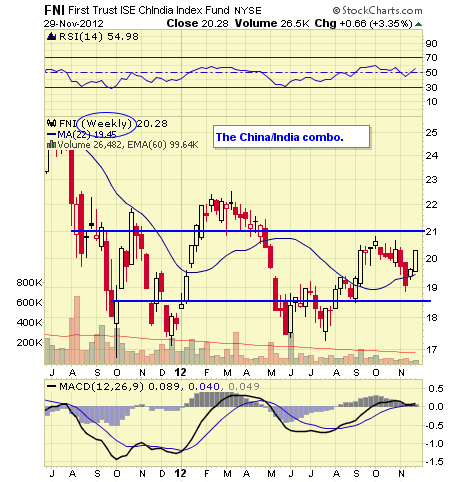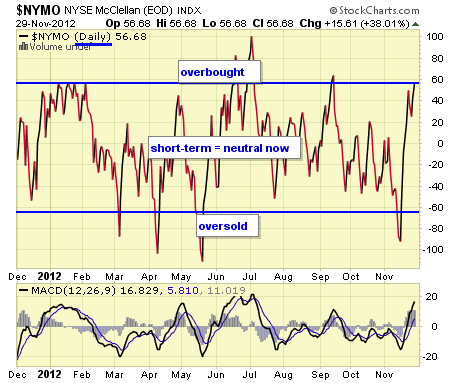 The NYMO is a market breadth indicator that is based on the difference between the number of advancing and declining issues on the NYSE. When readings are +60/-60, markets are extended short term.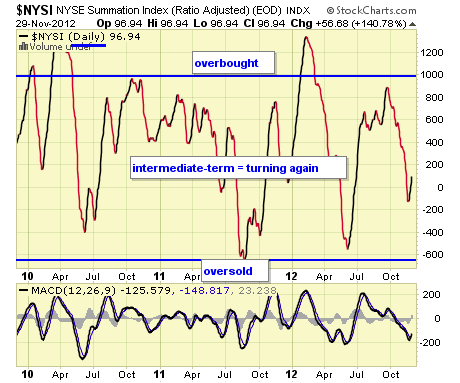 The McClellan Summation Index is a long-term version of the McClellan Oscillator. It is a market breadth indicator, and interpretation is similar to that of the McClellan Oscillator, except that it is more suited to major trends. I believe readings of +1000/-1000 reveal markets as much extended.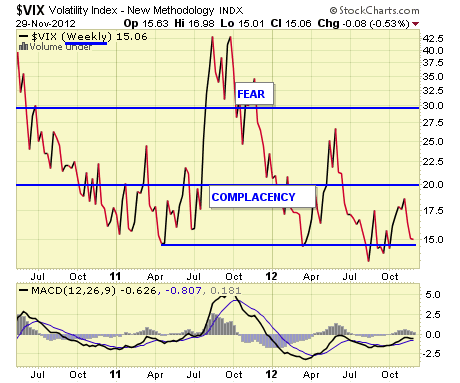 The VIX is a widely used measure of market risk, and is often referred to as the "investor fear gauge." Our own interpretation is highlighted in the chart above. The VIX measures the level of put option activity over a 30-day period. Greater buying of put options (protection) causes the index to rise.
Concluding Remarks
I wonder how many companies will declare a special dividend effective before year-end to beat what should be higher dividend taxes, even if they come retroactively post January 1st.
After the close, Geithner put forth the WH proposal to a congressional group regarding debt and the fiscal cliff. It consisted of $1.6 trillion in new taxes, $50 billion in stimulus spending (for whom and for what is uncertain) and an unlimited debt ceiling vote. That will go over like a lead balloon. Like I said, "day to day" trading.
Disclaimer: The ETF Digest maintains an active ETF trading portfolio and a wide selection of ETFs away from portfolios in an independent listing. Current "trading" positions in active portfolios, if any, are embedded within charts: Lazy & Hedged Lazy Portfolios maintain the follow positions: VT, MGV, BND, BSV, VGT, VWO, VNO, IAU, DJCI, DJP, VMBS, VIG, ILF, EWA, IEV, EWC, EWJ, EWG, & EWU.
The charts and comments are only the author's view of market activity and aren't recommendations to buy or sell any security. Market sectors and related ETFs are selected based on his opinion as to their importance in providing the viewer a comprehensive summary of market conditions for the featured period. Chart annotations aren't predictive of any future market action rather, they only demonstrate the author's opinion as to a range of possibilities going forward.
Disclosure: I have no positions in any stocks mentioned, and no plans to initiate any positions within the next 72 hours. I wrote this article myself, and it expresses my own opinions. I am not receiving compensation for it. I have no business relationship with any company whose stock is mentioned in this article.