Despite the narcotics wars in the country's northern regions, Mexico remains an enduringly popular vacation destination for Canadians and even Americans because of its lingering economic weakness.
While a European tour is too expensive for most travelers, Mexico's tropical climate and relatively weak peso make the country an enjoyable and affordable vacation experience.
Not surprisingly, the overwhelming majority of those tourists arrive by plane. Prior to the 1990s, most of the revenue realized from tariffs and other taxes on travelers went straight into the central government's coffers since it owned all of the country's airports. But as a wave of privatization swept over Mexico, its airports were privatized in 1998 and divided among six operating companies.
Groupo Aeroportuario del Pacifico (NYSE:PAC) was granted a 50-year operating monopoly on 12 airports located in Mexico's Pacific region, including the highly urbanized Guadalajara and Tijuana, as well as popular tourist destinations such as Los Cabos and La Paz.
As part of the company's operating agreement with Mexican authorities, it collects fees and tariffs at levels set by the government. Every five years, Groupo Aeroportuario del Pacifico submits a capital spending plan and passenger projections to its regulators, both of which are included in the calculus used to determine fee levels and insulate the company from any anticipated declines in passenger revenue.
As a result, any infrastructure investments are recouped through the tariff system and a fixed level of profits are virtually guaranteed, assuming passenger traffic remains steady or grows.
What's more, air passenger traffic in Mexico has proven surprisingly resilient. In 2009, a total of 19.2 million passengers passed through Groupo Aeroportuario del Pacifico's airports. In 2010, that number rose to 20.2 million passengers and came in near that level last year (see chart, below).
(click image to enlarge)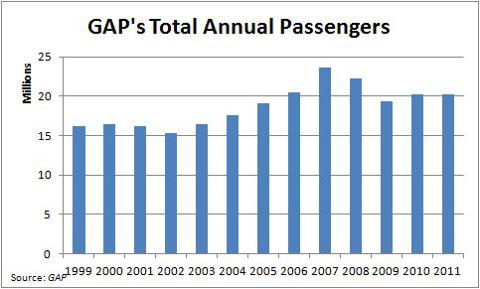 Interestingly, while tariff revenue is a major cash cow for the company, it's hardly the only source of revenue. Last year's revenue of MEX170 million from Groupo Aeroportuario del Pacifico's parking operations accounted for nearly 22 percent of the company's total sales. Car rentals, time shares and retail operations accounted for another 10 percent each, generating combined sales of about MEX82 million.
Thanks to Groupo Aeroportuario del Pacifico's varied business activities, it is well equipped to weather any slowdown in passenger traffic. In its fiscal third quarter, the company managed to squeeze out revenue growth of 15.5 percent, even as passenger traffic grew by just 6.8 percent and prices were increased just 5.5 percent, thanks to the fact that the company gets a cut of everything from parking fees to food and beverages at its airports.
Given the company's strong performance, it recently increased its revenue growth guidance for its non-aeronautical operations for the full-year 2012 (from 6.5 percent to 8 percent, to 14 percent to 15 percent), while standing pat on its estimate of 8 percent to 9 percent growth in aeronautical revenues.
On top of its solid revenue growth, Groupo Aeroportuario del Pacifico also sports a surprisingly strong balance sheet with no net debt and high operating margins, which typically average around 40 percent.
Given those high margins and low debt, any growth in Mexican air travel will continue to translate to rapid revenue growth for the airport operator. And that growth will continue to come as average Mexican incomes rise -- about two-thirds of Groupo Aeroportuario del Pacifico's passenger traffic is domestic. In addition, the country remains a popular tourist destination thanks to its weak peso.
The company should also benefit over the short term from planned terminal expansions at three of its busiest airports, and the roll out of additional commercial services in all of its terminals, such as VIP lounges that offer telecommunications and banking services.
Over the long term, the continued steady pace of Mexican economic growth will be a boon. There are also talks underway between Groupo Aeroportuario del Pacifico and the Mexican and American governments concerning the construction of a cross-border facility that would allow American air passengers easier access to the company's airport in Tijuana, bypassing the congested air traffic in Los Angeles and San Diego.
In addition to solid growth prospects, the company is also extremely shareholder friendly with a generous dividend and share buyback programs.
Under normal conditions, Groupo Aeroportuario del Pacifico aims to distribute all of its cash, aside from two months of operating expenses and the amount needed to cover its capital expenditure commitments. In an average year, that results in the company paying out nearly three quarters of its earnings to shareholders.
The company has also repurchased more than 5 percent of its shares, for a total of almost 31 million over the past two years, providing a boost to per share numbers while also generating organic revenue growth.
Disclosure: I have no positions in any stocks mentioned, and no plans to initiate any positions within the next 72 hours. I wrote this article myself, and it expresses my own opinions. I am not receiving compensation for it. I have no business relationship with any company whose stock is mentioned in this article.