What is China doing with all that gold?
Many people know that in 2007 China became the world's largest gold producing nation, a lead the chart below shows it has continued to build upon since:
(click images to enlarge)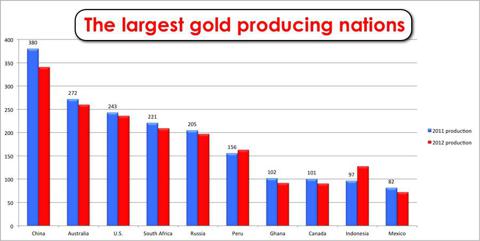 But China is also the world's largest importer of gold, purchasing almost 400 metric tonnes of the metal last year alone. For perspective, consider that India has roughly 557 tonnes in their reserves, meaning that in 2011 alone China -- the worlds largest gold producing nation -- imported almost as much gold as India has in total.
Further, even though China is the largest gold producer nation, some bullion dealers claim they've never seen any bars in the market they can credibly source to this Asian giant. Here is an interview done last October with Dominic Frisby. Fast forward the clip to 20:40 to catch this fascinating anecdote:
"I had dinner about a year ago with the head of Gold at HSBC and one of the things that he described -- and most of the world's gold goes through HSBC, at some stage -- and one of the things he described looking at the gold in his vault ... despite the fact that China is the biggest producer -- he never sees bars, with Chinese stamps on them ... they do not export any of it … "
So it appears that not only is China producing more gold than any other nation, it is also importing more gold than any other nation, and further, it seems to be hoarding the metal.
Some speculate that China's reserves of gold are approaching 2,000 tonnes and will hit 3,000 by 2015, almost rivaling Germany as the second largest holder. However impressive this measure, keep in mind that even at those elevated levels, China's holdings of gold would account for less than 5% of the nation's total currency reserves. Compare that to the United States or Germany, where gold accounts for over 70% of their total currency reserves.
All of this raises an interesting question -- what is China doing with all that gold?
We get some insight by considering the nation's activity with respect to its trading partners. While China's total stores of gold are rapidly growing, we also see the nation aggressively pushing the use of renminbi (NYSEARCA:RMB) in international trade. According to Standard Bank, some 40% of Chinese-South African trading (a market sized in excess of $100B annually) will be settled in RMB by 2015. HSBC has just launched RMB settlement services to Bangladeshi exporters, noting "China's growth continues to drive intra-regional and global trade. By 2015, we expect a third (US $2T) of China's trade to be settled in RMB and forecast that the currency will be fully convertible within the next five years."
Further driving acceptance of the renminbi, some 41% of Chinese corporations were offering "discounts of up to 3% to counter parties willing to engage trades in RMB."
Finally, consider the growing sophistication of Chinese financiers as evidenced by the rapid growth of the Shanghai Gold Exchange and the recent purchase of the London Metal Exchange (LME). Acquiring LME gives the Chinese financial industry in-depth exposure to the mechanics of derivatives markets, experience that could facilitate the launch of Chinese structured, exchange traded products in the near future. If these products were made available to domestic Chinese investors, both institutional and domestic demand for the metal would sharply increase, but to what end?
While speculation about the Chinese backing their currency with gold have long flourished in the market, the actions documented above support the case that we'll see this sooner rather than later. A Chinese currency, backed either wholly or partially by gold, would see sharply increased acceptance for world trade and bank reserve currency purposes. Further, it would present a clear and credible threat to U.S. dollar dominance.
So how to trade this possibility? I see three different approaches, all with pluses and minuses.
First of all, go long the metal itself, either in physical or exchange traded fund (ETF) form. If you do decide on an ETF like SPDR Gold Shares (NYSEARCA:GLD), beware you're exposed to counterparty risk, which while non-zero, should be small. I would suggest further you keep a percentage of your metal in physical form, preferably under your direct control. For this option, I like minted coins for their wide acceptance and the limited risk of fraud that presents itself with larger bars.
Second, there are three financial products I like for exposure to China in general, and the renminbi specifically. Each differs by how they're structured and the assets they track.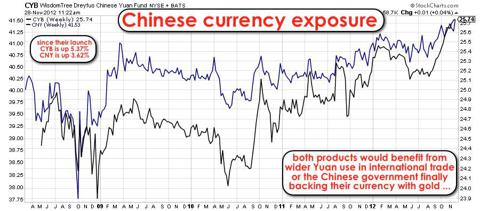 First up is the Market Vectors Chinese Renminbi/USD ETN (NYSEARCA:CNY). This exchange traded note (ETN) is backed by senior, unsecured debt securities issued by Morgan Stanley (so counterparty risk again), is currently sized at roughly $50M and runs annual expenses of 0.55%. CNY is designed to track the Standard and Poor's S&P Chinese Renminbi Index, so you're picking up total exposure to the dollar/renminbi exchange rate. It has a year to date return of 1.25%, and the return since its March 14, 2008 launch has been 3.62%. This ETN is tracked in blue in the chart above.
Second is the WisdomTree Dreyfus Chinese Yuan (NYSEARCA:CYB) exchange traded fund , which tracks total return across two factors -- Chinese money market rates as well as changes in the dollar/yuan exchange rate. Actively managed and running about $246M in size, this fund has a total expense load of 0.45% pa with a year to date return of 2.18%. Return since the product's May 13, 2008 launch has been 5.37%. This product is presented in black in the chart above.
Finally and just announced by Schroders, the New China bond fund looks interesting, as it allows exposure to longer-term RMB denominated bonds, with the manager citing "an attractive yield of 4 per cent for the overall index and 3.6 per cent for the investment grade non-government sector." But beware: this one has a front end of load of 5.26% and annual fees of 0.75%, so it's definitely for the long-term bullish, "buy and hold" crowd. Funds like this generating revenue in a foreign currency can see an increased return in local currency terms should the renminbi appreciate while the investor's domestic currency (e.g., the U.S. dollar) declines in value. In this instance, you'd be receiving not only the coupon income from the foreign bonds, but these payments would increase in value once converted to the weakening dollar.
All of these investment ideas would benefit either from future Chinese actions to further internationalize their currency, or a Chinese currency backed by gold.
Disclosure: I have no positions in any stocks mentioned, and no plans to initiate any positions within the next 72 hours. I wrote this article myself, and it expresses my own opinions. I am not receiving compensation for it (other than from Seeking Alpha). I have no business relationship with any company whose stock is mentioned in this article.