It seems Seeking Alpha is quite active with discussions on dividend investing strategies. Some offer advice suggesting that dividend growth trumps current yield, while others fiercely argue the opposite. My stance is both are correct -- based on an investor's risk profile and investment goals. However, neither goes far enough to include the concept of buying "value."
I started writing about dividend investing in 1997 when the discussion was far simpler. The then-dividend-reinvestment guru was offering an interesting philosophy that regardless of current stock value, reinvestment of dividends was far better than not, and any large-cap dividend stock would do. As there were no websites such as Seeking Alpha, his pulpit was books and selected financial magazines. My philosophy was, and still is, that current value should be front and center in all investment decisions, taking its rightful place alongside current yield and dividend growth discussions.
"Value" comes in various forms and styles. I like to use the PEG ratio, or price to earnings growth, as one criteria of value. The formula for the PEG ratio is Price divided by Earnings divided by anticipated long-term Earnings Growth Rate. However, I extend the concept a bit to focus on next year's numbers rather than a trailing 12-month calculation. While this approach relies on consensus estimates from brokers and is subject to revision as time progresses, it matches a longer-term horizon when calculating value. The goal of these criteria is to identify stock prices that should provide a measure of value when compared to next year's earnings performance.
However, the forward PEG ratio moves around as estimates change over time. For example, last September, Caterpillar (NYSE:CAT) was expected to earn $10.51 in 2013 and have a five-year EPS growth rate of 15%. Currently, CAT is expected to earn $8.61 in 2013 and have a growth rate of 14%. With a constant share price of $85, CAT's 2013 forward PEG ratio has risen from 0.53 to 0.70.
Quality should become part of the "value" consideration as well. S&P offers a ranking system for the one quality all long-term dividend investors should be seeking -- consistency in earnings and dividend growth. The rankings are currently known as the S&P Quality ranking. From S&P's Quality Index website:
Standard & Poor's has provided Earnings and Dividend Rankings, commonly referred to as Quality Rankings, on U.S. common stocks since 1956. Quality Rankings reflect the long-term growth and stability of a company's earnings and dividends. These rankings are widely used and available in various data platforms including the S&P Compustat database.

The Quality Rankings System attempts to capture the growth and stability of earnings and the dividends record with a single rank. The rankings are generated by a computerized system and are based on per-share earnings and dividends records of the most recent 10 years. Basic scores are computed for earnings and dividends and, then, adjusted by a set of predetermined modifiers for changes in the rate of growth, stability within long-term trends and cyclicality. Adjusted scores for earnings and dividends are then combined to yield a final ranking.

The Quality Rankings are based on the following scale: A+ Highest; A High, A- Above Average; B+ Average; B Below Average; B- Lower; C Lowest; D In Reorganization; LIQ Liquidation
Invesco PowerShares offers a High Quality Ranking ETF (NYSEARCA:SPHQ) following the S&P High Quality Index that includes companies ranked A+, A, and A-. Researching the components of either their index or SPHQ is an easy means of locating the current 138 firms that meet the criteria. A list of these companies can be found at the PowerShares website here (pdf), and is available in downloadable spreadsheet form. For specific company rankings, premium research sites or S&P stock research from your broker are the best sources. However, starting with a list of 138 of the highest quality companies should make a great place to begin the search.
Why does quality matter? The graph below comparing the High Quality S&P Index to the overall S&P 500 should just about settle any further questions:
(click image to enlarge)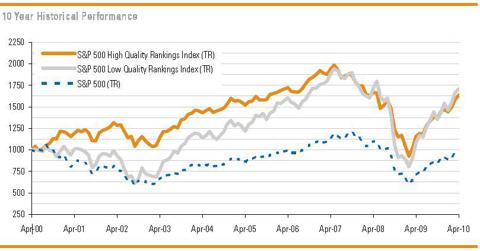 Source: Invesco.com
It is possible to start a spreadsheet using the above link and then filling in 2013 PEG ratio, current dividend yield, and dividend growth (with kudos to Dave Fish for his work on divy growth). Using randomly selected A+ and A companies, a spreadsheet may look like this:
| | | | | | | |
| --- | --- | --- | --- | --- | --- | --- |
| | | 2013 PEG | YLD | Quality | Sector | 5-yr Div Growth |
| AFL | AFLAC | 0.68 | 2.7% | A | FIN | 17.5% |
| APD | AIR PRODUCTS | 1.85 | 3.1% | A | IND | 10.7% |
| CAT | CATAPILLER | 0.70 | 2.4% | A+ | IND | 8.8% |
| COL | ROCKWELL COLLINS | 1.28 | 2.1% | A | TEC | 17.5% |
| EMR | EMERSON ELECTRIC | 0.96 | 3.3% | A+ | IND | 9.1% |
| HD | HOME DEPOT | 1.16 | 1.8% | A | CON D | 5.3% |
| ITW | ILL TOOL WORKS | 1.35 | 2.5% | A | IND | 14.4% |
| JCI | JOHNSON CONTOLS | 0.49 | 2.8% | A | IND | 7.6% |
| JNJ | JOHNSON & JOHNSON | 2.10 | 3.5% | A+ | HC | 9.1% |
| MMM | 3M | 1.33 | 2.6% | A+ | IND | 3.6% |
| PNR | PENTAIR | 1.04 | 1.9% | A | IND | 9.3% |
| SYK | STRYKER | 1.15 | 1.6% | A+ | HC | 27.3% |
| TGT | TARGET STORES | 1.16 | 2.3% | A+ | CON S | 20.1% |
| UTX | UNITED TECHNOLOGIES | 1.08 | 2.7% | A+ | TEC | 13.4% |
| WAG | WALGREENS | 0.91 | 3.3% | A+ | CON S | 22.9% |
| XOM | EXXON MOBIL | 1.28 | 2.5% | A+ | ENE | 7.6% |
For those looking for trailing five-year dividend growth, the top five of this group would be: Striker (NYSE:SYK), Walgreens (WAG), Target (NYSE:TGT), AFLAC (NYSE:AFL), and Rockwell Collins (NYSE:COL).
For those looking for current yield, the top five would be: Johnson and Johnson (NYSE:JNJ), Walgreens, Emerson Electric (NYSE:EMR), Air Products (NYSE:APD) and Johnson Controls (NYSE:JCI).
For those looking for the best current value, the top five would be: Johnson Controls, AFLAC, Caterpillar, Walgreens, and Emerson Electric.
For dividend growth investors looking for value, the top selections would be Walgreens and AFLAC, while for current yield investors looking for value, the top selections would be Walgreens, Emerson Electric and Johnson Controls.
The concept of this exercise is to find dividend growth or current income stocks that offer both the highest ranking for consistence in earnings and dividend growth along with value fundamentals.
Some investors may complain that this strategy involves a lot of work, and it does. Completing a spreadsheet of 100+ companies such as the one above will take several hours of work, but all the information is available on the web. However, the due diligence does not stop there because after the number crunching produces a list, each offering will need to be researched to determine why it is included and if the trends will continue.
If you think this is too much work, then you may not yet be a serious individual investor with a defined strategy for accumulating wealth. It is easy to rely on the work of others, but more difficult to do it yourself. However, individual investors who spend the time developing and updating their selection criteria will be far better off than those that do not.
Author's Note: Please review important disclaimer in author's profile.
Disclosure: I am long AFL, JCI. I wrote this article myself, and it expresses my own opinions. I am not receiving compensation for it (other than from Seeking Alpha). I have no business relationship with any company whose stock is mentioned in this article.