The long USD/JPY trade may have been a little bit overcrowded recently, which can explain the recent decline of the pair (see the chart below that shows that excessive net short positions lead to a -- temporary at least -- reversal).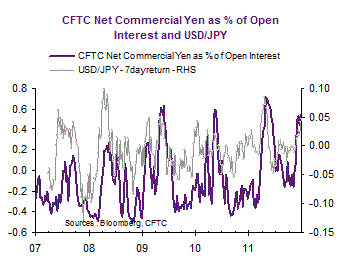 Today, we stand at 82.3 and a breakout above 83 is still a possibility for many investors.
The left chart below highlights the robust link between the real rates spread and the pair. For liquidity reasons, I do not use breakevens drawn from I/L government bonds but 10-year inflation swaps. According to this metric, the USD/JPY is too high.
But what if rates failed to take into account a higher inflation rate as Abe is so wishing for? The red square is the real yield differential if JPY inflation swaps priced a 1% inflation level for the long run. If the target of 2% was reached, 91 would be a sound target.
To justify a stronger USD/JPY rally, investors would have to be bold enough to believe a central bank that failed to lift the inflation rate above 0% since 1995… (see right chart above).
Or course, there are some reasons for the yen to weaken in the medium run. Among them, we find the balance sheet extension of theBOJ and the current account. But:
The Fed's balance sheet remained stable during the Twist/QE3, but any QE4 would translate into the accumulation of more Treasuries.
The link between the ratio of current account deficit and the USD/JPY is not always very robust. It broke down in 1997/99 and since 2010. The chart suggests that the USD/JPY could reach 130.
We bet it will go back to 80 before…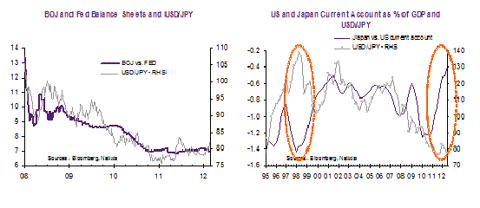 The pair stalled around 82.5 also because of the confusion surrounding Abe's views on Monetary policy: favoring a 2% target for the BOJ, but ruling out a change in its statute/independence.
In addition, the gap that we mentioned between the USD/JPY and the relative performance of the S&P 500 and the Nikkei has been breached (see chart).
Disclosure: I have no positions in any stocks mentioned, and no plans to initiate any positions within the next 72 hours. I wrote this article myself, and it expresses my own opinions. I am not receiving compensation for it (other than from Seeking Alpha). I have no business relationship with any company whose stock is mentioned in this article.