Stocks To Trade:
We are looking at an earnings trade in Dollar General (NYSE:DG), longs in TripAdvisor (NASDAQ:TRIP) and Qualcomm (NASDAQ:QCOM), and shorts in DIRECTV (NYSE:DTV) and Microsoft (NASDAQ:MSFT).
For an earnings trade, we are looking at Dollar General. The company is Buy-rated by us with a $62 price target. The company has earnings on December 11, and we believe they look primed for a solid move up into the report. First off, the company is expected to show around 20% growth in earnings along with 10% growth in revenue. Those two levels are what we typically look for as an earnings catalyst. Further, the stock has a solid catalyst in that it has been chosen to join the S&P 500 to replace Cooper (CBE). That addition should provide another catalyst as it will help bring more mutual funds and institutional investors into the stock as they allocate funds to S&P companies typically.
Additionally, we like the stock's technical setup. They have been showing a nice base around $49 with resistance at 50.50 - 51.00 due to a downward channel. If the stock breaks that resistance, we should see it move higher into earnings. Lots to like here, and we believe DG is going to have a very solid report as we noted in our price target article due to strong profitability and growth potential.
Trade: DG, Long
Breakout: 50.50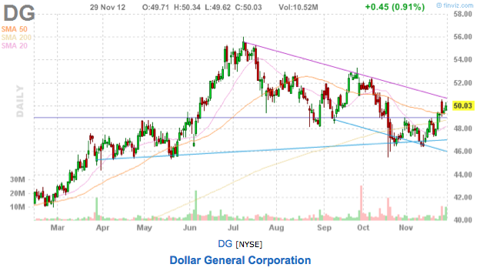 For longs, we like the looks of TripAdvisor and Qualcomm. TRIP looks ready to break out higher, while QCOM continues to look solid for a bull put spread. TRIP has looked very solid since their last earnings reporting, moving from $35 to $38. The stock, though, has been very flat for several days, which could signal a big move is on the way. The company's latest earnings showed 9% growth in revenue as advertising and subscription rates increased, and since then investors have been buying the stock. The company focuses more on reviews than competitors Expedia (NASDAQ:EXPE) and Priceline (PCLN), but it is attempting to leverage that into advertising revenue as well as the ability to purchase hotels/lodging. Right now, resistance is sitting at 38.25-38.50, and if the stock can get over that level, we should see a nice breakout.
QCOM is also looking very solid right now as it continues to hold a nice uptrend and benefit from strength in Apple (NASDAQ:AAPL). QCOM is a major supplier to Apple, and when their stock does well, QCOM does well. Additionally, they continue to look solid since breaking out from their last earnings report, and they have held the breakout level of $60 since. We like using that $60 level as a base for a bull put spread as it's below the 20-day and 50-day MA.
Equity Trade: TRIP, Long
Breakout Point: Break of 38.50
Options Trade: QCOM, Jan21, 60/57.50 Bull Put Spread
Max Gain: 20%
For shorts, we like the looks of DIRECTV and Microsoft. We have been waiting for DTV to break down. The stock has not been participating much in recent strength in the market, and the company has some fundamental issues at hand. The company's latest round of earnings were not taken well by the market.
The company lost more subscribers than was suspected due to their dispute with Viacom (VIA.B). They saw a rate of subscriber drops at 1.74%, which was up from 1.5% in the previous quarter. The 10-day blackout with VIA left DTV customers without favorites like Nickelodeon and MTV. The news hurt the stock, and it has not recovered since. The issue with VIA is done, but the lost subscribers will take work to get back. The stock has been holding the 49.00 line fairly well, but if it loses 48.75 (recent support), we could see a strong breakdown.
MSFT continues to look weak since the launch of Window 8, and it has not participated in recent market strength. Jeffries commented Thursday that they were lowering their price target on MSFT to $31 due to sales being weak for Windows 8. The company is also being dogged it appears for their late push into the tablet market. The stock has not broken above $32 in two years and only improved just under 10% despite the market improving nearly 25% during that time. MSFT is broken and Windows 8 is not going to save it.
Stock Trade: DTV, Short
Breakout point: Break of 48.75
Options Trade: MSFT, Dec22, 29/30 Bear Call Spread
Max Gain: 10%
Friday's Outlook:
The market continued higher Thursday as the market continued to look at some positive news in the wake of a pending fiscal cliff. For one, the market got some positive news surrounding GDP as it was revised to 2.7% for the latest quarter from 2.0%. The jump in GDP was mostly due to exports, but it's still a positive for the USA and American stocks. Jobless claims also dropped back under 400K. The market was held in check, however, by continued fear over the fiscal cliff.
Speaker John Boehner was not as positive in conversation Thursday as previously, commenting that he was "disappointed" by the talks and wanted more spending cuts from the President. For Friday, we should look for more developments from politicians as well as reactions to Personal Spending/Income and Chicago PMI. Both sets of data points have the ability to influence the market, and we would be shocked if they did not have some impact on how the market fares. Overall, the market is starting to look solid, and we expect more positive movement moving forward.
Chart courtesy of finviz.com.
Disclosure: I have no positions in any stocks mentioned, and no plans to initiate any positions within the next 72 hours.
Business relationship disclosure: The Oxen Group is a team of analysts. This article was written by David Ristau, one of our writers. We did not receive compensation for this article (other than from Seeking Alpha), and we have no business relationship with any company whose stock is mentioned in this article.