Workday (NYSE:WDAY), the software-as-a-service company, delivered better revenues, earnings, and outlook than the analysts expected.
Well done.
A truly remarkable quarter! This is Workday's first quarter as a publicly traded company. Sales rose an amazing 99%! Analysts congratulated Workday five times during their conference call on delivering a phenomenal quarter. You know what? I'm going to congratulate them as well. This was a marvelous quarter.
And I think you should short Workday despite their fine results.
So far, I've been correct in my assessment: I suggested Workday would go down once investors saw the quarter. The stock dropped almost 3% In response to earnings, the stock dropped almost 3% - on a day when the Nasdaq rose 0.7%. This stock isn't done going down.
Even fantastic quarters can't be enough to support Workday's nonsensical valuation. Workday after all trades at a P/S of 31 if the company achieves its fourth quarter outlook. Its market cap is $8.3 billion despite having only $73 million of sales this quarter. Note that's sales, not earnings.
The company's growth is actually decelerating. While 99% is astounding, it's decidedly less than the 118% growth it saw for the previous two quarters. And it's nowhere near the 294% and 170% year-over-year growth it saw in 2009 and 2010.
It gets worse. Workday is guiding 74 to 83% revenue growth next quarter, which would represent yet a further slowdown in growth.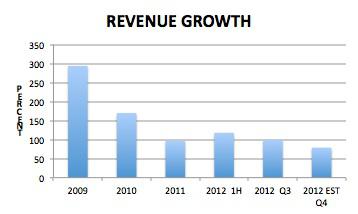 At this rate, sales will grow at a 50% clip in 2013. Workday would then make $411 million of revenue. If every penny of revenue dropped to the bottom line, its PE would be 21.
Of course, that isn't going to happen. In fact, the company lost 88 million during the first 9 months of this year. Workday isn't going to be profitable anytime in the near future.
Further, Workday hinted in its conference call that future quarters might see a sequential drop in billings. Sounds a lot like sales might get hit as well and not show the hyper growth investors are counting on.
When we report the results of our fourth quarter, we expect to provide revenue guidance for our fiscal year ending January 2014. However, as you think about the first quarter of fiscal 2014, we currently expect billings to be slightly down sequentially from our fourth quarter, representing seasonality of the enterprise software sales cycle.
Workday will give Oracle (NYSE:ORCL) and SAP (NYSE:SAP) a run for their money. Like many SaaS companies, Workday is transforming how software is delivered. All that doesn't matter: As a stock, this great company is absurdly overvalued.
Workday at $51 is like Apple (NASDAQ:AAPL) priced at $4000. The market put the wrong sticker price on Workday. Growth investors wrongly figured Workday would keep doubling its revenue and gave it an astronomical valuation. It's time for a markdown.
Disclosure: I have no positions in any stocks mentioned, and no plans to initiate any positions within the next 72 hours. I wrote this article myself, and it expresses my own opinions. I am not receiving compensation for it (other than from Seeking Alpha). I have no business relationship with any company whose stock is mentioned in this article.
Additional disclosure: Disclaimer: The opinions in this document are for informational and educational purposes only and should not be construed as a recommendation to buy or sell the stocks mentioned. Past performance of the companies discussed may not continue and the companies may not achieve the earnings growth as predicted. The information in this document is believed to be accurate, but under no circumstances should a person act upon the information contained within. We do not recommend that anyone act upon any investment information without first consulting an investment advisor as to the suitability of such investments for his specific situation.