Covered call writers can be good at what they do or great at it. They can generate decent returns or the highest possible returns. One of the mission statements of The Blue Collar Investor is to achieve the greatest levels of success. The implementation of exit strategies when indicated is critical to this end. Most covered call writers buy the stock, sell the option and then hope for the best. Not us! One of the major concerns when investing with covered calls is the sudden, dramatic decline in share price. By being prepared with appropriate exit strategy execution we can mitigate losses. Losses are inevitable in all investment strategies that involve risk, but minimizing these losses and maximizing gains is what will make us elite investors. In this article I will provide an example of a trade I made with Navistar International Corp. (NYSE: NAV) where the price dropped from $29 to $17.41 in one month. By using multiple exit strategies in the same month, I was able to cut that loss by nearly 50%. Here is a chart explaining the series of trades: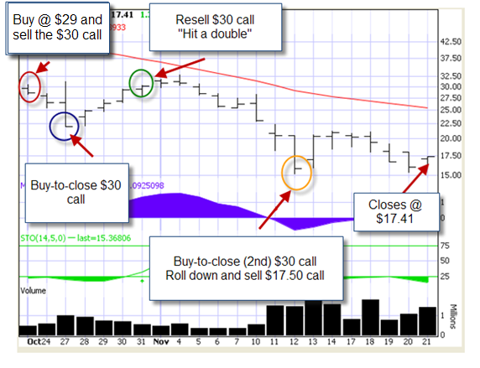 10/20: Buy 100 x NAV @ $29 (red circle)
10/20: Sell 1 x $30 call @ $2.75
10/27: Buy-to-close 1 x $30 call @ $0.55 (blue circle)
10/31: Re-sell $30 call @ $2.75 (green circle). I call this "hitting a double"
11/12: Buy-to-close $30 call @ $0.30 (orange circle)
11/12: Roll down and sell 1 x $17.50 call @ $1.00
11/21: NAV closes @ $17.41 (red arrow)
Total option credits: $275 = $275 + $100 = $650
Total option debits: $55 + $30 = $85
Net options credit: $$650 - $85 = $565
Total position loss: $1159 - $565 = $594
Now losing money is no reason to break out the bubbly, but a loss of $594 is a lot more palatable than one of $1159. Price declines of this nature fortunately are rare, but having the proper preparation and the ability to react in a non-emotional way will make us successful, elite investors.
Disclosure:
I have no positions in any stocks mentioned, and no plans to initiate any positions within the next 72 hours. I wrote this article myself, and it expresses my own opinions. I am not receiving compensation for it. I have no business relationship with any company whose stock is mentioned in this article.