Amazon.com (NASDAQ:AMZN) became the undisputed e-commerce leader by sucking up sales from traditional retailers. The market expects they will make so much profit from these sales that they will add more economic value than the brick and mortar retailers did before. For this to happen, the traditional retailers or logistic companies have to be prevented to enter the e-commerce space. I believe that will never happen and the expected high profit margin for Amazon is an illusion. The stock is priced as a technology growth company. The valuation indicates that it will soon turn into a cash-cow like Microsoft (NASDAQ:MSFT) or Oracle (NYSE:ORCL). The Amazon business model is by no means as scalable as a software model, nor has it any barriers to entry to protect it. Further expansion will cost new capital and there is no intellectual property protection either. The market is obsessed with its growth and pays a high premium for it. The normalized profit margin and capital needs are ignored in the current valuation. Although it might not be profitable over 2012, the real problem is the amount of cash flow that is leaking from its business model. This year alone that amount could rise to 5 billion USD. The recent 3 billion USD bond issue got a bizarre high credit rating and will continue the cash burn.
How big is the addressable market really?
The Amazon bull argument has been the size of the addressable retail market. Indeed, the potential is still large, but the going gets tougher. In the initial growth phase, Amazon selected easy to ship articles that can be pushed through the Fedex (NYSE:FDX) and UPS (NYSE:UPS) delivery network. The low hanging fruit in this game is now gone. Initially, this even led to reasonable operating margins. Media and Electronics growth rates have declined to 14% YoY. The recent volume growth came mainly by adding new categories. Most consumer durables are now available on the site
Tax benefit runs into fiscal cliff
The state tax loophole has also been a magnificent sales driver to take share from traditional retailers that are stuck inside their bricks. Amazon has been using every trick in the book in order to avoid local state taxes. The company has been able to move its assets around to get the best state deals. With the fiscal cliff on top of the news headlines, I do not understand why the market has not discounted more tax risk to the Amazon model. In the UK, Amazon was easier to pin down by tax authorities. Global VAT is rising to get the budget deficits back in balance. The e-commerce VAT loophole is unlikely to survive in this environment.
Shipping costs are heading the wrong direction
Amazon has grown by offering free shipping to incentivize e-commerce adoption and change consumer behavior. As the price of gas and transport rises, the Amazon profit margin declines. If and when Amazon starts charging more for shipping, old habits could return quickly. People will still move around and not all retail chains will disappear. The main question is whether the normalized e-commerce costs of warehouse plus shipping will still beat the operating costs of the traditional retailers as transport costs keep rising. Also congestion and CO2-taxes are increasing the shipping costs. Traditional retailers can restock efficiently in large amounts during low congestion times.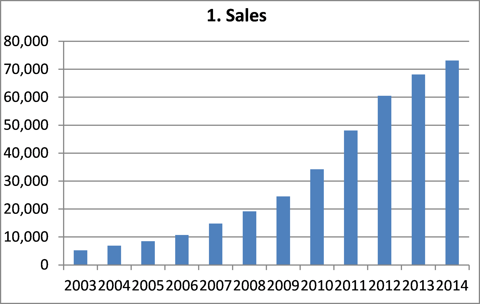 Barriers to entry are low
There are many retailers that would build an e-commerce distribution back-bone if Amazon would allow it be a profitable business to operate. Many of the traditional retailers have enough logistical capacity to integrate e-commerce in their network. The critical last miles are outsourced to Fedex and UPS anyway. The 100 billion dollar question is not about Amazon's future growth rate, but is about the long-term profit margin they can make on those sales. The necessary invested capital is lower than for the traditional bricks and mortar retailers. The asset utilization is higher. The working capital rotation is also faster. Hence, the margin that can be realized has to be lower than the historic margin of the traditional retailers in order to make the same return on invested capital.
Amazon is an asset light logistics company
The Amazon model is not very scalable. Every new geography has to be serviced from a new distribution center. The distribution surface can be optimized better than in a retail store, but packaging and expedition costs rise exponentially as more articles with different sizes and weights are added. Amazon will also get more competition from the logistic companies that offer their distribution and warehousing solutions to other e-stores. I believe that Amazon shares a lot of characteristics with supply chain and freight companies. Those companies are often asset light and typically make 1-1.5% EBIT margins with still a positive return on invested capital. Fedex and UPS operate a shipping duopoly in the US and control the downstream part of the e-commerce supply chain. Many of the European postal companies have invested in their e-commerce capacity with parcel delivery and pick-up stations. This lowers the barrier to entry for new e-commerce players that can start shipping today. I believe that the operating margin of Amazon will eventually rise, but will never get close to the 5-6% margins of Wal-Mart (NYSE:WMT). Wal-Mart has $112 billion of bricks to make $26 billion of EBIT. Amazon has only $2.4 billion of bricks on its balance sheet. With the current share price at 250 USD, the market expects Amazon to make 14% margins forever.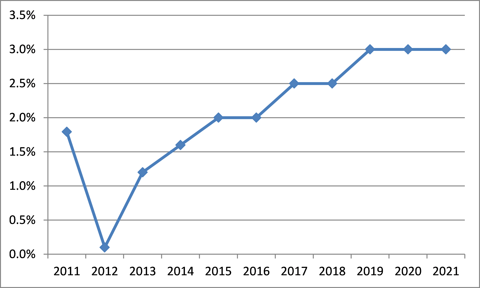 I believe GAAP margins will not rise above 3%. Despite the low profitability, Amazon will still make a significant return on invested capital above the 8% cost of capital threshold. Due to the low interest rates, a 3% EBIT margin will encourage competitors to invest in new e-commerce distribution capacity.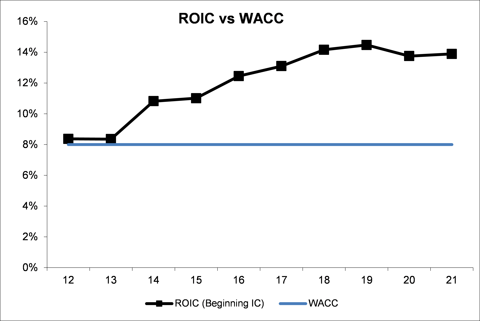 Why add more capacity?
Amazon is building new distribution assets. These assets add to the overcapacity in the durables retail segment. The result is that most traditional retailers can't make their cost of capital anymore. Their market capitalizations have been transfused to Amazon.com by a factor 2. From a helicopter viewpoint, the warehouse and distribution capacity has increased significantly, while consumer demand eased. At this moment, the sector is not making a return on investment. The expectation of high profit margins for Amazon implies that the distribution capacity in the US economy will decline significantly. I do not believe that will happen soon. The traditional retailers will adapt their business models. Behind every retail chain, there is an invisible distribution architecture that can be transformed to include an e-commerce platform. The consumer will shop for bargains. As long as Amazon is not charging a profit margin, consumers will come back. The next store is only a click away.
DCF target of 50 USD will take time
The valuation is an example of a mispriced growth stock from April 2001. The profit margin and capital investments are sacrificed to generate growth. The valuation is myopic and will adjust as either the growth decelerates or attention shifts to profitability or cash burn. My DCF generates a price target of 50 USD. The big swing factor is the sustainable EBIT margin they can achieve. At 8%, the target rises to 142 USD. This is a more feasible target over the next 12 months.
DCF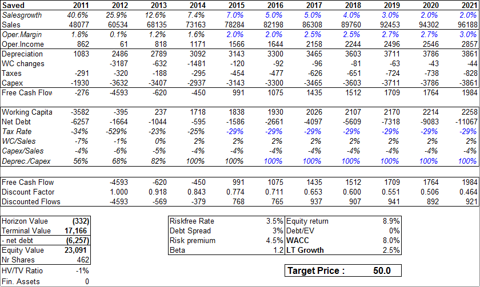 Disclosure: I am short AMZN. I wrote this article myself, and it expresses my own opinions. I am not receiving compensation for it (other than from Seeking Alpha). I have no business relationship with any company whose stock is mentioned in this article.