Yield From A Globally Diversified ETF
Bond yields are at historic multi-decade lows. The ten year treasury (NYSEARCA:IEF) is only yielding less than 2%. The thirty year (NYSEARCA:TLT) is yielding less than 3%. Below is a long term chart for U.S. 10 year treasury yields going back to the mid 1950's.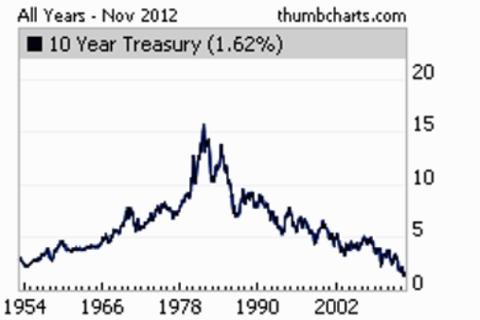 For many people, searching for yield in this investing climate can be elusive and unprofitable. This relatively new fund from ETF sponsor ArrowShares, has an interesting approach to achieve some decent yield in a diversified global basket without using leverage or having too much exposure to the bloated U.S. bond market.
Arrow Dow Jones Global Yield ETF (NYSEARCA:GYLD).
This ETF which commenced trading on May 8, 2012 holds five equally weighted baskets of different yielding sub index asset classes. The fund equal weights the different asset classes to minimize risks associated with over weighting any one holding. Within each basket, the individual holdings are also equal weighted. From the ArrowShares fact sheet it lists a 20% allocation each to global sovereign debt, global equity, global real estate, global alternative, and global corporate debt. Each of these asset classes is based on a different sub index. The ETF tracks the price and yield performance, before fees and expenses of the Dow Jones Global Composite Yield Index.
Below are more details from the index methodology:
"The methodology of each asset-class index aims to select high yielding securities, but not without regard for dividend quality in the equity space. Components are selected from a pool of securities that has been screened for characteristics such as minimum size, liquidity and rating, depending on the asset class.

The index's diversification among distinct asset classes is intended to help the index consistently identify components that deliver yield. To further this goal, the index is monitored on an ongoing basis to remove securities that fail to generate yield, replacing them with higher-yielding peers.

The five asset-class indexes are maintained according to robust, published methodologies by two of the most trusted names in indexing: Dow Jones Indexes and Credit Suisse. The equity, real estate and alternatives indexes are maintained by Dow Jones Indexes, whereas the two fixed-income indexes are maintained by Credit Suisse. Dow Jones Indexes and Credit Suisse worked collaboratively on the identification of the subindexes to ensure that the selected subindexes have a consistent approach to measuring the five asset classes."
Allocation Summary Pie chart from the fact sheet: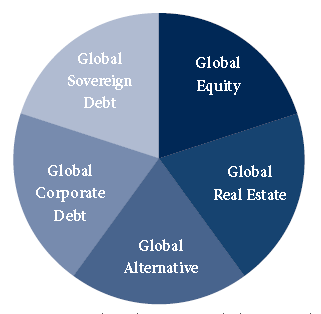 Fund Details:
The fund has 150 holdings with 30 for each asset class. It's rebalanced quarterly and reconstituted annually. Management fees are 0.75% and the funds distribution policy is monthly. The intraday NAV ticker is GYLD.IV and the symbol for its index on Bloomberg is DJGYLDT. Click for prospectus. Holdings available here.
The holdings reflect a cornucopia of yield. The "alternative" component basket includes Master Limited Partnerships, Energy, and Canadian Royalty Trusts. Traditional sources of yield as mentioned earlier in the other asset classes are obtained from global corporate debt, global sovereign debt, global equity (including preferreds), and global real estate. This young ETF as it develops will eventually sport about a 6.87% yield. The hypothetical returns according to some backtested data from the index fact sheet, returned a healthy 5 year hypothetical annualized total return of 10.21%.
Below are yield details from the ArrowShares GYLD fact sheet:

Bottom Line Opinion:
In today's challenging low yield world, with sky high bond prices, this globally diversified ETF should garner some interest from income and yield starved investors looking for an alternative to traditional bond funds. Other ETFs in the multi-asset income space include: Guggenheim's LVL and CVY, and also two other recently launched funds from State Street (NYSEARCA:INKM), and iShares (BATS:IYLD).
Disclosure: I am long GYLD. I wrote this article myself, and it expresses my own opinions. I am not receiving compensation for it (other than from Seeking Alpha). I have no business relationship with any company whose stock is mentioned in this article.