I've been thinking a lot about natural gas prices this year. Of course a lot of contrarian investors have been looking at natural gas for several years, and some smart ones have invested based on the expectation of a recovery in prices several years too early.
Yesterday while I was thinking about natural gas prices and whether I should take on some positions that would benefit from an increase in the price of the commodity I came up with a rather simple idea.
My idea was that if I look at the top twenty producers of natural gas in the United States and combine their production guidance for 2013 I should have a very good idea whether production for the entire country is close to rolling over.
I mean natural gas production has to start declining doesn't it? Natural gas producers have dramatically reduced budgets for drilling as the commodity price has crimped their cash flow. And every company that can drill for oil instead of natural gas is doing so.
Look at the rig count of rigs drilling for natural gas in the country: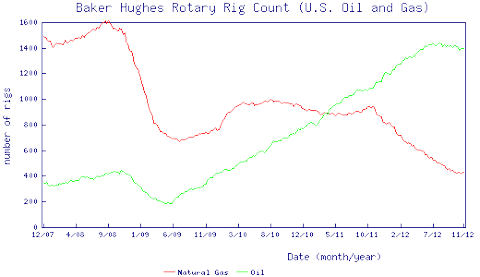 Natural gas directed rigs have gone from over 1,400 prior to the financial collapse down to 400 today. I realize that there may be some funny reporting in this rig count as some companies would prefer to say they are drilling for oil wells, and I know that there is gas associated with the increased oil production.
But even considering those factors, production rates for shale gas wells decline by more than 60% in the first year, and without constant drilling at a sufficient level production can't be maintained.
Getting My Data From the Horse's Mouth
The top twenty natural gas producers in the United States are as follows: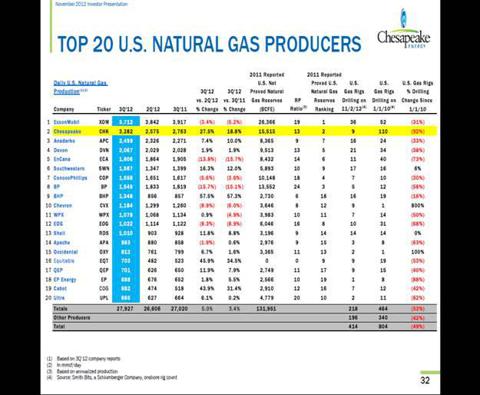 These companies have just completed their third quarter earnings releases and have set budgets for 2013. They have a very good idea of where 2013 production is going, and where the cumulative production for this group goes, so goes production for the entire country.
Seeking Alpha generously provides conference call transcripts for most of these companies, so I've perused those as well as company presentations/earnings releases to recap what these top twenty producers are predicting for 2013. Here is what I've found from some of the key players:
Exxon Mobil (NYSE:XOM)
Exxon Mobil was asked in its Q3 conference call if the decline in drilling rigs directed at their unconventional natural gas acreage was going to result in pretty rapid declines in production in 2012. Exxon' reply was:
We will see how things go. I will tell you, in some areas, we've been actually able to keep the volumes flat, while reducing the rigs due to efficiencies we have gained, rates of drilled wells and that sort of thing. So we have been able to offset some of this decline in rigs with some improved operations and productivity.
So Exxon didn't provide a lot of useful color and the point on increased efficiencies is well taken, but I think we certainly can deduce that their natural gas production is not going to increase in 2013. If you refer to earlier chart you will note that Exxon natural gas production is already down in 2012 year on year, so it would seem a further decrease is almost certain given that rig counts have come down even further.
My verdict on Exxon, the largest producer of natural gas in America is that production will decline slightly in 2013 at best.
Chesapeake (NYSE:CHK)
Chesapeake is the number two producer in the country and has been responsible for a lot of the drilling that has been done at what have been uneconomic prices. I didn't have to go far into the Chesapeake third quarter call to find some pretty interesting comments about what the company thinks will happen with natural gas in 2013. CEO Aubrey McClendon observed:
Turning to natural gas markets, much to the amazement of most observers, the market has overcome an almost 900 bcf storage surplus from just seven months ago to a year-over-year storage surplus today of just about 120 bcf. We believe the small remaining storage overhang should soon go into a year-over-year deficit, a quite remarkable turn of events from this past spring.

Furthermore, gas rig count has continued dropping almost every week. Winter weather patterns are shaping up to be very different than last winter's exceptionally warm winter. Natural gas demand is growing across all sectors of consumption. And coal to gas switching in the electrical generation market is proving stickier at higher gas prices than many assumed it would.

In short, after battling natural gas headwinds, driven by relentless supply growth for the past four years, we now expect to enjoy a multi-year rebound in natural gas prices driven by demand growth that is likely to be equally relentless.
I take anything CEO McClendon says with a grain of salt, as the man talks his book, and his book is full of natural gas. However if you go to Chesapeake's most recent presentation you can see on page 20 that the company is forecasting a 7% decrease in natural gas production in 2013. One thing that Chesapeake has always done reliably is forecast production, and it is very material to me that the second largest producer in the industry is telling us that its production is about to fall.
That same presentation tells us that Chesapeake's natural gas directed rig count had dropped from 100 at the start of 2010 to 9 today. Common sense dictates a significant production fall is about to occur.
Anadarko (NYSE:APC)
I didn't find much for specific production guidance from the Q3 Anadarko call but what I did find was some guidance on what it would take to get these companies more interested in drilling natural gas wells again:
….as just a general comment, I think we need to see a sustained $5 gas before you see us commit a lot of capital back into the gas portion of our portfolio. And that's really driven by getting the kind of rate of return, first off, that we want to see. And second, a portfolio that, frankly, from a competitive perspective, has a lot of other places that can get return without having to chase dry gas that has a lot of volatility around price discovery.
I would suggest that even at $5 natural gas companies that have the option are going to keep directing their capital at oil wells. What the $5 natural gas price may be is what Anadarko thinks is the lowest price where companies can make some money drilling natural gas wells. I wouldn't then expect to see a large shift in the direction of drilling rigs back to natural gas should we get to $5 and stay there.
Encana (NYSE:ECA)
Encana is like Chesapeake in that it has a balance sheet not made for this world of low natural gas prices. That certainly creates more of a bias for the company to be overly optimistic on where natural gas prices are going. It its third quarter call Encana did paint a bullish picture:
Question

So your outlook is that even though your decline would only be slight, the industry decline would be greater despite a similar rig count trend?

Answer

Our decline would have been -- we would have been dropping off about 10% of production that's being offset by the Deep Panuke project coming on.
Out of context that quote may be slightly confusing. What Encana was basically saying is that excluding one large project that is unrelated to unconventional shale gas in the United States the company would be dropping gas production by 10%.
That is not far off the 7% Chesapeake has estimated and we begin to see some consistency around an amount that production may come down.
Ultra Petroleum (NASDAQ:UPL)
Ultra Petroleum's call produced what I found to be the most interesting commentary of all given the numbers are very transparent for a company fully focused on natural gas production.
Ultra provided specific numbers on production:
For those who question the natural gas rig count reduction, from 900 rigs to 400 rigs, without any associated production impacts, we can look at ourselves to see the lag. We exited 2011 with monthly production of about 22 Bcfe. With a 50% cut in capital for 2012, first quarter production grew to 23 Bcfe a month, second quarter, 22 Bcfe a month and third quarter, 21 Bcfe a month. Production lags CapEx on the downside, as well as on the upside.

So industry-wide, you are just beginning to see natural gas production rollover. Once it begins, it will accelerate, then I think we are looking at a 2-year window of monthly reductions in domestic natural gas supply.

There's just not going to be any significant investment in dry natural gas wells at $4 gas, not going happen. So I think we're probably in a 2-year window here before we get gas prices back at $5 plus to where you growth and investment I think you're going to continue to see industry-wide investment decrease in 2013 and '14.
Again from Ultra there is some confirmation of both the rate of decline that we may be about to see in natural gas production (dropping about 10% year on year) and the price ($5) at which we may see some motivation for companies to get back to drilling.
Conclusion
Natural gas production has remained stubbornly high for a long time subsequent to the collapse in the price of the commodity. A lot of that was due to the drilling required to hold leases by production, a factor which has pretty much run its course.
The last key variable needed to really get this price recovery going is a normal, or better yet unseasonably cold winter.
If I had to pick one of the companies discussed above to invest in so that I can profit from a continued natural gas price recovery I would go with Chesapeake. The company still retains a discount related to the management team, but has a new Board of Directors in place that ensure a more conservative, shareholder friendly approach will be taken going forward.
Disclosure: I have no positions in any stocks mentioned, and no plans to initiate any positions within the next 72 hours. I wrote this article myself, and it expresses my own opinions. I am not receiving compensation for it (other than from Seeking Alpha). I have no business relationship with any company whose stock is mentioned in this article.