Railroads have always played a great role in supporting the growth of the US. One of the greatest railroad companies operating in the country is Norfolk Southern Corporation (NYSE:NSC), which along with the other Class I US railroads, account for 93% of total railroad freight revenue. Class I railroads are those with revenue greater than $398.7 and there are 7 of them operating in the United States. Apart from Norfolk Southern Corp. there are: BNSF Railway (owned by Berkshire Hathaway - BRK.A, BRK.B), CSX Transportation (NYSE:CSX), Grand Trunk Corporation (owned by CNI), Kansas City Southern (NYSE:KSU), Soo Line (owned by CP) and Union Pacific Corporation (NYSE:UNP).
Norfolk's stock price had a 28% decline to $56.05 from its January high of $78.5. This happened due to an accelerating trend among electric utilities to change from using coal to natural gas and take advantage of the latter's lower price. Coal usage and the railroad freight industry have traditionally been closely tied together, since 70% of the coal used in power plants is transported by rail. In addition, coal accounts for approximately 43% of the commodities Class I rail moves, based on weight, and generates around 25% of total freight revenue.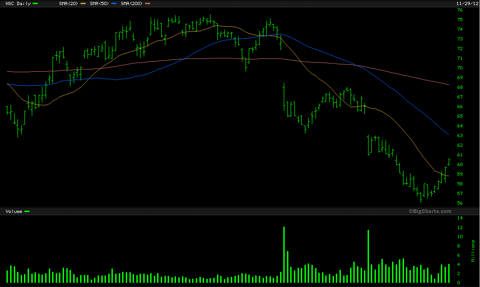 (Chart by BigCharts.com)
As a result of its stock price falling, Norfolk Southern has now an attractive P/E ratio of 10 and a juicy 3.4% dividend yield. In this report we will stress test NSC under various possible scenarios and find out under which conditions it would make for a good investment opportunity.
NSC Stock Info November 29, 2012
| | |
| --- | --- |
| Stock Price | $60.48 |
| Dividends per share (Paid in 2012) | $1.94 |
| Dividend yield | 3.20% |
| Price/earnings ratio | 10.74 |
| Earnings per share, 2012 (estimate) | $5.64 |
| Shares outstanding, September 30, 2012 | 316,043,185 |
(EPS are calculated using the latest stocks outstanding figure.)
Norfolk Southern has a moat around its business as all the big railroad companies do. Its assets are practically impossible to replicate. The cost and hurdle to obtain rights-of-way and build a new track makes it practically impossible for a new competitor to enter this business. As for what its business is, here it is directly from its corporate website:
Norfolk Southern Corporation is one of the nation's premier transportation companies. Its Norfolk Southern Railway subsidiary operates approximately 20,000 route miles in 22 states and the District of Columbia, serves every major container port in the eastern United States, and provides efficient connections to other rail carriers. Norfolk Southern operates the most extensive intermodal network in the East and is a major transporter of coal and industrial products.
Below is Norfolk Southern's railroad network, along with its revenue breakdown to various sources: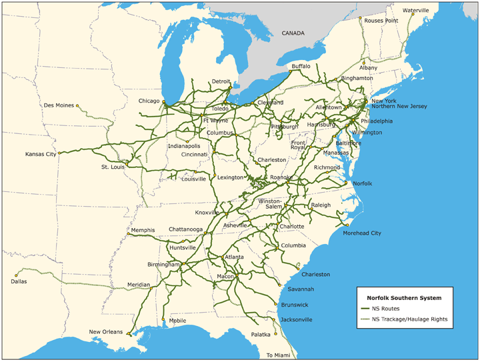 (Source: Norfolk Southern's corporate website)
Principal Operating Revenue Sources September 30, 2012
| | |
| --- | --- |
| Coal, coke, and iron ore | $ 2,222 |
| Intermodal | $ 1,657 |
| Agriculture, fertilizer, and consumer products | $ 1,084 |
| Chemicals | $ 1,111 |
| Metals and construction | $ 1,025 |
| Automotive | $ 668 |
| Paper, clay and forest products | $ 589 |
| Total Revenues | $ 8,356 |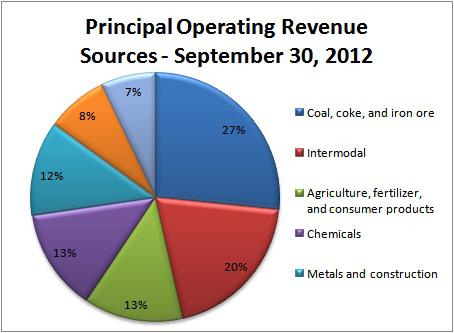 (Data from Norfolk Southern's 10-Q for the Q3, page 21)
Coal's share in Norfolk Southern's revenues has declined from a 31% high in 2011 to just below 27% for 2012. This is a big change and if natural gas continues to be cheaper than coal, Norfolk's related revenue is bound to shrink.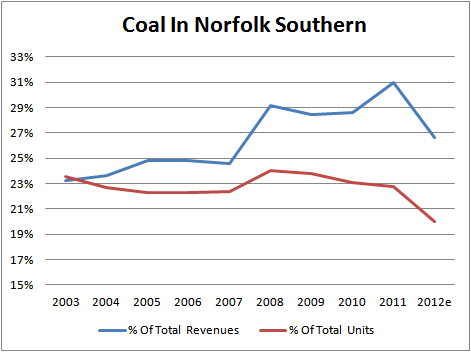 (Data from Norfolk Southern's SEC filings)
Moreover, Norfolk transports primarily the most vulnerable coal variety, Appalachian coal. Unfortunately for Norfolk, Appalachian coal is the most expensive coal to use and thus it's the first one power plants are abandoning mostly in favor to natural gas. However this process isn't so easy and requires some time, since power companies have to adjust their equipment and facilities according to the characteristics of the new fuel they're going to use.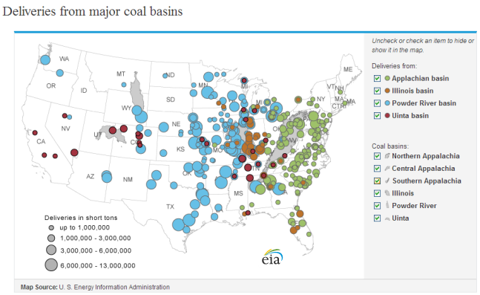 But, things are not so bad for Norfolk as they seem. After 2009 revenue increased faster than the quantity of goods transported, which means that Norfolk has some pricing power over its customers. Although this won't prevent the eventual coal revenue decline, it will help to slow it down, giving Norfolk's management the necessary time to grow its business from other revenue sources. So far, traffic growth for commodities in 2012, excluding coal, has compensated for coal's decline and helped to keep revenue and profits steady.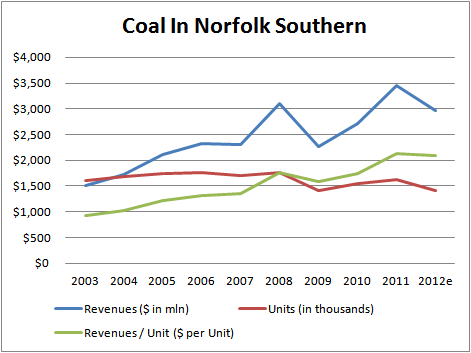 (Data from Norfolk Southern's SEC filings)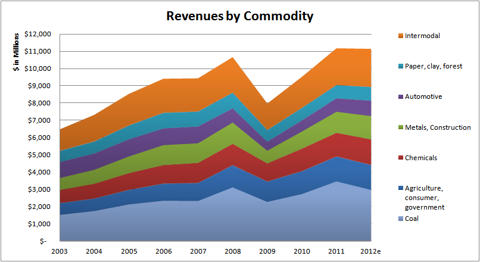 (Data from Norfolk Southern's SEC filings)
Moving on, let's talk about valuation and find out how much Norfolk Southern is really worth. To do that we will calculate Norfolk's next year's earnings under 5 possible scenarios:
Coal revenue goes to zero. Everything else stays the same. In this case we will try to calculate a worst case valuation for the stock.
Coal revenue shrinks further, to 20% of 2012 revenues. Everything else shrinks 10% due to recession.
Coal revenue shrinks further, to 20% of 2012 revenues. Everything else has 0% growth.
Coal revenue slips further but the other commodities grow and cover it. Revenue stays stable at 2012 levels.
Coal stabilizes to 22% of 2012 revenue and everything else goes up 5%

(Data from Norfolk Southern's SEC filings)
To calculate operating profit and net income I presume that profit margins will neither improve nor deteriorate significantly.
Earnings per share - EPS, are calculated using the number of shares outstanding as of September 30, 2012. No potential buyback activity is factored in.
To calculate how much capital expenditures will drop I applied the revenue decline rate cut in half. Although CAPEX is quite volatile, it seems to loosely correlate with revenue. It is moving in the same direction with it when there's a significant change, albeit it does it with half the rate of change. For example if revenue declines 10% CAPEX will decline approximately the half of that, which is 5%.
For dividend payments I presume a $2 dividend, as it was after the last raise.
To calculate cash flows I assume that in 2013, operating cash flow will be about 1.85 to 1.95 times earnings, as it was for the last

3 years.



Keep in mind that these "scenarios" are not supposed to be accurate predictions of what's going to happen, but a crude tool to help us evaluate Norfolk's intrinsic value.
What this table tells us is that even at the impossible case that Norfolk stops moving coal for one reason or another, an approximate value range for the stock would be between $40 (10 P/E) and $50 (12 P/E). This puts a bottom for the value of the stock 17% to 30% below the current price level.
However, this outcome is highly improbable because, as I mentioned above, changing the fuel a power plant uses isn't done in a day. In addition there are other things to consider. Moreover it doesn't make sense for a power plant to completely cut its coal consumption, it will just reduce it instead to quite low levels. That is because having a back-up alternative source is the sensible thing to do. Moreover coal will eventually become cheaper or at least equally priced to natural gas, which by the way may have hit its bottom at a historically low price and now is moving up again.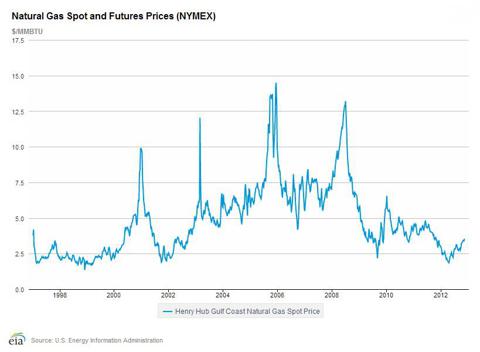 The most probable scenario in my opinion is the fourth one that anticipates that the decline in coal revenues will be matched by an equal revenue increase in the other goods Norfolk transports. Using the same P/E range as with the previous calculation, Norfolk's stock would have in this case a fair value range between $55 to $70. Add to that the $1.9 per stock excess cash it has and fair value goes up a bit to $57 to $72.
But this isn't the whole story. Norfolk Southern Corporation is also giving back to shareholders a lot of value, mainly through its shares buyback program and its (currently) 3% dividend. Norfolk has done a good job buying back its own stock, reducing its shares outstanding from 415 million at the end of 2006 to 316 million to the end of Q3, 2012. That's an amazing 24% reduction.
Norfolk is also paying a nice dividend which going forward in $0.50 per quarter. Except in our extreme no-coal scenario, this dividend is fully covered for the next year as you can see from the "FCF after dividend" item in the above table. Unfortunately FCF is just enough for the dividend and Norfolk may have to increase its long-term debt to cover for other needs that may occur. However, this won't be a problem since its total debt is less than its shareholder equity and EBIT for 2013 - even in our worst scenario - will be more than 4 times its interest payments.
Conclusion
Coal's importance for Norfolk has declined a lot in 2012 and given the same trends continue into 2013, Norfolk will become less and less dependent on coal either for revenue or growth.
The stock has a rock-solid value bottom at $40 applicable in the case than Norfolk drops the coal transporting segment altogether.
The rest of the goods Norfolk transfers are doing great and along with price increases in coal freights, they will probably offset any coal-driven revenue decline.
Norfolk has a great and consistent share buy back program plus a safe and juicy 3% dividend.

No

rfolk Southern's fair value range is $57 to $72. At these levels it is a nice 20% opportunity. Especially if it creates an entry point by going down 6% to $57 and below.
Disclosure: I have no positions in any stocks mentioned, and no plans to initiate any positions within the next 72 hours. I wrote this article myself, and it expresses my own opinions. I am not receiving compensation for it (other than from Seeking Alpha). I have no business relationship with any company whose stock is mentioned in this article.