On June 26th, News Corporation (NASDAQ:NWS) announced that it was considering a corporate restructuring to separate its business into two distinct publicly traded companies. On June 28th, two days later, News Corporation confirmed that it would split into two companies. One of the companies would be focused on its newspapers and other publishing operations such as News International, Dow Jones & Company, HarperCollins, the New York Post and others. The other company would be focused on News Corporation's fast-growing and more profitable media content operations such as its Fox Cable Networks, its Filmed Entertainment, TV and Satellite operations.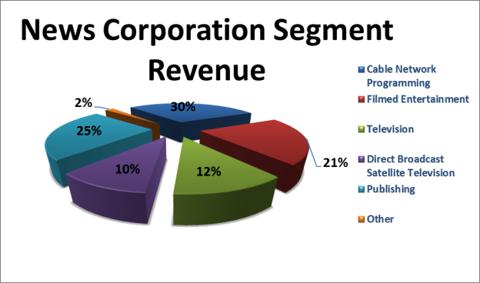 Source: News Corp.
We are most interested in the cable network programming assets because it has highly desirable cable network assets in the regional Fox Sports Networks, FX and Fox News, which is the hands-down king of the mountain with regards to cable news ratings. We are pleased to see continued ratings gains by Fox Business at the expense of CNBC. Though Fox Business has a ways to go before it is as successful as CNBC, we are optimistic with regards to its growth potential because Roger Ailes (CNBC's former President) was the creator of Fox News and Fox Business. At least it is ahead of Bloomberg Television. One reason why we are optimistic about Fox Business's growth potential is because it has stopped trying to be a copycat of Fox News and moved some of its politically oriented personalities like Andrew Napolitano back to Fox News. Another sign that Fox Business is making progress as a media property is its election-day TV by the Numbers. Fox Business had 2% more viewers than CNBC in the key 25-54 year old advertising demographic from 7pm to 1am and 48% more viewers from 5pm to 7pm. Fox's 25-54 years old election-day viewership grew by 176% in 2012 versus 2008 levels, while CNBC's comparable key demographic viewership declined by 13%. Before talk of the spin-off, another potential tailwind to growth for Fox Business would be the 2012 expiration of CNBC's partnership contract with Dow Jones, the publisher of The Wall Street Journal.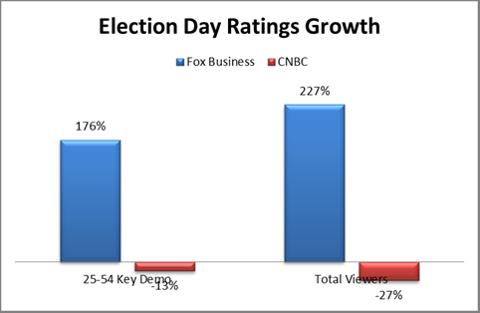 Source: TV by the Numbers
News Corp.'s Business Segment Performance:
Fox Cable Network Programming continues to be the star performer for NWS. This division's performance accounts for 30% of News Corporation's revenues and 60% of its operating income before corporate and other expenses. The reason why News Corporation is even on our investment radar is because of the strong performance of Fox Cable Network Programming. The division's operating margins were nearly 39% and are comparable to other leading media content providers like Scripps Networks Interactive (NYSE:SNI), Discovery Communications (NASDAQ:DISCK) and AMC Networks (NASDAQ:AMCX). The division generated $953M in operating income in Q1 2013, which was a 23% increase versus the prior year's period. The division enjoyed 33% operating income growth from its US domestic channels such as the FX Network, Fox Regional Sports Networks and Fox News Channel. Fox International Channels saw a 7% operating income decline as local currency operating income growth was more than offset by the adverse impact of the strong US Dollar.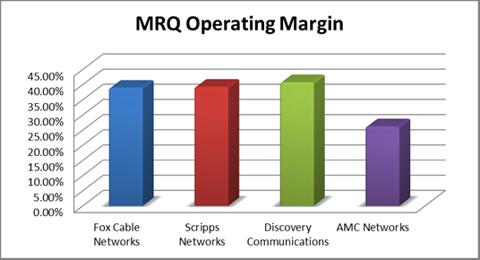 Source: MRQ Reports for News Corp., Scripps, AMC Networks and AMC Networks
Although Fox Filmed Entertainment's revenue declined by 2% in Q1 2013 versus Q1 2012, its operating income was $400M during the quarter and increased by 15% versus the prior year's comparable quarter. Quarterly results reflect the successful worldwide theatrical performance of Ice Age: Continental Drift, which has grossed over $850 million in worldwide box office to date and is now the biggest animated film of all-time at the international box office. Prior year first quarter film results included the successful worldwide theatrical performance of Rise of the Planet of the Apes and the worldwide home entertainment performances of Rio and X-Men: First Class. The quarter also included increased contributions from the television production studios, including increased digital distribution revenue related to the timing of delivery of content to Netflix.
Fox Television's revenue increased by nearly 4% in Q1 2013 versus Q1 2012 and its operating income was $156M and increased by 17.3% versus the prior-year period. This increase reflects a more than doubling of retransmission consent revenues and increased local advertising, driven by record first quarter political advertising revenues. These improvements were partially offset by lower national advertising revenues primarily reflecting lower primetime ratings and the market impact from the Olympics in August.
News Corp.'s SKY Italia Direct Broadcast Satellite TV saw a sharp decline in revenues and profits in Q1 2013 versus Q1 2012 as weak local currency revenue growth of 1% was more than offset by the sagging performance of the euro currency in relation to the US Dollar. The division also incurred $70M in increased programming rights expenses associated with the broadcast of the 2012 Summer Olympics. SKY Italia experienced a net reduction of approximately 40,000 subscribers during the quarter, bringing total subscribers to 4.86 million.
News Corp.'s Publishing Division includes Dow Jones (Wall Street Journal, Barron's and Marketwatch.com, News International, the New York Post and Harper Collins Publishers. We are glad to see that it is profitable, as well as more profitable than the New York Times (NYSE:NYT), McClatchy (NYSEMKT:MNI) and the Washington Post Company (WPO) combined. However, we believe that the publishing unit has outlived its usefulness as a cash cow because in our opinion, the poor growth prospects for the unit are serving as a valuation headwind on the combined enterprise.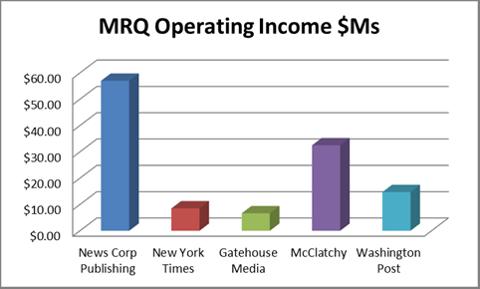 Sources: MRQ Report for News Corp. and Morningstar Direct
News Corp. Publishing's revenues declined by 2.5% due to lower advertising revenues and was partially offset by the $200M acquisition of Christian book publisher Thomas Nelson. The strengthening of the US Dollar against local currencies resulted in a revenue decrease of approximately $17 million for the three months ended September 30, 2012 as compared to the corresponding period of fiscal 2012. For the three months ended September 30, 2012, operating income at the Publishing segment decreased $53 million, or 48%, as compared to the corresponding period of fiscal 2012, primarily due to the revenue decreases noted above and the inclusion of expenses at Thomas Nelson.
Other operating and non-operating results included a $112M increase in unallocated expenses due to the impact of legal and professional fees related to The News of the World investigations and litigation and costs for related civil settlements, higher stock based compensation expense and increased operating losses of $15 million at the Company's education business, reflecting higher product development costs. The company also realized $1.875B in proceeds from the sale of its 49% in NDS Group to Cisco Systems (NASDAQ:CSCO) in July and booked a $1.375B gain.
News Corp.'s Cash Management:
On May 9, 2012, News Corporation announced that its Board of Directors approved an increase to the previously authorized stock repurchase program from $5 billion to $10 billion. Through November 5, 2012, the Company has purchased approximately $5.8 billion of Class A common stock under the program at an average price of $18.74 per share. As a result of the stock repurchase program, diluted weighted Class A shares outstanding of 2,370 million in this year's quarter declined 9% from 2,612 million in the same period a year ago. In Q1 2013, the company spent $766M in net share repurchases. The company is a rarity in the media business in that its cash and investments position almost exceeds its total indebtedness. News Corporation has $12B in cash and $4.725B in investments, which include equity method investments like its 40% interest in BSkyB and assorted marketable securities. The company's indebtedness includes $16.2B in long-term debt, $0.3B in short-term debt and $0.6B in redeemable minority interests. Acquisitions announced in Q1 2013 that will close in subsequent quarters include the following:
51% of Eredivisie Media & Marketing CV, which holds the Dutch Premier League soccer rights and operates several channels in the Netherlands.
$2B to acquire Consolidated Media Holdings Ltd. CMH is an Australian media company. CMH has a 25% interest in FOXTEL and a 50% interest in FOX Sports Australia, a producer of Australia's leading sports channels. The acquisition doubles NWS's stakes in FOX Sports Australia and FOXTEL to 100% and 50%, respectively.
$335M to acquire the remaining 50% interest in ESPN STAR Sports ("ESS") that NWS did not already own. ESS is the leading sports broadcaster in Asia
Conclusion:
In conclusion, we are bullish on News Corp. We are pleased to see Murdoch take steps to unlock shareholder value, especially in the wake of the News International phone hacking scandal. We are impressed with the fact that News Corp.'s publishing business is still more profitable than other similar firms. However, we can admit that print media is at best a cash cow and at worst a declining business. Even if News Corp. did not have the phone hacking scandal with News of the World, it would make sense to sell or spin off the publishing division to allow shareholders direct exposure to News Corp.'s higher profit, higher growth entertainment properties. We believe that NWS will see its financial performance enjoy strong growth once the publishing spin-off is completed, and we believe that will bode well for the company's share price going forward.
Disclosure: I am long SNI. I wrote this article myself, and it expresses my own opinions. I am not receiving compensation for it (other than from Seeking Alpha). I have no business relationship with any company whose stock is mentioned in this article.
Additional disclosure: This article was written by an analyst at Saibus Research. Saibus Research has not received compensation directly or indirectly for expressing the recommendation in this article. We have no business relationship with any company whose stock is mentioned in this article. Under no circumstances must this report be considered an offer to buy, sell, subscribe for or trade securities or other instruments.