Harmonic, Inc. (NASDAQ:HLIT) has a sufficiently strong pattern of seasonal performance in Dec/Jan/Feb to suggest playing the stock for a pop on that basis. Since 1995, the share price has increased an average 18.5% in December, 13.5% in January, and 9.3% in February. Here's a chart: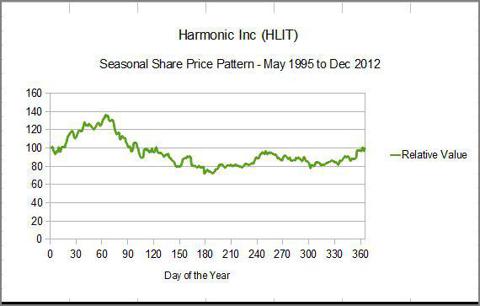 The average value of the stock was computed for each day of the year. That is, for January 1st the values from 1996 to 2012 were averaged, and so on throughout the year. Using the resulting averages, each day of the year was calculated relative to the first which was set to 100. The data was not trimmed. Prices were adjusted to reflect a 2 for 1 split Oct 15, 1999.

The January Effect
From Wikipedia:
The January Effect was first observed in, or before, 1942 by investment banker Sidney B. Wachtel. It is the observed phenomenon that since 1925, small stocks have outperformed the broader market in the month of January, with most of the disparity occurring before the middle of the month.
Such information as I could locate on the size of this effect suggests that small caps will outperform large by about 2.5% during January, or that they will increase by about 4%.
The historical record for HLIT suggests a very strong response to this phenomenon, extending well into February. With beta at 1.4, and a share price that has been bouncing around the $5 mark, volatility can be expected.
Customer Capex Planning

As the above excerpt from the 10-K mentions, Harmonic is dependent on the customer's cycle of capex spending and budgeting, which in turn is influenced by macroeconomic considerations. A likely explanation for the seasonal pattern here is that it is primarily caused by speculation about new orders reaching a peak during the first quarter.
Given concerns in Europe, this effect may be muted this year.
Volatility
Per CBOE, implied volatility stands at 33.45%, a 52 week low. For the past year it has averaged about 50%.
Sometimes a lull in volatility presents a chance to buy (or sell) the stock, prior to a large move.
An Options Strategy
Open interest here is small. However, spreads are relatively narrow and I've been able to get prices that I regard as fair. I'm long the July 2013 2.5 calls, quoted at $2.05/$2.20 with the shares at $4.63. Using deep in the money calls, low cost leverage is provided, and downside risk is defined.
The 5.0 calls have the largest open interest, and I've been selling them from time to time to provide income and offset the cost of owning the 2.5 calls. Because I anticipate that the stock will be making a move upward, now would not be a good time to sell covered calls. Also, implied volatility is low. Better prices will likely be available in January or February.
The Fundamental Case
I've written HLIT up twice, in January this year and before that in June 2010. Rather than go back over the ground in detail, here's a brief summary of the bullish case as I see it.
Harmonic, Inc. is a global provider of video infrastructure. The company enables content and service providers to efficiently create, prepare and deliver differentiated video services for television and new media platforms. R&D is 19% of revenue, and reflects the company's aggressive investment in maintaining a technological lead.
The proliferation of video content, and the ongoing efforts to deliver it to a multitude of screen formats, creates an ongoing cycle of capital investment. HLIT has been gaining market share, and is well positioned to participate in the growth of the video delivery industry.
The shares have traded at a five-year average P/S multiple of 1.9. At recent prices, somewhat under $5, a reversion to the mean on this metric implies a share price of $9.
The most recent earnings conference call is positive in tone, although Europe has been a soft spot. Asia is developing very favorably.
SA Contributor Kapitall has noted that the company is undervalued based on LFCF/EV (Levered Free Cash Flow/Enterprise Value). My own interpretation is that they are undervalued based on PRR (Price Research Ratio).
Disclosure: I am long HLIT. I wrote this article myself, and it expresses my own opinions. I am not receiving compensation for it (other than from Seeking Alpha). I have no business relationship with any company whose stock is mentioned in this article.