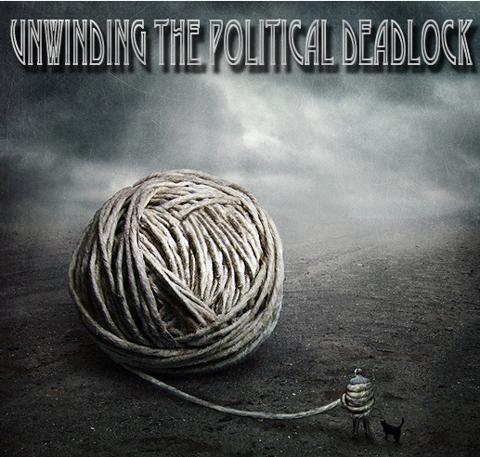 Friday was the last trading day on the month and as usual, portfolio managers are keen to do a little window dressing.
The news backdrop wasn't supportive of a rally, but the financial media was determined to spin it that way. First, Personal Income & Spending was weak (Income flat and Spending -.2%), but that was blamed on Sandy. But we should remember that Sandy was only a three-day event at the end of October. It's just as logical to assert spending increased late in the month as store inventory was wiped out before the storm. Second, the Chicago Purchasing Managers Index (PMI) came in at 50.4 vs. 50.3 expected, and was spun as a positive until you looked at the details. New orders showed significant monthly contraction (45.3 vs. 50.3), and prices paid were much higher. This means that companies are paying more for raw materials and other goods and most likely will pass them on to their customers, which will either compress profit margins or be inflationary.
We limped into the close of trading Friday with markets little changed overall. The dollar (NYSEARCA:UUP) was flat, but once again, gold (NYSEARCA:GLD) saw more selling. Commodities (NYSEARCA:DBC) were higher once again, with gains in base metals (NYSEARCA:DBB) and oil (NYSEARCA:USO). Bonds (NYSEARCA:TLT) were slightly lower. Stocks were led higher by a narrow group too difficult to even list.
As a consequence, this post is quite short.
Both Obama and Republican leaders made speeches for the benefit of their respective base. Treasury Secretary Geithner had the unenviable task of delivering the WH opening (or at least public) proposal for the fiscal cliff. As noted last night, it consisted of $1.6 trillion in new taxes, including eliminating the dividend preference to ordinary income, launching a $50 billion stimulus (not yet defined or for whom), but little in the way of spending cuts. Mitch McConnell is reported to have burst out laughing at this, which in itself is funny.
Volume was light, as stocks were well marked into the close. Breadth per the WSJ was mixed.
(click image to enlarge)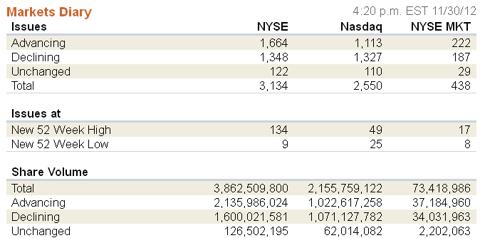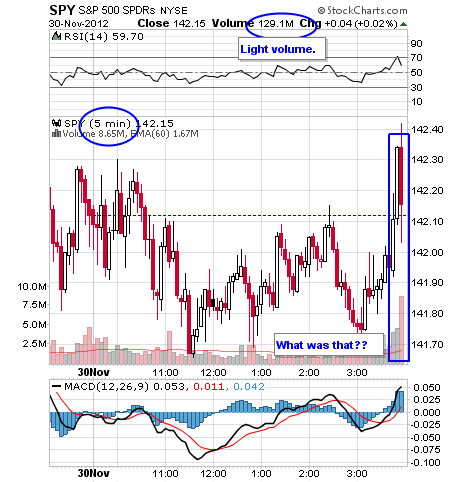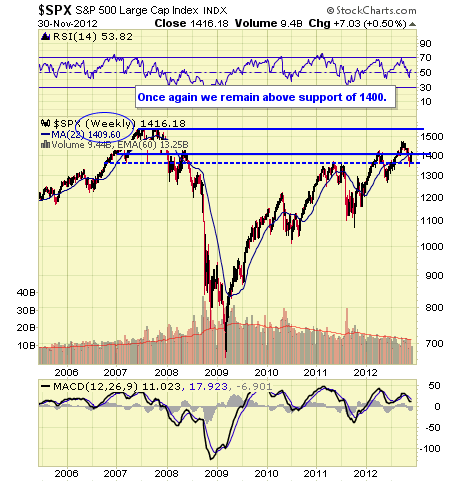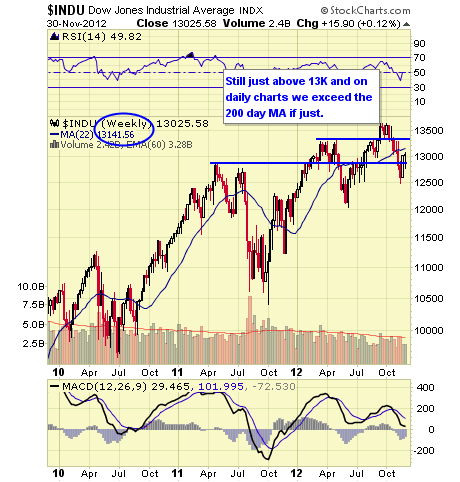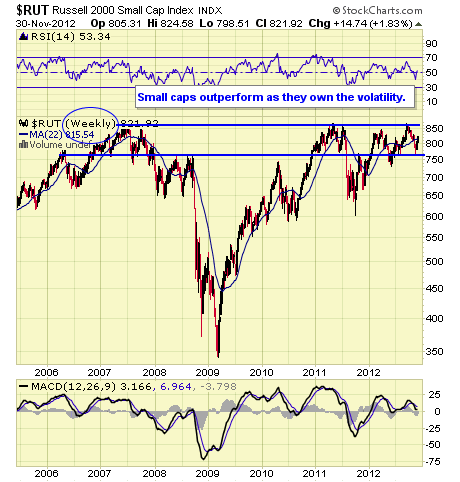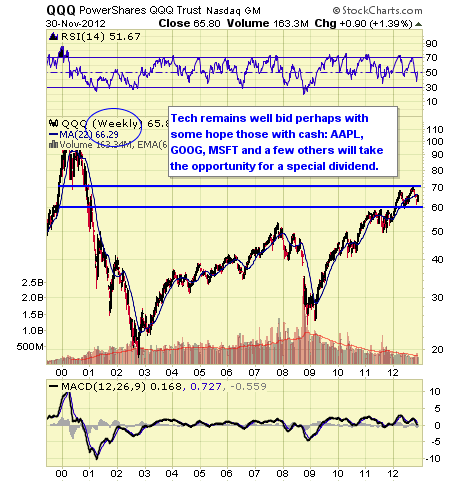 Continue to U.S. Sector, Stocks & Bond ETFs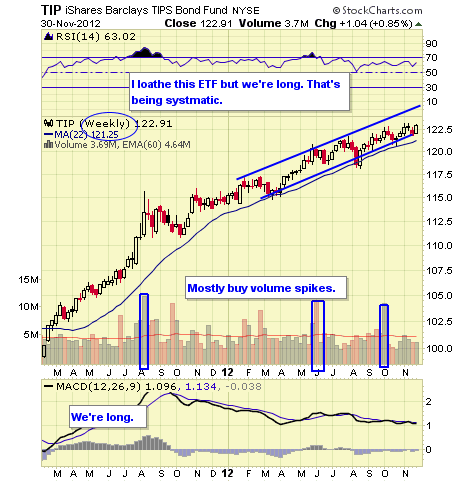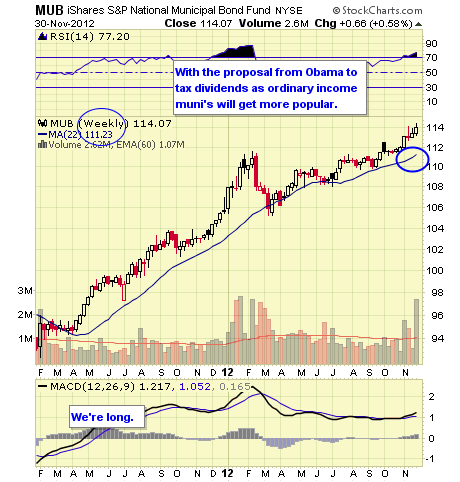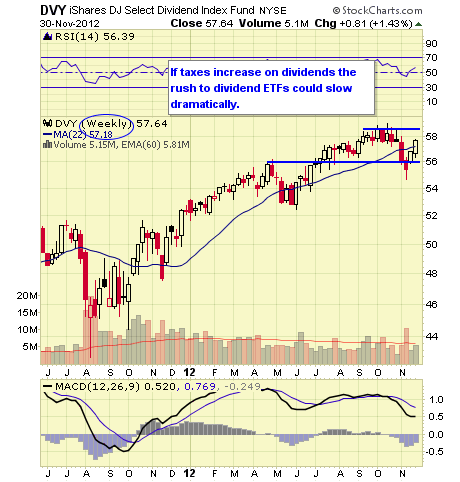 Continue to Currency & Commodity Market ETFs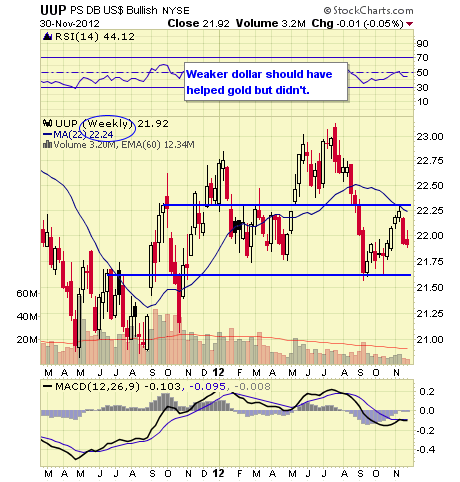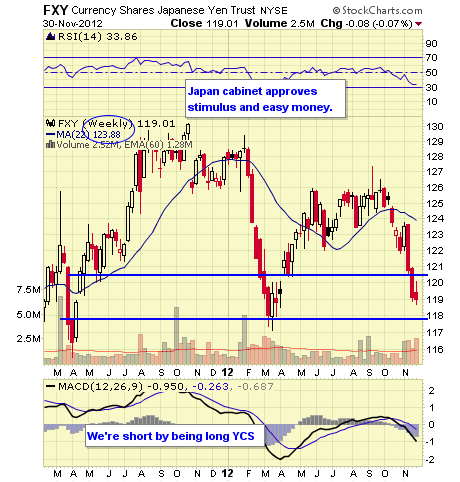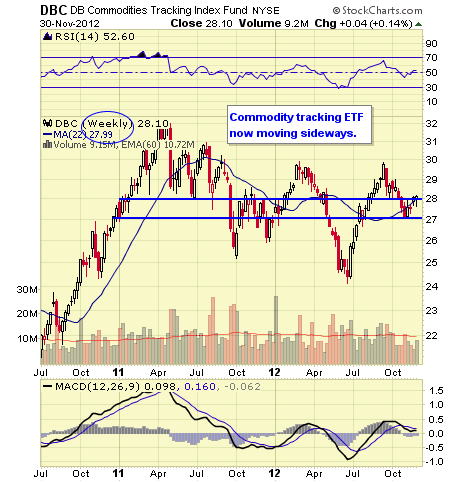 Continue to Overseas Sectors & ETFs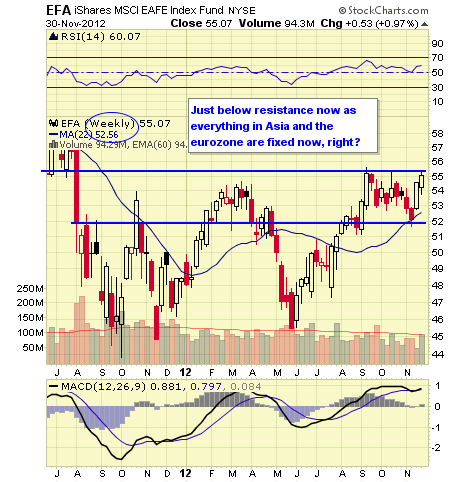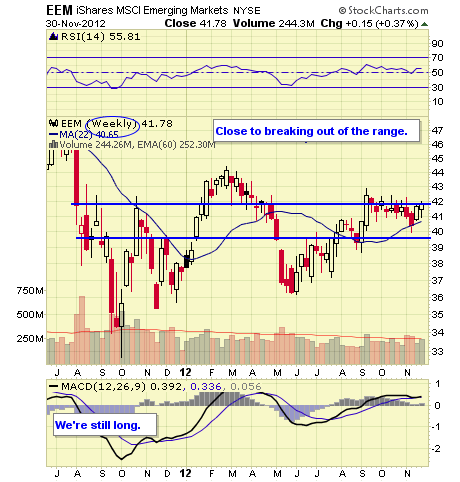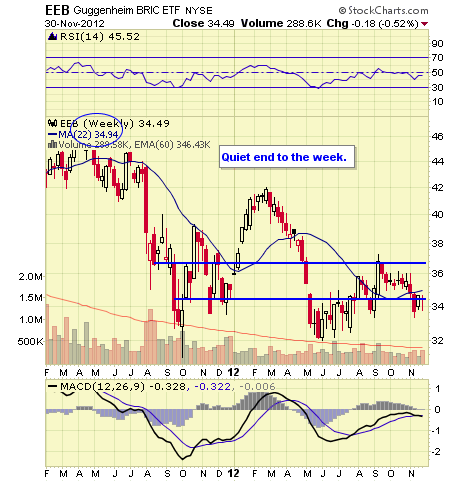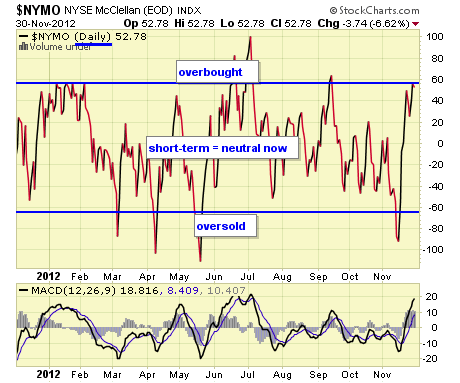 The NYMO is a market breadth indicator that is based on the difference between the number of advancing and declining issues on the NYSE. When readings are +60/-60, markets are extended short term.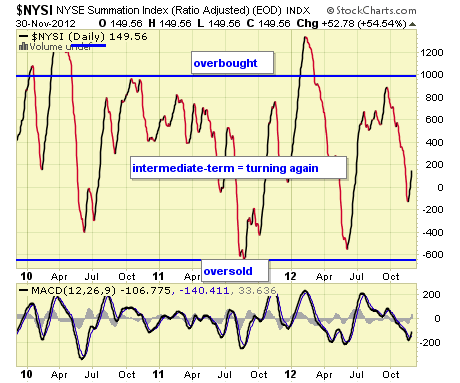 The McClellan Summation Index is a long-term version of the McClellan Oscillator. It is a market breadth indicator, and interpretation is similar to that of the McClellan Oscillator, except that it is more suited to major trends. I believe readings of +1000/-1000 reveal markets as much extended.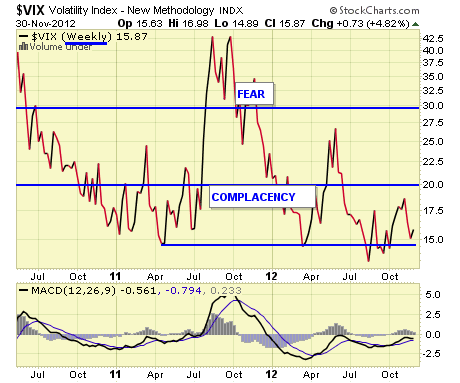 The VIX is a widely used measure of market risk, and is often referred to as the "investor fear gauge." Our own interpretation is highlighted in the chart above. The VIX measures the level of put option activity over a 30-day period. Greater buying of put options (protection) causes the index to rise.
Concluding Remarks
Evidently, the fiscal cliff politics were unsettled enough not to bother bulls or bears. The end-of-month window dressing appears to have been more important.
Disclaimer: The ETF Digest maintains an active ETF trading portfolio and a wide selection of ETFs away from portfolios in an independent listing. Current "trading" positions in active portfolios, if any, are embedded within charts: Lazy & Hedged Lazy Portfolios maintain the follow positions: VT, MGV, BND, BSV, VGT, VWO, VNO, IAU, DJCI, DJP, VMBS, VIG, ILF, EWA, IEV, EWC, EWJ, EWG, & EWU.
The charts and comments are only the author's view of market activity and aren't recommendations to buy or sell any security. Market sectors and related ETFs are selected based on his opinion as to their importance in providing the viewer a comprehensive summary of market conditions for the featured period. Chart annotations aren't predictive of any future market action rather, they only demonstrate the author's opinion as to a range of possibilities going forward.
Disclosure: I have no positions in any stocks mentioned, and no plans to initiate any positions within the next 72 hours. I wrote this article myself, and it expresses my own opinions. I am not receiving compensation for it. I have no business relationship with any company whose stock is mentioned in this article.