Deere & Company (NYSE:DE) is classified as a dividend challenger stock with a track record of nine years of straight dividend increases, and is shaping up to make the transition to dividend contender. But what does that mean to someone just starting out and compiling a dividend growth investment portfolio? And how do you sell a younger investor on the merits of investing in a farm and forestry industrial company and its unfamiliar operating environment, over say, a technology company like Microsoft (NASDAQ:MSFT) -- the operation and products of which they understand much more easily?
I grew up on a broad acre cropping farm in rural Australia and spent a lot of time working with agricultural equipment, as well as working part-time at an agricultural spare parts company, before joining the military. Even today, I retain a natural interest in industrial companies that produce farming and forestry equipment, which is why I have written previously on a number of industrial stocks. I last wrote about Deere & Co in September 2011, and as I am in the process of compiling a diversified dividend growth portfolio, I wanted to go back and revisit the stock by conducting a more detailed analysis of its historical performance and its potential for future growth.
This article will examine Deere & Company's suitability as a core holding within a dividend growth portfolio, and its standing as a robust company that pays an annual dividend increasing on a year-on-year basis. It will review the company's current financial performance, and provide an analysis of the company's share price and performance from 1972 to 2012. It will also provide a focus case study that shows how an initial investment of $1,000 in 1982 would turn into sizable holding valued at $185,063 in 2012, delivering a dedicated (and growing) dividend income stream of $3,985 per annum.
Company Overview
The Deere portfolio of businesses is varied. One of the key business groups -- Agricultural and Construction Equipment -- is positioned to take advantage of global growth, requiring increased agricultural output and infrastructure. The second major business group -- Turf and Forestry Equipment -- supports business development by growing market share in specific targeted markets and helping to underpin financial performance of the overall business. The Supporting Businesses -- Financial Services, Power Systems, Parts Services, and the Intelligent Solutions Group -- strengthen and differentiate Deere & Co's equipment business groups.
The business strategy Deere & Co is pursuing is shown below:
(click images to enlarge)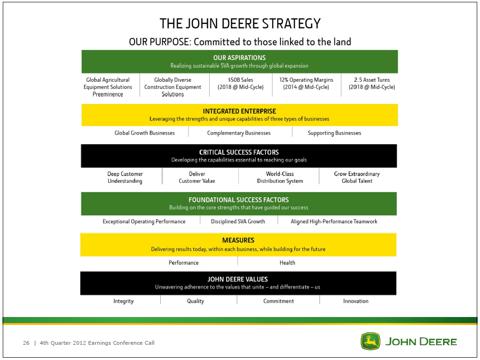 Deere & Co has set three specific aspirational goals against which investors can measure management's success:
$50 Billion in sales by 2018 mid cycle;
12% operating margins by 2014 mid cycle; and
2.5 asset turns by 2018 mid cycle.
Dividend Growth Portfolio Structure
The foundations or core of a dividend growth portfolio should be based upon reputable companies with a proven track record of performance over 25-plus years -- companies like Coca-Cola (NYSE:KO), Wal-Mart Stores (NYSE:WMT) and Exxon Mobil (NYSE:XOM). These are suitable as a core holding, as they are highly liquid companies that generate substantial revenue, deliver healthy annual profits, and provide a good return on equity for investors. These companies also deliver sustained increases on dividends paid, providing additional returns for investors via a dedicated dividend income stream.
Deere & Co is the type of stock individual investors should look for to complement core holdings within a dividend growth portfolio. It demonstrates the attributes required to evolve into a Dividend Contender, and eventually into a Dividend Champion, both in terms of capital and dividend growth.
The company was founded in 1837 and is celebrating its 175th anniversary of doing business. It has proven it can continue to develop and evolve in a market that is constantly changing, and more importantly, management has shown that it has the capacity to endure hard seasonal impacts (drought) as well as financial impacts (global financial crisis). In farming, the time taken to prepare the ground and nurture the seed when sown plays as big a part in reaping returns as with seasonal inputs like the weather. Likewise with investment portfolios, the time taken to select quality investment stocks up front (sowing the seed) is critical to reaping quantitative returns later (the harvest).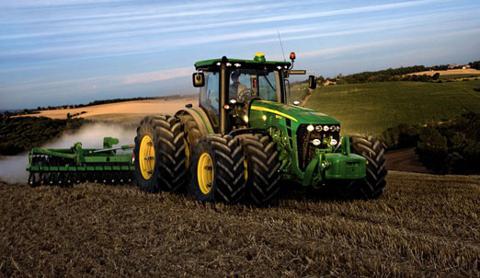 Recent Financial Performance
In its most recent announcement of its financial results from the 4th Quarter 2012, Deere & Co's SVP and CFO Mr. Raj Kalathur highlighted the following key performance points:
Deere & Co achieved its best ever 4th quarter and full year results ever in terms of sales and earnings.
4th quarter net sales and revenue of $9.8 Billion (~14% increase)
4th quarter earnings of $1.75 per diluted share (~8% increase).
4th quarter net income of $688 Million (~3% increase).
Operating profit was affected by swings in foreign currency exchange, higher production costs, and increased selling and administration costs.
Mr. Kalathur highlighted that the company had overcome its manufacturing delays for combines flagged in its 3rd Quarter results and was now caught up on demand. Management is forecasting net sales to increase by 10% in 1st quarter 2013 over 1st quarter 2012, and by 5% for fiscal year 2013 over fiscal year 2012.
Looking to its current performance, Deere & Co is trading with a PE ratio of 11.12 and has a five year forward looking PEG ratio of 9.57. The company's current share price on 29 November 2012 of $84.86 per share represents a $67.22 premium over its current book value per share. The stock is approximately 4.8% below its 52 week high of $89.70 per share and 15.4% above its 52 week low of $69.51 (25 November 2011). Its current profit margin is 8.48% (TTM), against a return on equity of 44.92% and it pays an annual dividend of $1.84 (2012).
A current snapshot of Deere & Co's key financial statistics as of market close on November 29, 2012 is shown below: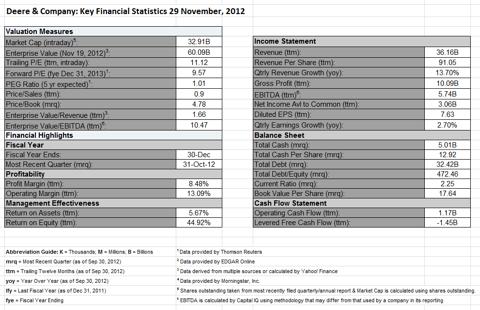 Dividend Performance
Besides being a profitable diversified industrial company, Deere & Co has the added attraction for investors seeking to generate additional returns on their capital invested. The company pays an increasing annual dividend of $1.84 (2012) at a yield of 2.17% based on a share price of $84.86 (November 29, 2012). The table below shows the annual dividend paid each year for the last 10 years, which has grown year-on-year by a factor of approximately 15.8%.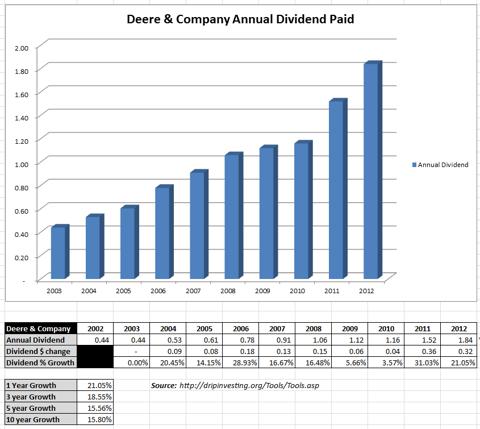 The dividend revenue appears stable, incremental, and reflects a pattern of established and sustained growth. Investing in a reputable industrial company paying a strong sustained dividend that meets the qualifying requirements of being a dividend challenger cum contender makes Deere & Co seem like a suitable investment.
But how does that dividend performance picture look over a longer period of time? By drawing on historical data from Deere & Co's website for dividends paid, we can see a much longer (and still positive) overview of dividend growth performance.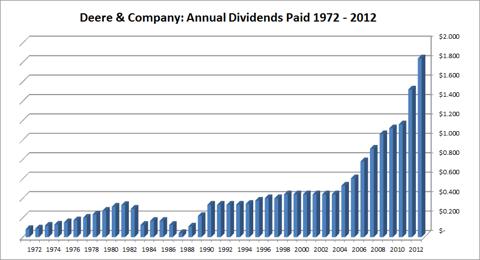 Factors affecting the company's performance in the 1980s included low farm income and lower John Deere sales, and in 1986, a 163-day labor strike in the United States severely impacted production. Despite the impact of the 1980s, the long-term dividend performance averages are maintained at ~10% to ~21%.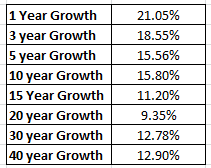 More importantly for investors, Deere & Co management has clearly articulated its intention for use of cash, which includes sustaining a payout ratio of 25% to 35% from mid cycle earnings for ongoing dividends (currently at 24%), as per its most recent quarterly performance presentation: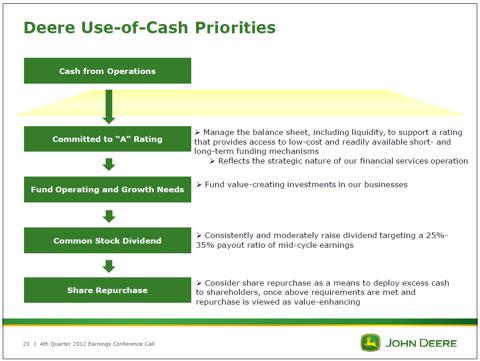 Operational Risks On Performance
Seasonal weather impacts on farming and forestry industrial companies are probably the most well known risk that investors are aware of. A bumper year of harvest leads to a flow on effect of increased sales in farm equipment the following year (or just prior to any fiscal year-end tax breaks lapsing). Likewise, the reverse is true; a poor year and poor harvest, or crops affected by force majeure, will most likely lead to reduced sales the following year when cash is tight. It is therefore critical that management has a tight rein on the management of cash flow and the ability to service long-term and short-term debt.
Fellow SA contributor Robert Broens flagged the following concerns that investors should consider regarding Deere & Co's long term debt:
"Deere's problem is the poor short term earnings growth, despite strength in global agricultural markets and strong revenue growth. Higher investments in future growth and higher input prices put a pressure on margins despite favorable market conditions. The long term prospects remain undoubtedly good, a reason why Berkshire Hathaway picked up 3.98 million shares, according to its latest filing. Deere remains the global leader in agricultural equipment and an increase in global food production which requires a more productive agricultural industry will favor Deere.

While I appreciate Deere's long term prospects, I remain on the sidelines. Shares are appealing based on valuation multiples but I am concerned about the capital intensity of the business and the sizable long term debt position."
Deere and Co's high debt to equity ratio is evident in the graph below: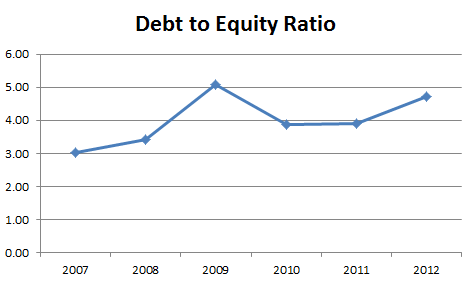 Given that management is demonstrating its ability to grow the company and deliver growing EPS and ROE, the high debt to equity ratio should be considered a known risk that management can control, but investors should keep a close eye on any movements in this metric.
Why I See Potential Upside
Looking beyond the current short-term performance, it is important to review the longer-term trends within key financial ratios. The following table summarizes Deere & Co's performance from the consolidated data I was able to access covering the last six years (2007 - 2012):

Management has grown earnings per share year-on-year, with the exception of 2009 due to the flow on economic effects of the global financial crisis. Net sales and revenues declined in 2009 by 20%, driven by a number of factors, including slow market recovery, lower construction activity, and the ability of customers to secure credit. Provision for doubtful receivables peaked at $232 Million in 2009 -- an increase of 144% on 2008.
Deere & Co's EPS performance is graphed below: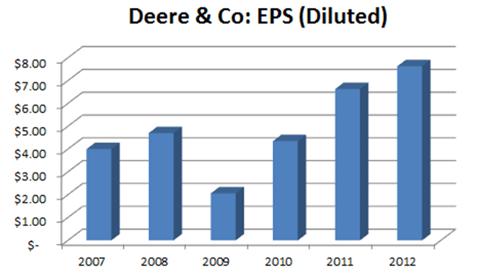 Despite the peak of provision for doubtful receivables in 2009, management has worked to quickly reduce provisions for credit losses, as demonstrated in the graph below: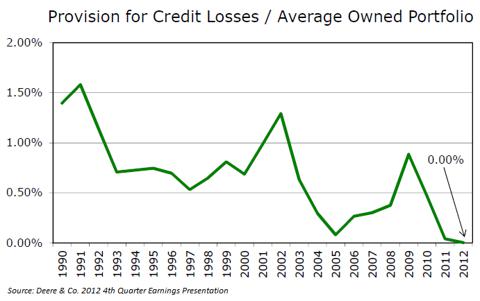 Return on equity "measures a corporation's profitability by revealing how much profit a company generates with the money shareholders have invested." Deere & Co is continuing to deliver a strong ROE and has outperformed the industry average (15.75%) by a significant factor (as shown below). It is also the industry leader for ROE.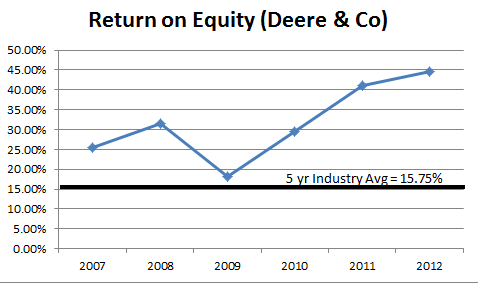 Management has also set three explicit goals (outlined at beginning of this article). The first was to achieve $50 Billion in sales by 2018 mid cycle. Deere & Co's current Revenue, Cost of Sales and Net Income performance is graphed below: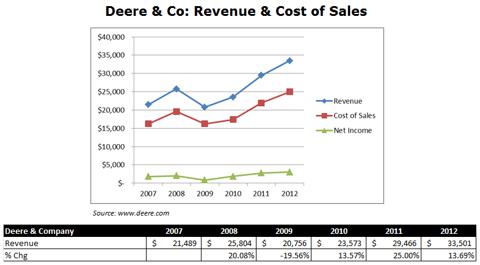 The five year average growth on revenue for the company is ~10.5%, so using a simple forward estimate on projected annual revenue, Deere & Co should exceed this target by end of year 2017, and by end of year 2018, revenue should exceed that goal by ~22% (see table below). Controlling costs and boosting net income will be critical in achieving this goal.

The second goal was to achieve an operating margin of 12% by 2014 mid cycle; the current operating margin trailing twelve month is ~13%.
The third goal is to achieve 2.5 asset turns by 2018 mid cycle. The company's current asset turnover is 0.7x, and it will be interesting to read management's assessment for the future when the 2012 Annual Report is released.
Deere & Co's strong track record is warranted, but it has been impacted over the longer term by seasonal events and the global financial crisis. But on the whole, its performance is strong.
Case Study - 30 Years Versus 20 Years
I indicated at the start of this article that I would utilize a case study that shows how an initial investment of $1,000 in 1982 would turn into sizable holding valued at $185,063 in 2012, delivering a dedicated (and growing) dividend income stream of $3,985 per annum. The results based on those variables are shown below: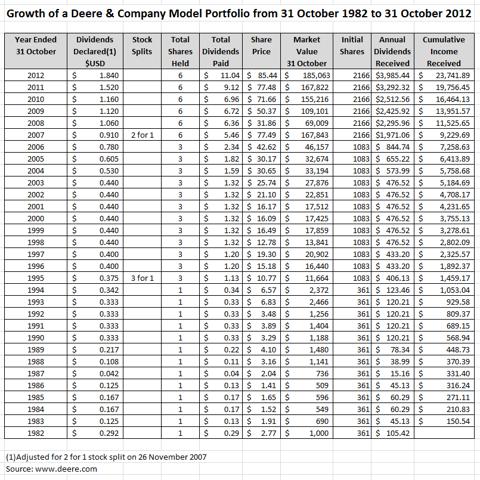 The above capital growth can be seen in the following graph: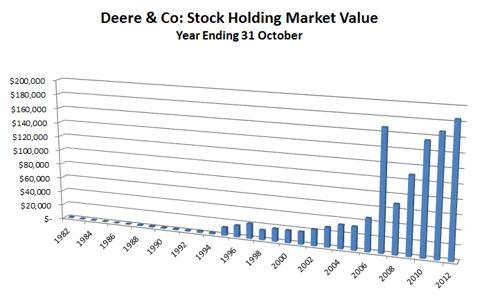 I would have been eight years old in 1982, so what if I had put $1,000 into Deere & Co in 1992 when I joined the military and held the stock till now? The results can be shown in the following graph of share price performance since 1992, and the table of capital growth and dividends paid:
Deere & Co: Share Price Performance 1992 to 2012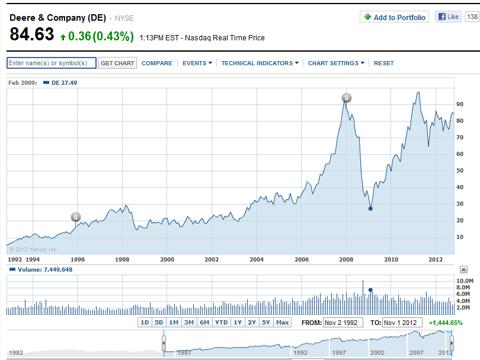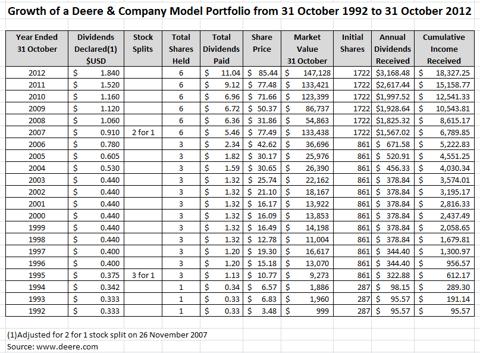 Even if I had missed the first 10 years and started an investment in 1992, the overall portfolio value would be ~$147,000 with a (growing) annual dividend income stream of ~$3,170 per annum. This obviously assumes I didn't need that initial $1,000 of capital back, or that I didn't need to pay a university tuition bill, or buy a car with some of those proceeds, but for the sake of simplicity, we'll say I didn't need to. While we can't predict future results with certainty, we can look back on past performance, and this example clearly shows investors considering a dividend growth portfolio strategy what the end results over time can be. Wish I had known then what I know now.
Future Dividend Contender And Possible Dividend Champion
The historical performance of Deere & Co, combined with its strong growth in share price and annual dividend payments, makes it a suitable stock to consider holding within a diversified investment portfolio. It is suitable as a stock to hold that complements core holdings of Dividend Champions, and its weighting can be adjusted over time, depending on its future performance. Investors should remain aware of the seasonal risks that have the potential to affect a sustained performance record, as well as how management controls its long-term debt holdings.
Deere & Co is likely to make the transition from Dividend Challenger to Dividend Contender next year, and has all the hall marks of potentially becoming a Dividend Champion in time. Maybe now is the time to get a bit of "Green Fever."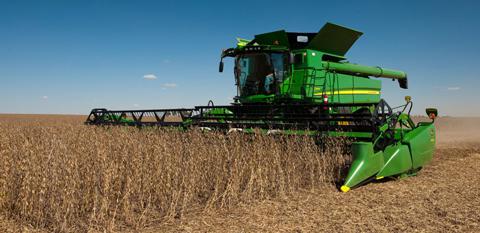 Disclosure: I have no positions in any stocks mentioned, but may initiate a long position in DE over the next 72 hours. I wrote this article myself, and it expresses my own opinions. I am not receiving compensation for it (other than from Seeking Alpha). I have no business relationship with any company whose stock is mentioned in this article.
Additional disclosure: This advice is general advice only. You should seek independent financial advice prior to making any investments of your own.