With the market typically favoring dividend stocks over growth stocks, Splunk Inc. (NASDAQ:SPLK) remains a conundrum trading at roughly 12x forward revenue estimates. While the company has huge growth potential, analysts only expect 35% growth next year that wouldn't normally warrant such a high valuation.
The company provides a leading software platform for real-time operational intelligence. In essence, the company is leading the "Big Data" revolution by offering software tools for analyzing the incredible amount of data created on a daily basis.
Back in the summer, the valuation didn't support the growth rate. After a sell-off in October, does the stock finally offer a good value?
Q3 2013 Highlights
The company reported the following highlights for Q3 2013:
Total revenue was $52.0 million, up 67% year-over-year.
License revenue was $34.6 million, up 56% year-over-year.
GAAP operating loss was $5.4 million; GAAP operating margin was negative 10.3%.
Non-GAAP operating loss was $0.7 million; non-GAAP operating margin was negative 1.3%.
GAAP net loss was $5.5 million and included $4.7 million in non-cash, stock-based compensation expenses; non-GAAP net loss was $0.8 million.
GAAP loss per share was $0.06 based on a 96.7 million weighted-average share count; non-GAAP loss per share was $0.01.
Operating cash flow was $6.5 million with free cash flow of $4.2 million.
The Q3 numbers beat estimates with revenue of $52M, exceeding estimates by $5M. Unfortunately, the company only slightly beat earnings estimates, even with the huge revenue beat. On top of that, Splunk still had a small loss.
Guidance
The company is providing the following guidance for its fiscal 2013 fourth quarter (ending January 31, 2013):
Total revenue is expected to be between $58 million and $60 million.
Non-GAAP operating margin is expected to be between 3% and 4%.
The company is updating its previous guidance for its 2013 full fiscal year (ending January 31, 2013):
Total revenue is now expected to be between $192 million and $194 million (was previously $183 million to $186 million as of August 30, 2012).
Non-GAAP operating margin is expected to be between negative 1% and negative 2% (was previously negative 2% to negative 3% as of August 30, 2012).
A positive operating margin in Q4 is a good start, though the company has a long way to go for huge yearly profits. Expenses are still growing as fast as revenues. The company forecast that quota sales reps would hit 160 at year-end versus the estimate of 140 to 150 -- a huge sign that Splunk will continue growing the Sales & Marketing expense line as fast as revenue.
Deferred Revenue
An important way to value this company is based on deferred revenue as Splunk signs up customers for licenses that hit the top line over multiple years, yet it collects the cash up front. Unfortunately though, a lot of companies in this software license model incur a lot of the sales and marketing costs up front to generate these revenues.
The deferred revenue jumped to nearly $74M from $52.6M in Q4 last year. The amount has nearly doubled year-over-year, providing for solid revenue growth over the next year.
This growth in deferred revenue drives operating cash flow, which was $6.5M in Q3 and $21.9M for the last nine months. Free cash flow hit $4.2M in Q3. Substantially all of the cash flow growth came from the increase in deferred revenue of $6.3M and $21.3M for those periods, respectively.
Valuation Comparisons
Back in June, the article, Splunk Gets Splattered On Earnings, focused on the comparative valuations of Splunk to other recent hot tech IPO stocks. While Splunk is leading the "Big Data" trend, the other stocks lead exciting growth sectors as well. Jive Software (NASDAQ:JIVE) leads in social media business software, Millennial Media (NYSE:MM) in mobile advertising, and InvenSense (NYSE:INVN) in motion sensing chips.
All of these companies still provide great growth opportunities, making it worth reviewing the results nearly six months later. The below table highlights the comparative growth and valuation metrics based on revenues since most of these companies aren't profitable yet:
| | | | |
| --- | --- | --- | --- |
| Company | Forward P/S | Revenue Growth Rate (%) | Revenue Growth Rate - 6 Months Ago (%) |
| Splunk | 11.8 | 34.7 | 37.8 |
| Jive Software | 6.1 | 34.7 | 36.1 |
| Millennial Media | 3.7 | 58.2 | 59.7 |
| InvenSense | 3.2 | 27.4 | 40.1 |
* Data obtained from Yahoo Finance
The valuation metrics still remain more favorable for the other stocks. Interestingly, Splunk has been the only stock to not encounter a greater than 50% sell-off since the IPO. All of the stocks have been relatively flat over the last six months. In fact, the 12.5% gain by Millennial Media hardly beats the nearly 12% gain by the S&P 500 index.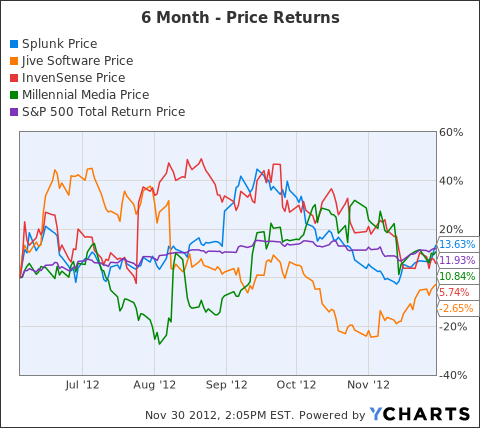 Stock Price
The stock has spent the last six months with $26 as major support. While that level still sports very high valuations, the market appears content that it provides significant value. Any break of that level would signal potential huge downside. The recent price action suggests the upward guidance will push the stock higher, possibly to retest the highs above $38.
8-Month Chart - Splunk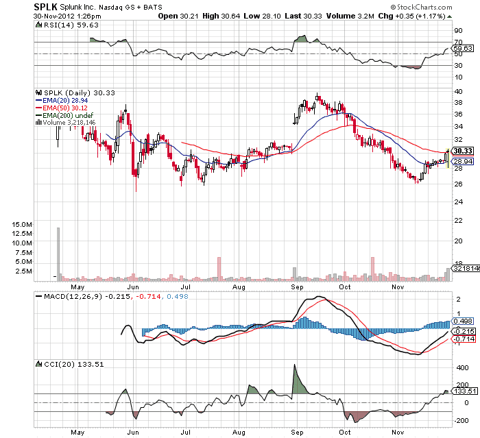 Conclusion
The other tech stocks listed provide more relative value. Millennial Media has a much stronger forecast growth rate. InvenSense already has strong earnings. Jive Software has similar growth potential with a lower valuation. The market, though, appears fascinated with the "Big Data" potential of Splunk.
While Splunk provides a slightly better valuation than in the past, the stock still isn't the better option. In fact, the listed valuations exclude nearly 20M shares. The company will officially report 116M shares if it reports a profitable Q4. The 20% higher share total leads to a $3.5B valuation, or 14x forecast revenues. Considering this information, Splunk isn't much of a value, suggesting that the other three tech stocks should be bought instead.
Disclosure: I am long INVN. I wrote this article myself, and it expresses my own opinions. I am not receiving compensation for it (other than from Seeking Alpha). I have no business relationship with any company whose stock is mentioned in this article.
Additional disclosure: Please consult your investment advisor before making any investment decisions.