The broad market faced down financial uncertainty this week as the Bullish Percent Indicators (BPI) of four indexes and two more market sectors turned positive.
Index BPI: Five of the seven major indexes are in the hands of the offense as the NASDAQ, S&P 100, S&P 500, and DJIA turned positive. That leaves the Dow Jones Transportation Average (DJTA) and the NYSE, our most important index, still in a defensive position. It is important to note that the overall trend (not shown here) of the NYSE is still positive.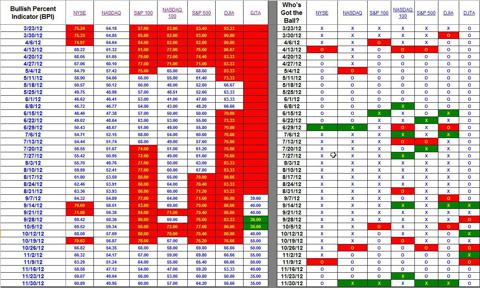 Sector BPI: Two more sectors, Staples and Industrials, moved from defense to offense this past week. The largest change occurred with the Staples sector as it jumped 7.3 percentage points and remains in over-bought territory. Half of the sectors are now bullish and four are in the over-bought area as shown by the red background. Check the left side of the following table.
The BPI results from this past week appear to be oblivious of any financial or political debate. This could easily change over the next few weeks. Therefore, we want to carefully watch the behavior of both the broad markets and the individual sectors.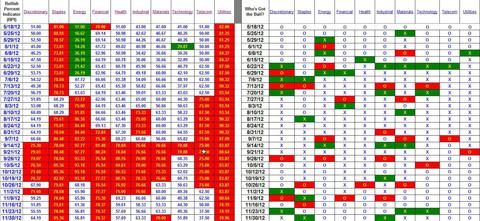 Disclosure: I have no positions in any stocks mentioned, and no plans to initiate any positions within the next 72 hours. I wrote this article myself, and it expresses my own opinions. I am not receiving compensation for it (other than from Seeking Alpha). I have no business relationship with any company whose stock is mentioned in this article.