The Dividend Champions spreadsheet and PDF have been updated through 11/30/12 and are available here. Note that all references to Champions mean companies that have paid higher dividends for at least 25 straight years; Contenders have streaks of 10-24 years; Challengers have streaks of 5-9 years. "CCC" refers to the universe of Champions, Contenders, and Challengers.
New Champions, Contenders, and Challengers
November featured some "graduations" along with the deletions of companies whose streaks had lapsed. The latest Champion is Atmos Energy (NYSE:ATO), which raised its dividend for the 25th straight year. Topping that accomplishment was Lancaster Colony (NASDAQ:LANC), which became the 15th member of the 50-year club, which includes the likes of Coca-Cola (NYSE:KO) and Johnson & Johnson (NYSE:JNJ), both of which joined that exclusive group earlier this year. A handful of companies (listed below) graduated from Challenger to Contender status, and, as you can see by the summary table, the latter group now has as many companies as the former. I'm not expecting the number of CCC companies to vary much in the near future, since the dividend-streak "death watch" has ended for 2012 and the list of "Near-Challengers" should not only offset the few fiscal-year streaks that are in danger, but also expand modestly next year, due to companies raising their dividends for a third straight year in 2012.
One revision I also did in November was to rework the Summary tab so that it includes all of the Challengers data in the tables and graphs. The summary below is also an excerpt of cells that are now "live" in the sense that they are drawn by formula from the other tabs, whereas they had previously been copied-and-pasted. In December, I plan to add a column to show total dividends paid in 2012, as well as a column that shows the percentage change from 2011's payments. Also, of course, the 2012 dividends will replace 2011 as the basis for the 1-, 3-, 5-, and 10-year Dividend Growth Rates and the Dividend Growth Model, which appears on the far right. Though I've tried to avoid doing so, I think adding more columns may mean expanding to a fifth page in width, so some additional data may also be added to take advantage of the added pages.
As always, please feel free to leave any suggestions in the Comment area below.
Quick Summary
The Summary tab includes a table comparing the composite numbers from the latest update to those from the previous month and the end of the previous year. Below that is a summary of the latest month's activity, in terms of companies added, deleted, or promoted. That is reflected below:
Quick Summary:

11/30/12

Champions

Contenders

Challengers

Total

No. of Companies

106

180

180

466

Ave. No. of Years

39.0

14.3

7.2

17.2

Average Price

53.89

50.60

44.66

49.05

Average Yield

10.21

3.01

3.57

3.21

Ave. MR Increase

7.54

8.59

10.21

8.96

10/31/12

Champions

Contenders

Challengers

Total

No. of Companies

105

181

189

475

Ave. No. of Years

39.0

14.4

7.2

17.0

Average Price

53.26

49.88

44.45

48.47

Average Yield

2.89

3.07

3.49

3.20

Ave. MR Increase

7.59

8.39

10.36

8.96

12/30/11

Champions

Contenders

Challengers

Total

No. of Companies

102

146

200

448

Ave. No. of Years

38.7

15.1

7.2

17.0

Average Price

49.98

46.20

42.62

45.46

Average Yield

2.94

3.10

3.36

3.18

Ave. MR Increase

7.24

8.47

10.99

9.39

MR = Most Recent

Additions:

Maiden Holdings Ltd. (NASDAQ:MHLD) to Challengers

Deletions:

Avon Products Inc. (NYSE:AVP) from Contenders

Citizens Holding Co. (NASDAQ:CIZN) from Contenders

Ecology & Environment Inc. (NASDAQ:EEI) from Challengers

First Capital Inc. (NASDAQ:FCAP) from Contenders

Guess? Inc. (NYSE:GES) from Challengers

Knight Transportation Inc. (NYSE:KNX) from Challengers

Lyons Bancorp Inc. (OTCPK:LYBC) from Contenders

Strayer Education Inc. (NASDAQ:STRA) from Challengers

Suburban Propane Partners LP (NYSE:SPH) from Contenders

TransAlta Corp. (NYSE:TAC) from Challengers

Promotions:

Aaron's Inc. (NYSE:AAN) from Challenger to Contender

Atmos Energy from Contender to Champion

Laclede Group Inc. (LG) from Challenger to Contender

Mesa Laboratories Inc. (NASDAQ:MLAB) from Challenger to Contender

Perrigo Company (NASDAQ:PRGO) from Challenger to Contender

RGC Resources Inc. (NASDAQ:RGCO) from Challenger to Contender
(Table from author; may include underlying data from FinViz.com)
Every Picture Tells a Story
As a bonus, I'm inserting one of Chuck Carnevale's F.A.S.T. Graphs below, highlighting one of the companies listed above. When the stock's price line has moved into the green area, it indicates that the stock is undervalued in relation to its earnings. I'm attaching the chart below.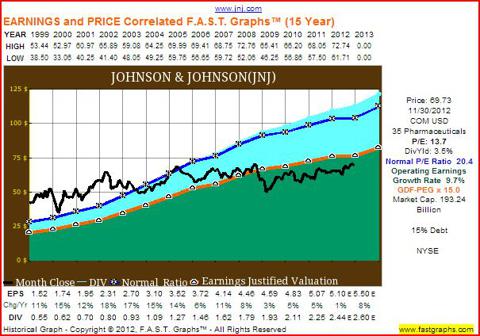 Disclosure: I am long KO, JNJ. I wrote this article myself, and it expresses my own opinions. I am not receiving compensation for it (other than from Seeking Alpha). I have no business relationship with any company whose stock is mentioned in this article.