Of all the trends that will shape the direction of consumer demand for products and services over the next decade, one stands out: The massive aging of baby boomers that began around 2005, as the first baby boomer cohort crossed the age of 60. This trend is expected to last until 2024, when the last cohort crosses the age of 65. The portion of the world's population that is over 60 is expected to reach 30% by 2025, compared to 20% in 2000. But how can investors take advantage of this trend?
The obvious strategy is to buy shares of companies that serve the healthcare needs of baby boomers. The problem, however, is that the healthcare industry is highly regulated, and government and large insurance companies enjoy monopolistic power. This means that only companies with products and services consumers must have and that enjoy monopolistic power can survive and thrive in this industry like Stryker (NYSE:SYK), Zimmer (ZMH), and Intuitive Surgical (NASDAQ:ISRG) that have been beating the S&P 500 over the last 12 years.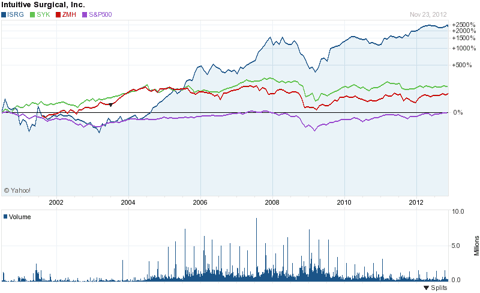 Stryker: This company is a leader in medical/surgical equipment and orthopedic implants. Since it went public in 1979, sales and earnings have grown at a very rapid rate. Sales reached $8.45 billion in 2012, up from $7.3 billion in 2010. It trades at a forward P/E ratio of 12.
Stryker's success comes from three sources. First is its operational effectiveness -- the ability to cut costs and improve quality to comply both with strict FDA standards and government mandates to reduce healthcare costs. Second is the introduction of new products through internal R&D and acquisitions. In 2010, for instance, the company received 108 patents and acquired the neurovascular business of Boston Scientific (NYSE:BSX). Third is the nurturing of a strong corporate culture, exemplified by the company being ranked 68th on Fortune Magazine's "100 Best Companies to Work For" list from 2011.
| | | | | |
| --- | --- | --- | --- | --- |
| Company | Forward P/E * | Operating Margins | Quarterly Earnings Growth | Quarterly Revenue Growth |
| Stryker | 12.68 | 23.46% | 35.90% | 11% |
| Zimmer | 11.13 | 24.95 | 348.70 | 2.90 |
| Intuitive Surgical | 33.42 | 39.54 | 24.8 | 27.40 |
*Dec. 31, 2013
Source: Yahoo Finance.
Zimmer Holdings: This company is in a business similar to Stryker, although it's more diversified. It designs, develops, and manufactures orthopedic reconstructive devices and dental implants that restore function of certain body parts. The company markets its products in the American, European, and Asian markets.
After suffering a setback in the aftermath of the 2008 recession, Zimmer Holdings has regained its earnings growth momentum -- its quarterly earnings were up 348% in the last quarter. As is the case with Stryker, Zimmer is a well-managed company that has effective cost controls and is growing through new product introductions, acquisitions, and entry into new markets.
Intuitive Surgical: This company is in the robotic surgery business, which is growing by leaps and bounds (as can be seen in the above table). The company designs and manufactures state-of-the-art technology like the da Vinci Surgical System for various procedures such as urologic, gynecologic, cardiothoracic, and general surgeries. The da Vinci System consists of a surgeon's console or consoles, a patient-side cart, and a 3D vision system.
Intuitive Surgical enjoys a number of advantages that give the company a near monopoly in this area. There is a "first mover" advantage, which made the da Vinci Surgical System a standard in the industry. Also, there are economies of scale, which give the company a cost advantage. In addition, there is the bundling of hardware with services like doctor training, which makes the cost of switching to different machines prohibitively high.
The bottom line is that Stryker, Zimmer Holdings, and Intuitive Surgical are three stocks to buy and forget for the next 10 years.
Disclosure: I am long SYK. I wrote this article myself, and it expresses my own opinions. I am not receiving compensation for it (other than from Seeking Alpha). I have no business relationship with any company whose stock is mentioned in this article.