MRSA is a scary, scary thing. It infects you through an open wound and gives you lesions and boils. It is resistant to conventional antibiotics, and if it gets into your system past your skin, it can kill you.
The leading medication against MRSA is Zyvox by Pfizer (PFE). The cheapest price for Zyvox I could find selling legally online is $79.82 per pill. Most MRSA patients will get it through their insurance company which will probably make it a bit cheaper, but $80 a pill is still outrageous considering the number of pills in an average treatment schedule, which is twice a day orally for 14 days. That's over $2,200 a patient just for the medication, and you know what they say about stopping antibiotics too early. It's a very bad idea, especially when dealing with a potentially deadly infection.
A good way to analyze the route to expensive medicine is to track it through the expenses of a development stage company. It's easier to track the accounting of a company developing only one medication with no income as opposed to the Pfizer octopus. Zyvox's nearest competitor closest to clearing the clinical pipeline is tedizolid phosphate. Zyvox's generic name is linezolid, and tedizolid is from the same family of antibiotics. Tedizolid is developed by Trius Therapeutics (TSRX), which has been working on it since 2004 at a total cost of $135M so far (see page 20 at the link). They teamed up with Bayer (OTCPK:BAYRY) in July '11 for the specific purpose of getting funding for their clinical trials, in return for giving away about 90% of future sales to Bayer and subsisting on some unspecified double digit royalty for global sales outside the US, Canada, and the EU. So not only are the trials themselves lengthy and expensive, but in order to fund them, they have to give up a large chunk of their future revenues assuming success.
Tedizolid has already successfully completed one phase III trial for oral dosage, and is in the middle of its final phase III for intravenous treatment. In my opinion, the biggest advantage tedizolid has over Zyvox is that tedizolid is administered only once a day for 7 days. That's a mere 25% of the number of pills and most importantly half the time needed for treatment compared to Zyvox. This means that theoretically, Trius can afford to price tedizolid at a whopping $320 a pill (4x Zyvox at its cheapest) and still undercut Pfizer in outpatient costs by up to a week. Nowhere on Earth is the saying "Time is money," more true than in a hospital. I doubt Trius will price tedizolid that high, but something tells me it's crossed the company's mind.
One threat in terms of medication that could significantly undercut Trius is cannabinoids, which are very cheap and easily produced in theory, but since cannabis is prohibited by federal law, it is a distant threat. One eye-opening ABC article written back in 2008 discusses the research of Dr. Simon Gibbons of the School of Pharmacy at the University of London, U.K. in the area of cannabinoids as antibiotics. In the words of Dr. Gibbons, "The cannabinoids even showed exceptional activity against the MRSA strain that makes extra amounts of the proteins that give the bugs resistance against many antibiotics." Meaning, cannabinoids fight against even the most resistant MRSA strains known today.
For now, it looks like Trius's tedizolid, if and when approved, will be the cheapest treatment for MRSA by far. To give a general idea of the market here, just last quarter Zyvox had $328M in sales (page 47). That's 1.3x Trius's entire market cap in just one quarter, so if they can pick up a nice chunk of that, TSRX will have no choice but to go up. The stock is about 7% off its 52 week low, so now would be the time to buy if ever, keeping in mind that some promising medications have been stuck in phase III for years only to be ordered to do them again, so don't hold your breath. See, for example, Johnson & Johnson (JNJ)/Basilea's antibiotic Zeftera, stuck in phase III since 2009 and ordered to do it over again. This is the biggest risk as I see it, but being that Trius already passed one phase III, the chances that it'll get stuck in the second one are muted.
Assuming Tedizolid does indeed break through phase III, the stock looks pretty good from a technical perspective as well. 30 day RSI has just recently broken out of 2.5 year lows at below 30 in mid November, indicating grossly oversold conditions are just now being eased. Below is Trius's 30-day RSI Yahoo chart from late 2010 until just two weeks ago.

Also worth noting on the technical side is that TSRX signaled a lower Bollinger Band crash for only the third time since 2010, also signaling irrational overselling. It has since bounced out of that crash and recovered a bit, but it is still below both its 50 and 200 DMA's.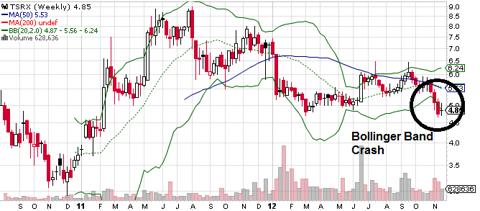 And with no long term debt, Trius is in ship-shape for a company with no sales revenue. As tedizolid's final phase III trial proceeds, TSRX will be getting more attention. On that note, Steve Brozak of WBB Securities discussed the stock as a post-election pick on Bloomberg TV earlier this month.
Disclosure: I have no positions in any stocks mentioned, and no plans to initiate any positions within the next 72 hours. I wrote this article myself, and it expresses my own opinions. I am not receiving compensation for it (other than from Seeking Alpha). I have no business relationship with any company whose stock is mentioned in this article.