For most of the past year since American Airlines' parent company, AMR (AAMRQ.PK), filed for bankruptcy, US Airways (LCC) has actively pursued a merger with American. Merger speculation has helped power spectacular gains for US Airways shareholders over the past year. The shares bottomed around $4 just before American's filing, and have more than tripled since then to trade just below $13 as of Friday afternoon. Many investors seem to be relying on the hope of a merger with American Airlines to catalyze further gains. Analyst Bob McAdoo of Imperial Capital recently stoked those hopes, writing, "We believe there will be a merger of these two airlines. In such a merger, we believe LCC holders will receive a premium for their shares, approximating high teens per share."
However, if US Airways investors are holding onto their shares in the hopes of getting such a merger premium, they are likely to be disappointed. The rapid rise in the US Airways stock price over the past year has already baked in the added value of a merger scenario. Moreover, since US Airways is clearly much more eager for a merger than AMR's management, US Airways is more likely to pay a premium in any merger scenario than to receive one. With US Airways trading at approximately fair value relative to competitors (somewhat cheaper than United (NYSE:UAL) but slightly more expensive than Delta (NYSE:DAL) on a forward P/E basis), I see no reason to own shares at this time.
Merger Premium Is Unlikely to Materialize
US Airways has very clearly been the suitor in merger discussions. AMR's management has been actively promoting a stand-alone plan for exiting bankruptcy. Additionally, in order to hedge its bets, AMR management has suggested that the company has five potential merger partners: US Airways, Alaska Airlines (NYSE:ALK), JetBlue Airways (NASDAQ:JBLU), Frontier Airlines (RJET), and Virgin America. While none of the other carriers have expressed interest in a merger, they would have to at least consider the idea if American made an attractive offer. Thus, while US Airways has been putting all of its eggs in one basket, AMR's management has been creating alternatives.
Most industry experts agree that US Airways needs a merger far more than AMR. With no presence in Asia and a small footprint in Latin America, US Airways is likely to miss out on the biggest industry growth opportunities as it is presently situated. Under these conditions, it is hard to imagine a scenario where AMR offers to buy or swap US Airways shares at an above-market price. AMR's unsecured creditors will receive equity stakes in the company when it exits bankruptcy, but these will not be worth as much as the face value of the debt they hold. American's pilots have also negotiated for a 13.5% equity stake in return for agreeing to other concessions. Even though the unsecured creditors (including labor unions) are interested in a merger with US Airways, by paying a premium for US Airways shares, they would be diluting the value of their own stakes in the future merged company. They are therefore unlikely to agree to deal terms along those lines. Moreover, since US Airways management has spent so much time talking up the benefits of a merger, they cannot step back now and demand a premium for agreeing to merge. Thus US Airways shareholders will not get a lucrative payday in the form of an above-market merger offer from AMR.
Share Price Already Reflects Added Merger Value
US Airways shareholders could still hope to benefit from a merger by increasing the intrinsic value of the business. However, a merger is not guaranteed to produce such positive effects, and is indeed unlikely to produce significant benefits in the near term. The following is a chart of United's stock price beginning in the month prior to the announcement of its merger with Continental Airlines: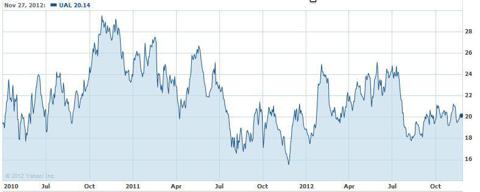 (courtesy of Yahoo! Finance)
As can be easily seen from the chart, United shares spiked higher on the merger speculation, but not on the actual merger news. While United shares continued to perform well later in 2010, the difficulties of merger integration erased those gains, and the stock remains somewhat below its April, 2010 levels today. For US Airways investors, with merger speculation having been rampant for a year, a merger announcement is just as likely to be greeted with a "sell-the-news" reaction as further gains.
The key problem here is that a combined American Airlines-US Airways operation would face significant cost increases that would probably outweigh any "revenue synergies" (or cost cuts in other areas) for the first few years after the merger. This is particularly true after factoring in one-time merger integration expenses; for comparison, United incurred $1 billion in integration-related expenses in 2010 and 2011 combined, and $331 million year to date. United has also incurred significant costs this year associated with negotiating a new joint contact to cover its pilots. A merged American Airlines-US Airways would face even higher cost increases on this front, as US Airways has much lower labor costs than the industry average. The company has long justified these low pay rates by arguing that it was smaller than its rivals and had hubs in smaller markets. While a merger with American would remove these deficiencies, it would also virtually compel the management to offer contracts at the industry average to its workers. Lastly, in any merger scenario, a significant number of high-level executives will leave due to redundancy; this typically leads to high severance costs.
As I have argued before, a US Airways-American Airlines merger would probably be good for both companies (but would be better for competitors) in the long term. However, the gains are likely to come late in the process. Integration costs and labor cost increases will hit early-on in the merger integration process. By contrast, revenue synergies take years to build, as business travelers gradually begin to favor the combined carrier's larger network, and as the combined carrier is able to redeploy aircraft in a more efficient manner.
Conclusion
I think US Airways shares are fairly valued at the current price. The company may be able to produce modest growth as a stand-alone carrier, but also faces risks insofar as ongoing labor negotiations could result in significant wage increases even without a merger. Trading at approximately 5X 2012 profits, US Airways shares are not cheap relative to other airline stocks, such as Delta (which I consider a stronger company). A merger will not produce an acquisition premium for US Airways shareholders, and the near-term costs severely limit any upside from improved post-merger performance. Shareholders face a situation where a merger announcement is not likely to drive any further gains for the stock, given its 200% jump over the past year, while a stand-alone bankruptcy exit for AMR (still a possibility) could cause a sharp sell-off. I therefore do not recommend owning the stock at this time.
Disclosure: I am long DAL. I wrote this article myself, and it expresses my own opinions. I am not receiving compensation for it (other than from Seeking Alpha). I have no business relationship with any company whose stock is mentioned in this article.