The United States is about to reclaim its rightful position as the world's leading manufacturer. Innovative and hard working men and women will once again find ample employment. For a generation, all we have heard is outsourcing, taking it off shore, and getting goods on the cheap because of their manufacture in some steamy third world sweatshop. This is ending. It is time to invest in the future of the USA and there are a multitude of opportunities. Let us follow the flow of investment opportunities from the natural gas wellhead to the manufactured products.
Abundant Natural Gas
The US now has one of the greatest economic advantages to bless any nation in history. That is, we have abundant and inexpensive energy resources. Creative American technology and God-given natural resources are the winning combination. The primary driver of this revival of American Industry is our bountiful natural gas resources. The three top produces are
The top 10 includes the gas and oil giants
While oil companies are currently bemoaning the fact that natural gas prices are too low for them to profit, I suspect they may be overstating their case. While the price of any commodity rises and falls based on the market reaction to supply and demand, the "toll road" operators of the natural gas industry are winners simply based on increased volume. These pipeline companies carry the gas from one location to another based on a fee-per-unit of gas. The steady incomes of these MLPs (Master Limited Partnerships) make them reliable income investments. Three of the largest are:
It is notable that all of these have 5-year average annual Dividend Growth Rates over 5% and low betas between 0.48 and 0.67.
No longer do we need to talk about scarcity and declining resources, we can now talk about abundance. Instead of jobs going overseas, foreign companies are making very serious investments here. While the press has not quite caught up with the metamorphosis of US industry, it has happened in nearby and familiar places like Louisiana, Iowa, Texas, and Pennsylvania.
Royal Dutch Shell (NYSE:RDS.B), one of the world's largest integrated petroleum companies, has plans for a $2 billion petrochemical plant north of Pittsburgh. This ethane cracker will be a world-scale unit, about a million tons of ethylene a year. Shell will process gas from the Marcellus shale formation. Estimates are that this will bring 10,000 new jobs to the area.
Methanex Corporation (NASDAQ:MEOH) in Chile is taking methane plant apart and packing it up. They will reassemble it in Louisiana at a cost of over $500 million. Methanex is the world's largest supplier of methanol to major international markets in North America, Asia Pacific, Europe and Latin America. Methanol is used in hundreds of manufacturing applications. You may click on The Methanol House and move your mouse to different rooms to get an interactive look at where methanol is in your life.
CF Industries (NYSE:CF) will also reside in Louisiana and develop new ammonia and urea facilities. CF Industries is a global leader in fertilizer manufacturing and distribution, the second largest nitrogen fertilizer producer in the world and the third largest phosphate fertilizer producer among public companies.
Dow Chemical (DOW) can be much more competitive globally with gas prices in the $4 range. At the time when Katrina hit Louisiana and gas prices soared to $14, gas became half of the company's cost. Dow is adding capacity in the US in Louisiana and in Texas. Dow's diversified industry-leading portfolio of specialty chemicals, advanced materials, and plastics businesses delivers a broad range of products and solutions to customers in approximately 160 countries. Did you ever get a burger from McDonald's (NYSE:MCD) in a Styrofoam container? Styrofoam is a Dow Chemical product.
Orascom Construction Industries (OTCPK:ORSCY) is one of Egypt's largest corporations and is a world-class construction company as well as a manufacturer of nitrogen fertilizers in many countries. Its next plant is going to be in Iowa. The Financial Times reported that Orascom bought The Weitz Company, an Iowa-based construction contractor, and it was awarded it a $1 billion contract to build the new facility. Located in Lee County, the new fertilizer plant will produce 1.5m to 2m metric tonnes a year of ammonia and urea fertilizer and employ about 2500. This plant, serving the Corn Belt, will reduce the US dependence on imported fertilizer, which is about 15m tonnes a year.
The increases in manufacturing activity due to reduced costs of energy will be nothing short of an economic revolution. In the steel industry, the infusion of natural gas is increasing the efficiency of blast furnaces, and at the same time reducing the amount of coal consumed. US Steel (NYSE:X) uses a billion cubic feet of natural gas a year, and the cost reductions afforded by less expensive gas will make them a more viable global competitor. Of course, the impact of the inexpensive energy does not stop at the primary industries. I like the firms that work in process control. Some of these are
What is next?
To the sound of popping firecrackers on Chinese New Year, a little boy in Beijing will open a gift to find a little plastic car sold by Mattel (NASDAQ:MAT). When he turns it over, he will see the words, "Made in USA".
I believe it is time to invest in the USA to profitably participate in the manufacturing revival.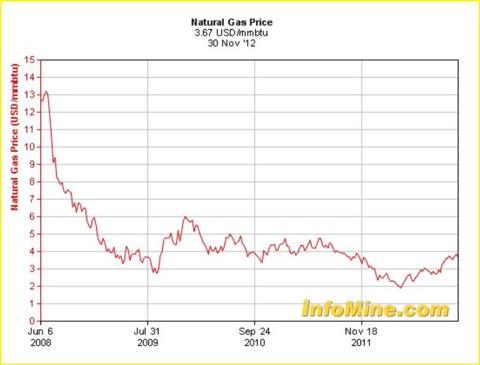 Disclosure: I am long CVX, EPD, MMP, RDS.B. I wrote this article myself, and it expresses my own opinions. I am not receiving compensation for it (other than from Seeking Alpha). I have no business relationship with any company whose stock is mentioned in this article.