Networking leader Cisco Systems (NASDAQ:CSCO) is a key player in the technology field. The company reported a 6% increase in revenue and a 17.7% increase in earnings growth for Q1 FY13 over the same quarter last year. Cisco achieved this while non-GAAP expenses only increased by 1%. Companies look to Cisco to build their technology for the future. Through strong leadership, innovation, and quality, Cisco plans to shift from being the number one communications company to the number one IT company.
I wanted to highlight exactly where Cisco's revenue is going with a breakdown by region and product segment. Geographically, revenue increased 7% in the Americas; 10% in the Asia-Pacific, Japan, and China region; and remained about flat in Europe, the Middle-East, and Africa.
Total service revenue for the quarter was $2.6 billion, representing an approximate 12% increase. Total product revenue was $9.3 billion, which was an increase of about 4% year-over-year.
Here is a breakdown of Cisco's revenue by segment:
| | | |
| --- | --- | --- |
| Segment | % of Net Sales | Sales for Q1 FY13 |
| Switching | 30% | $3.6 billion |
| NGN Routing | 17.3% | $2.1 billion |
| Service Provider Video | 9.7% | $1.1 billion |
| Collaboration | 8.6% | $1 billion |
| Wireless | 4.1% | $486 million |
| Data Center | 3.5% | $417 million |
| Security | 2.8% | $338 million |
| Other | 1.9% | $220 million |
| Service | 22% | $2.6 billion |
Wireless has been one of the company's fastest growing businesses which saw revenue growth of 38%. Last quarter made it Cisco's fourth consecutive quarter of record revenue for wireless. This strength was led by the 3600 series, outdoor access points, and high-end controllers. The company experienced 45% growth for Wireless in the Asia-Pacific, Japan, and China region.
Data Center was another strong business with an increase of 61%. This growth can be attributed to Cisco's leadership in this area with its innovations in unified fabric, unified compute, and unified management. Data Center growth was especially strong in the Asia-Pacific, Japan, and China regions, which increased 127%.
SP Video revenue increased 30% for the quarter. Cisco strives to satisfy the service provider's demand for video, mobility, cloud, speed of service delivery, and monetization of service loads.
The Security business increased 6% for the quarter. This increase was driven by high and mid-range router firewall platforms, growth in web security, and the company's identity services engine.
Switching revenues declined 2%, but there is growth strength in Nexus data center switching with the Nexus 2000, 5000, and 7000 lines.
NGN routing also experienced a decline of 2%. This was a result of weakness in Europe, Middle-East, and Africa, and a result of declines in optical networking because of the movement to faster speeds.
Cisco had strong growth in Edge Routing, with the ASR 9000 which saw an 80% increase year-over-year. SP Mobility was also strong where orders increased 86% year-over-year. The capacity requirements of global smartphones and tablet demand have fueled the SP Mobility growth.
The company feels that it is well-positioned for the impending growth of mobility, bring your own device, and SP Wi-Fi sales.
Collaboration experienced a decline of 8%. The company is having challenges with its TelePresence and U.S. Federal businesses which both had double-digit declines year-over-year. Cisco acknowledges that it needs to improve its Collaboration business and has committed to invest in innovation and sales execution to make that happen.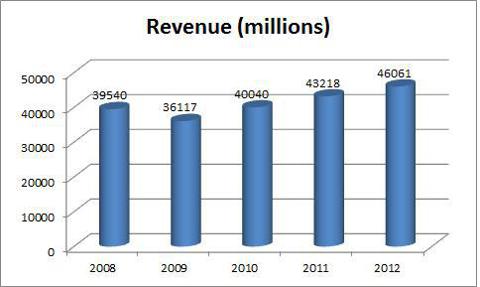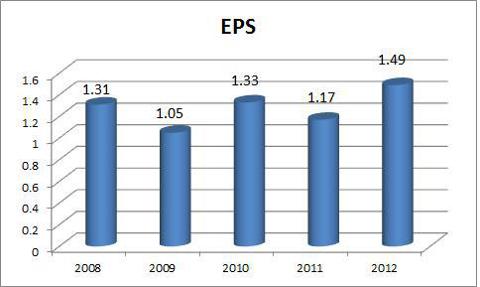 Outlook
Cisco has become a healthy dividend paying company with a 3% yield. The dividend payment of 56 cents per share makes up only 25.6% of the company's operating cash flow of $11.62 billion. This leaves plenty of money on the table for other investments to grow the business.
Acquisitions are one technique that Cisco uses to expand its business. Cisco has acquired over 150 companies over the years which shaped the composition of its current business. NDS Group was the most recent completed acquisition. The NDS acquisition has allowed Cisco to further its global video and service provider presence in new and emerging markets.
Cisco has recently announced its intention of acquiring Meraki, a leader in cloud networking. Meraki's products allow midmarket customers to implement on-premise networking solutions that can be managed from the cloud. Midmarket customers have the same IT needs as large organizations, but don't have the same IT resources.
The Meraki acquisition will allow Cisco to expand its leadership in its core business, while simultaneously moving the company more towards the software and cloud-based business model. With the midmarket growing faster than large organizations, Meraki will give Cisco a larger share of this market. Some examples of midmarket customers include retailers, school districts, and healthcare.
Cisco is currently undervalued with a forward PE ratio of 9.05, a PEG of 1.15, and a price to book ratio of 1.92. The company has a double-digit profit margin of 17.9% and an operating margin of 22.79%.
The company is expected to grow earnings annually at 8.4% for the next five years. If the 3% dividend is reinvested, a $10,000 investment in Cisco should be worth about $17,000 in five years. As a leader in networking, Cisco just might be the friend that investors are looking for.
Disclosure: I have no positions in any stocks mentioned, and no plans to initiate any positions within the next 72 hours. I wrote this article myself, and it expresses my own opinions. I am not receiving compensation for it (other than from Seeking Alpha). I have no business relationship with any company whose stock is mentioned in this article.