Despite all the talk about the looming fiscal cliff, the market has had a remarkably non-volatile run in November. The S&P ended the month almost exactly where it started November despite an approximate 6% fall after the election results (See Chart). Volatility actually went down 14% during the month as measured by the iPath S&P 500 VIX ST Futures, better known as the VXX. I think investors are being incredibly complacent here. I believe there is a high probability that we go off the "Fiscal Cliff" over the next few weeks for a variety of reasons which I have previously articulated.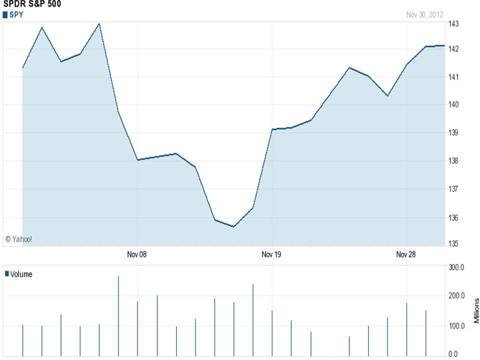 I want to structure a trade that provides a low risk/high reward play to capitalize if I am right about the politicians behaving like children and throwing the country over the cliff. I think we will have a major blow up by Christmas given how far apart both sides are at this point and the looming deadline. So here is an option strategy to accomplish this.
Option Strategy: Initiate a bull call spread on the Volatility Index (NYSEARCA:VXX) which is currently selling at just over $29. Buy the December 22 $30 calls/sell the December 22 $35 calls for less than $1 (Let's call it a buck to take into effect commissions)
Outcome 1: Fiscal cliff is resolved or talks progress well over the next three weeks. Options expire worthless and you are out a dollar.
Outcome 2: Talks break off or we have major dust up on the road to resolve the fiscal cliff. If this happens, I believe at least a 20% increase in the volatility premium will occur and you will bank $5 for every dollar invested. It is a risk/reward ratio that makes sense to me.
Disclosure: I have no positions in any stocks mentioned, but may initiate a long position in VXX over the next 72 hours. I wrote this article myself, and it expresses my own opinions. I am not receiving compensation for it (other than from Seeking Alpha). I have no business relationship with any company whose stock is mentioned in this article.