The looming fiscal cliff has caused extreme market volatility and has forced investors to seek safer stocks. With the economic and political climates becoming more tumultuous, I have been concentrating on high yield opportunities. Stocks with high yields tend to be "safer" because the yield provides a cushion against capital depreciation and inherently implies that the underlying equity has sufficient cash reserves (although not always the case).
Dividend stocks tend to have a strong financial position but it is always critical to check the liquidity and solvency ratios before considering an investment. Blue-chip dividend companies are well-known but there are attractive equities with high yields going ex-dividend every week. This strategy can work in one of two ways: either you buy before the ex-date to receive the dividend or buy after if the stock declines far below the after-tax amount of the dividend. Regardless of your short-term strategies, these equities can be attractive longer-term investments depending on your individual circumstances.
Buying the stock to receive the dividend is intuitive but many have contacted me requesting further details on the second strategy. Investopedia has a great example of how this works. To explain this, I will use AT&T (T) as an example. AT&T declared a $0.45 dividend to shareholders of record on January 10, 2013. On the ex-dividend date the stock price should decline by the after-tax dividend amount, with an assumed tax rate of 15% because many dividends qualify for a preferential tax rate. It is true that you can personally avoid immediate taxation by owning the security in an account with beneficial tax treatment but this serves as a benchmark.
As a result, an investor would expect the stock price to decline by $0.38 = [$0.45 * (1-.15)]. If AT&T declined by more than $0.38 in the absence of negative news you might have an attractive opportunity. For conservatism you may ignore the tax aspects and only trade if the stock price declines by the full dividend amount. Executing this strategy can generate returns over short periods of times but should only be performed on companies that you would be comfortable owning.
To focus on these opportunities I ran a screen with a focus on relative safety for the investments as the objective is to concentrate on liquid companies that are affordably priced. I began with a specification of a dividend yield greater than four percent and an ex-dividend date within the next week. To provide some layer of safety I narrowed down the environment by looking at companies with market capitalizations greater than $1B, PEs between zero and 20, and institutional holding percentage in excess of fifteen percent (except ADRs).
While not a precise requirement, I prefer companies that have underperformed the S&P 500 year-to-date as it indicates reduced downside relative to peers. For example, if negative macro news breaks, the stock that has declined more in the past year should ideally perform better than a similar stock with year-to-date gains. With the impending European crisis I now avoid companies with significant European exposure. This is summarized below:
Dividend Yield ≥ 4.0%
Ex-Dividend Date = Next Week
Market Capitalization ≥ $1B
P/E Ratio: 0-20
Institutional Ownership ≥ 15%
Ideally Modest S&P 500 Underperformance
Minimal European Exposure
After applying this screen I arrived at the equities discussed below. Although I envision these as short-term trading ideas, you still need to exercise caution. The information presented below should simply be a starting point for further research in consultation with your professional financial advisor before you make any investment decisions. My goal is to present new companies to you and provide a brief overview of their recent developments and this should not be considered a substitute for your own due diligence.
Seadrill Limited (SDRL): 8.86% Yield; Ex-Dividend 12/4
Seadrill is an offshore drilling company that operates over fifty oil and gas drilling platforms across the world. The high yield was initially concerning, so I dug deeper into the company as the oil and gas drilling industry can exhibit volatility. The dividend history is short, but indicates a steady trend with a commitment to returning excess funds to shareholders. The third quarter financials highlight the importance of the dividend but the verbiage is deemphasizing further dividend growth. Management is forthright in its disclosures and even states "the Board is not satisfied with the operational performance in the third quarter" despite other comprehensive income rising substantially in the quarter.
The coverage of Seadrill on Seeking Alpha is almost universally positive; however, Michael Connellan presented a compelling article on its dividend health. I come to a similar conclusion as Mr. Connellan that the company is growing so quickly (see the revenue backlog discussion in the latest quarterly filing) that it needs to strong cash flows just to finance operations. Dividend increases have been much smaller in 2012 but investors should be happy with the 8.9% yield. Note that Seadrill is accelerating the dividend payment ahead of the fiscal cliff.
PDL Biopharma Inc. (NASDAQ:PDLI): 7.72% Yield; Ex-Dividend 12/5
PDL Biopharma is a biotech company run by fewer than ten employees with a patented process to create humanized antibodies. For those who have not thought about biology since high school, antibodies are proteins in the immune system that help fight against diseases. PDL's technique is unique because its humanized antibodies are more easily accepted by the human body which makes them more useful in drugs. In this way PDL is very unique in that it relies on the development of other companies who utilize their patents in different drugs. The most lucrative drugs thus far have been cancer treatments Herceptin (breast) and Avastin (colorectal). Thus far the business model sounds very attractive but apparently is too good to be true.
The company's key "Queen et al. patents" expire in the next fifteen months and the company will be at a critical crossroad. The company can either "obtain new revenue generating assets" or wind-up the company around 2016. The second option may not realize significant value for shareholders as PDL has a significant debt load. In fact, the convertible notes payable are significantly greater than total assets ($300M vs. $260M). The situation gets bleaker as the company has a $160M shareholder deficit. There may be additional hidden value to unlock but I would be uncomfortable owning PDL long-term, thus PDL Biopharma is not a candidate for dividend capturing.
TAL International Group (TAL): 7.5% Yield; Ex-Dividend 12/4
TAL International is one of the leading container leasing companies that specializes in leasing containers to shipping line customers. Revenue growth has been slowing but is still up twelve percent but virtually all of the expansion is occurring in Europe. Over 40 percent of operations involve Europe, and most growth is derived from that market. Despite the increase in revenues, earnings have been hurt by a decline in used container prices and declines in utilization. The majority of the lease portfolio is long-term but that is of little comfort if the economic production in the Eurozone continues to slow.
I like the leasing business, and TAL has solid fundamentals, but I have to shy away for dividend capture purposes due primarily to the European exposure. The stock has risen 1.2% in the past quarter and has outperformed the S&P 500 by 4.5% year-to-date. The stock has generally stayed in range of $30 to $35 for the majority of the year aside from a brief breakout above $40.
AllianceBernstein Income Fund Inc. (ACG): 5.57% Yield; Ex-Dividend 12/5
This closed-end fund offering from Alliance Bernstein has the objective of generating high current income to outperform the broader bond market with a side objective of preservation of capital. This is a very popular market segment recently and the fund has appreciated more than five percent this year. The fund's portfolio is available here and there are no unexpected holdings. 58% of holdings are government securities with nearly 70% of the portfolio rated triple-A so you may be wondering how the robust 5.6% yield is achieved.
The answer is primarily leverage: the fund has 43% leverage which boosts the returns. The use of leverage in this low interest rate environment may be prudent but this is a red flag for dividend capturing as the trade could very easily turn against you. The leverage has actually decreased three percent in the past month, a noticeable decrease over such a short period. The fund charges sixty five basis points which is somewhat expensive for an income-oriented fund. This fund is not a poor choice; however, I prefer American Capital Agency Corp. (NASDAQ:AGNC) for a long position.
Cedar Fair LP (FUN): 4.78% Yield; Ex-Dividend 12/3
Cedar Fair is one of the largest operators of regional amusement parks, including Knott's Berry Farms, Dorney Park, Kings Dominion, and Worlds of Fun. Cedar Fairs has a very interesting history and has faced significant financial difficulty in 2009 as discretionary spending dried up due to the recession. According to one school of thought, you would have people delaying vacation and having one vacation at a large park such as Disney (DIS). On the other hand, regional amusement parks could benefit from the economic state because families would select a regional, less expensive vacation. The company suspended the dividend shortly thereafter, and I personally stopped following FUN as an investment when it was less than eight dollars per share.
To my surprise, not only has the dividend been reinitiated, but the yield is a solid 4.8%. Even more impressive is the fact that the stock has jumped to $35 since late 2009. Cedar Fair has been very resilient and fought hard to turn the company around. Revenues are up as combined attendance has increased at the same time the operating margins have improved. The company has climbed over forty percent the past year, but there are some red flags attached to this high yielder.
The current and quick ratios are 1.00 and .82, respectively - a huge improvement from earlier this year but far from great. With liquidity concerns aside, the solvency issues still exist: the $1.6B debt load is crippling and means that just one disappointing summer can cause the company to fail to meet obligations as they come due. Cedar Fair is a fascinating company that continues to surpass estimates, but the combination of high debt and P/E (16.7) gives me concern about initiating a position. I believe potential investors may be too late to the FUN game as it will be difficult for the company to replicate its stock appreciation during its recent recovery.
Gannett Co., Inc. (NYSE:GCI): 4.50% Yield; Ex-Dividend 12/5
Gannett Co. is the media conglomerate that owns numerous newspapers and news websites, including USAToday. The company has faced tremendous difficulty adapting to a digital society, which is reflected in its stock price that has declined from nearly $90 in 2003 to $15. There has been a quiet but steady rally the past quarter which has pushed the stock up twenty percent. The company has made recent steps to increase its digital offerings but this will not be a quick turnaround story.
Earnings surprisingly rose in the recent quarter; digital sales have been surprisingly strong and have compensated for declines in publishing. The dividend history is equally rocky as it was slashed in 2009 from $.40 to $.04 per quarter. The dividend has been restored to $.20 per share now but the company will have to improve its earnings to maintain such a payout going forward. The stock could exhibit strength going forward but you cannot justify paying a P/E of ten for Gannett. Gannett might look attractive with a 4.5% yield, but I would avoid this company until it is able to consistently prove that it can grow earnings. There is certainly an opportunity here as concerns about 'old media' are generally exaggerated but there are more attractive stocks available with less downside potential.
H&R Block (HRB): 4.42% Yield; Ex-Dividend 12/6
H&R Block is one of the world's largest tax providers with over 100,000 tax professionals that prepare over ten percent of US tax returns. H&R Block faces numerous business risks including lingering mortgage debt, changes to refund anticipation loans, and tax legislation. H&R has been under additional pressure since late 2011 when a Federal court blocked the company's proposed acquisition of TaxAct on antitrust grounds. The company's stock took a further beating in late April when it proposed a "strategic realignment" and has been steadily climbing from $14 to $18 since then. The looming "fiscal cliff" and other taxation uncertainty could indirectly raise demand for H&R Block as more consumers may be willing to take advantage of their services due to perceived complicated taxes.
The dividend has remained flat since December 2011 when it was finally increased from $.15 to $.20 but I would not expect a similar increase in the future as the company has been very slow in changing the dividend. Overall, this is a very difficult company to assess as it is neither a pure value nor pure growth play and significant research would be necessary before making a definitive call. Ron Sommer has a detailed article on the stock and believes that the risk assumed is worth the potential reward.
TELUS Corporation (TU): 4.03% Yield; Ex-Dividend 12/7
TELUS is one of the largest Canadian telecommunications companies with 12.7 million customers which derives revenues nearly equally from wireless and wired operations. TELUS has not been trading solely on a fundamental basis recently as the company announced that it will be collapsing its dual-class structure which has potential arbitrage opportunities discussed well by contributor Adam Xiao. For this reason I would avoid TELUS for near-term dividend capturing since the strategy relies on the stock moving in somewhat predictable patterns dictated by dividend theory.
The information presented has been summarized below. Yellow and red represent "avoid" and "consider" classifications, respectively. All utility companies are represented with blue and have been analyzed in a separate article.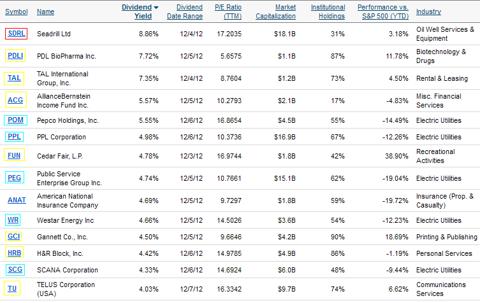 Please refer to profile page for disclaimers.
Disclosure: I am long AGNC, T. I wrote this article myself, and it expresses my own opinions. I am not receiving compensation for it (other than from Seeking Alpha). I have no business relationship with any company whose stock is mentioned in this article.